40 cool sticker ideas that are trending in 2023
投稿者 Sticker Mule 投稿日
Custom stickers can be used for just about anything — from fun uses (plastering your pet's head all over your belongings!) to serious ones (showcasing political affiliations or "baby on board" stickers). If you're low on inspiration for your next batch of stickers, check out our latest list of sticker ideas to jumpstart your creativity.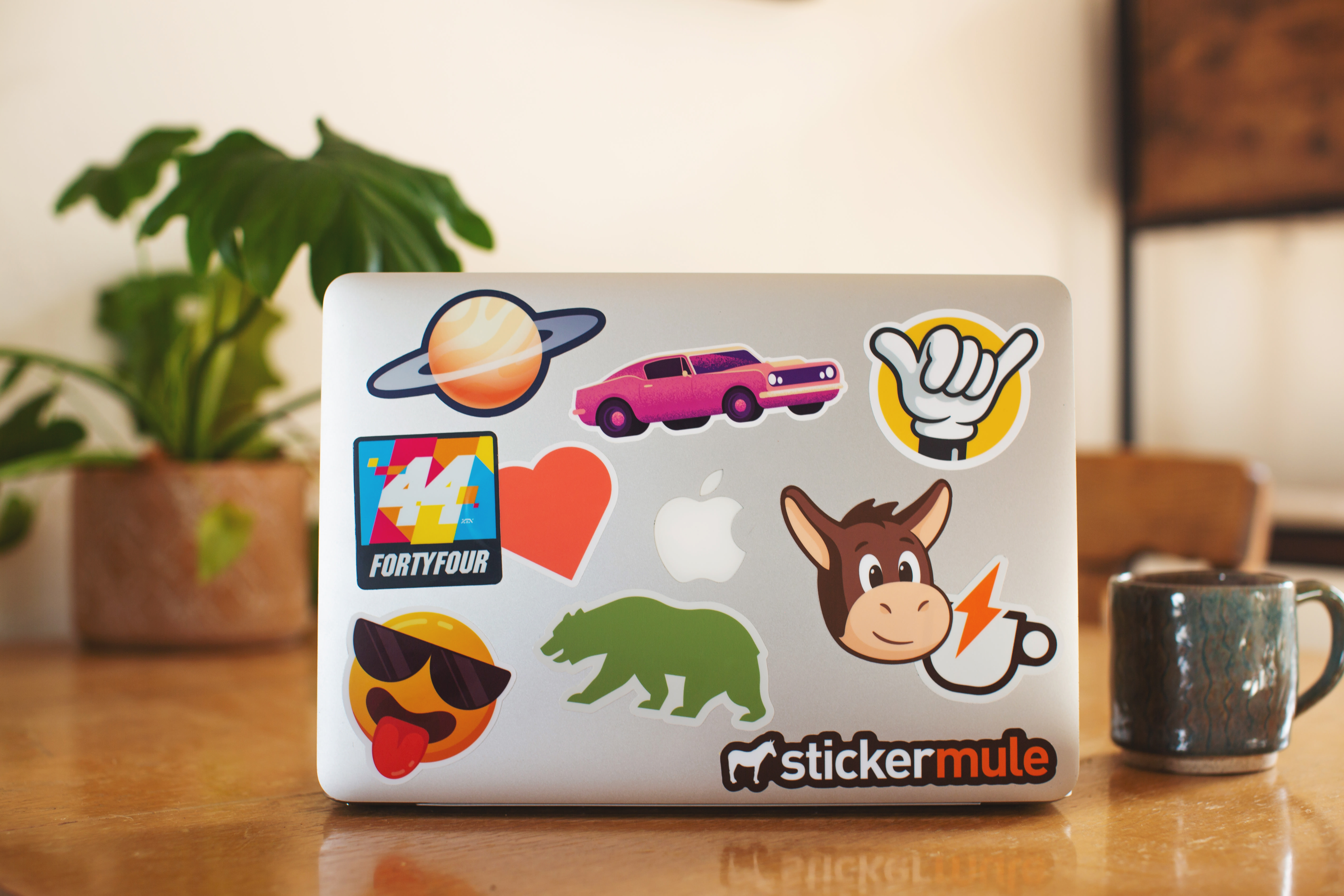 1. Sustainability and eco-friendliness symbols
If you already do your part for the planet, consider inspiring others with a nature-friendly design. "Green" sticker ideas include:
A recycling symbol
A "Save the Bees" design
A "Save the Amazon" sticker
2. National parks and travel destinations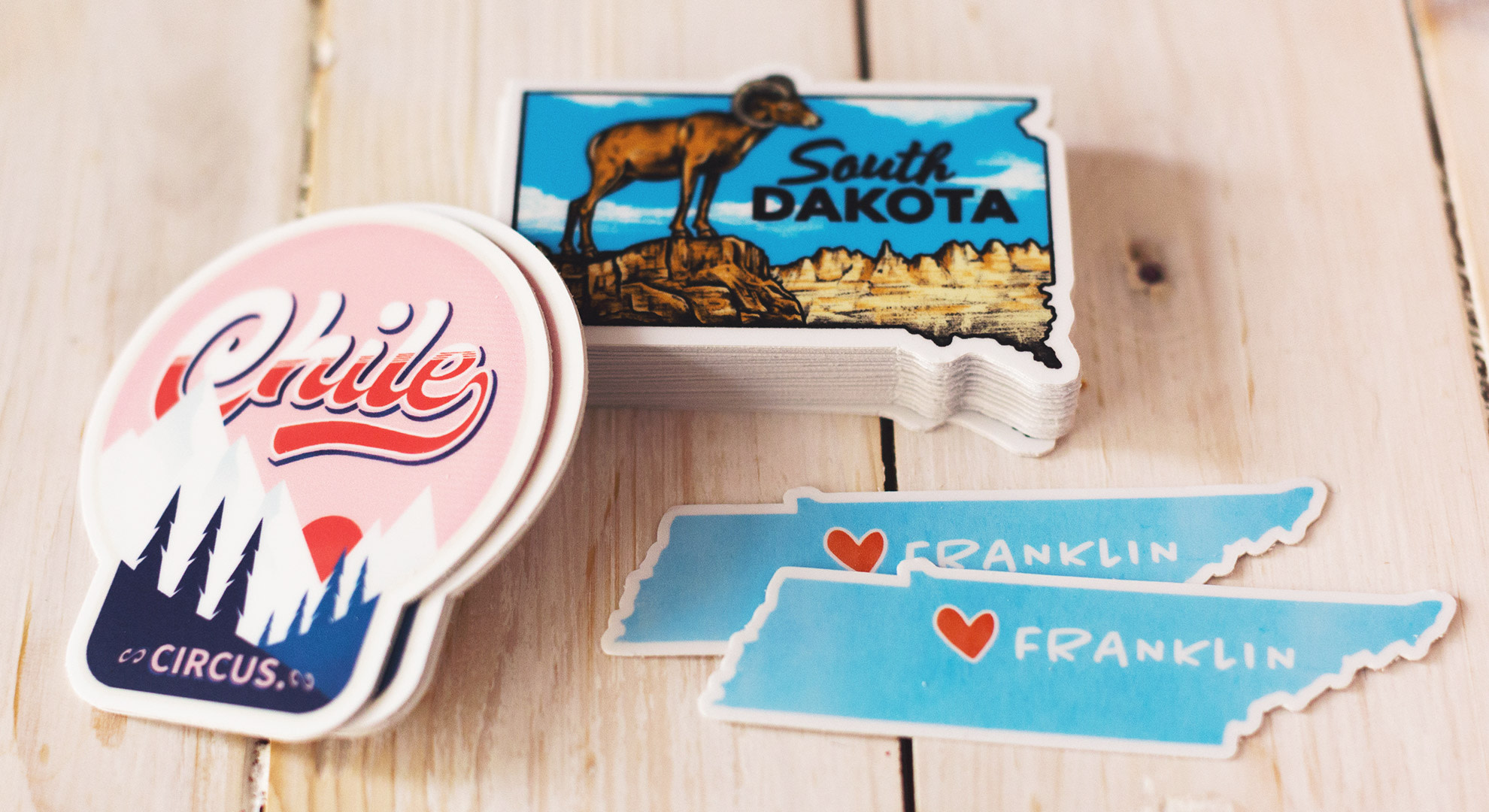 Adventure is a popular theme for car stickers, but you can also show your love for travel on just about anything — including your favorite suitcase!
Yosemite National Park logo
Eiffel Tower illustration
"Adventure is a state of mind" (Alastair Humphreys quote)
3. Holographic and iridescent stickers
We already talked a little about the big holographic trend in design lately. So why not try out some new holographic sticker ideas? Here are a few for you:
Holographic unicorn
Iridescent geometric pattern
4. Retro and vintage aesthetics
Harness the spirit of the 90s — or whatever decade is your favorite — with emblematic graphics for the period. A couple of ideas:
Cassette tape illustration
Vintage VW van design
5. Space exploration and galaxy themes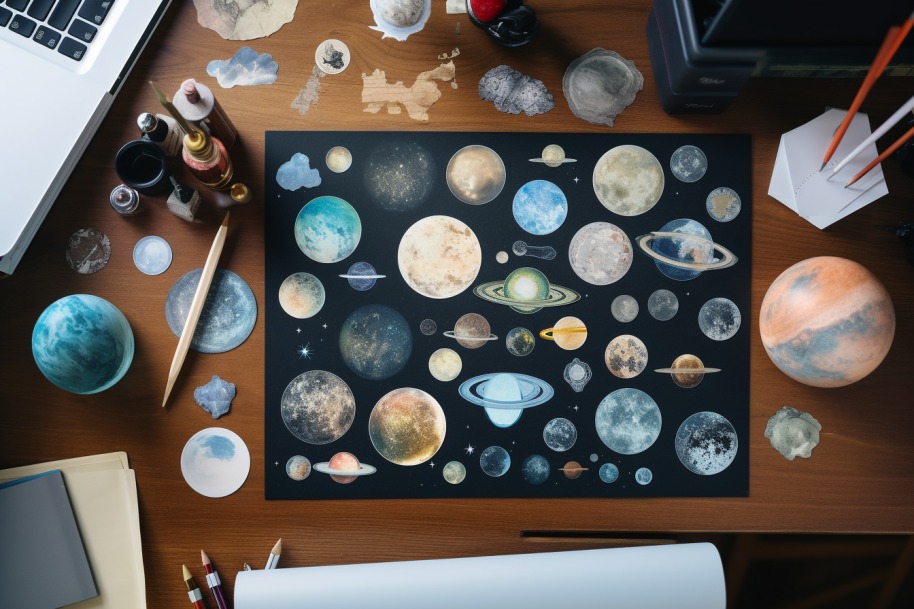 Always popular with Whovians, Trekkies, Star Wars fans, and sci-fi appreciators in general, this is a theme as infinite as space itself — and your imagination. Try these ideas for a start:
Mars rover sticker
Astronaut floating in space
TARDIS in a wormhole
6. Music and band logos
Share your love for your favorite band and get a good conversation starter to boot!
Rolling Stones tongue and lips logo
Nirvana smiley face
...and just about any other symbol you like!
7. Inspirational quotes and affirmations
Cheesy commonplace or valuable life advice? An inspiring quote can be perfect for a bumper car sticker or wall graphic depending on your viewpoint. Think of things like:
"Whatever you are, be a good one" bumper sticker
"What if they're wrong and you're right" wall graphic
8. Popular TV show and movie characters
Rather than buying overpriced merchandise, make your own fandom swag — starting with stickers. Try all-time beloved characters like:
Baby Yoda in The Mandalorian
Eleven, from Stranger Things
9. Mental health awareness and self-care reminders
With our modern epidemic of clinical anxiety and depression, it's never a bad idea to share a message of positivity and encouragement — for yourself and others. A couple of ideas:
"It's Okay Not to Be Okay"
"Worry is a choice." — Gavin de Becker
"Breathe" with a calming waves design
10. Virtual reality and augmented reality themes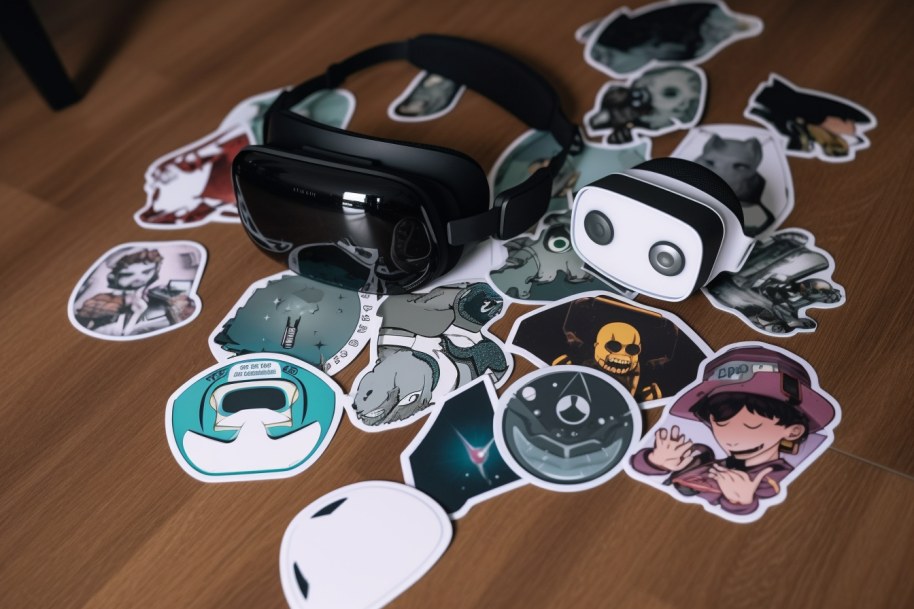 Are you all about the metaverse? Show it on your custom stickers with things like:
VR headset illustration
AR interactive game scene
11. Internet and meme culture references
It's memeing time! Put your favorite meme on display in a sticky fashion. Ideas:
"This is fine" dog meme
"Two Buttons" meme template (with your text of choice)
12. Climate change activism and environmental slogans
Put on display a little bit of your ferociously pro-Earth side with a sticker such as:
"There is No Planet B"
"Protect Our Oceans" (with a turtle design)
13. Abstract and geometric patterns
These can always be a good way to add a little bit of color and customization to your belongings. Go with:
Colorful mandala pattern
Hexagonal honeycomb design
or anything else that strikes your fancy!
14. Futuristic and sci-fi designs
For those with a geeky penchant. Try:
Cyberpunk cityscape graphic
Robot head illustration
"Don't Tell Me About Life" Marvin sticker
15. Pop art and bold typography
To make your design pop, opt for ideas like:
Lichtenstein-inspired comic strip
Warhol-style banana sticker
16. Celestial bodies, moon phases, and zodiac signs
Whether you're an amateur astronomer, a bit of an astrologer, or simply appreciate celestial-themed designs, you can't go wrong with these ideas:
Crescent moon and stars
Favorite constellation sticker
Zodiac sign illustration
17. Kawaii and cute characters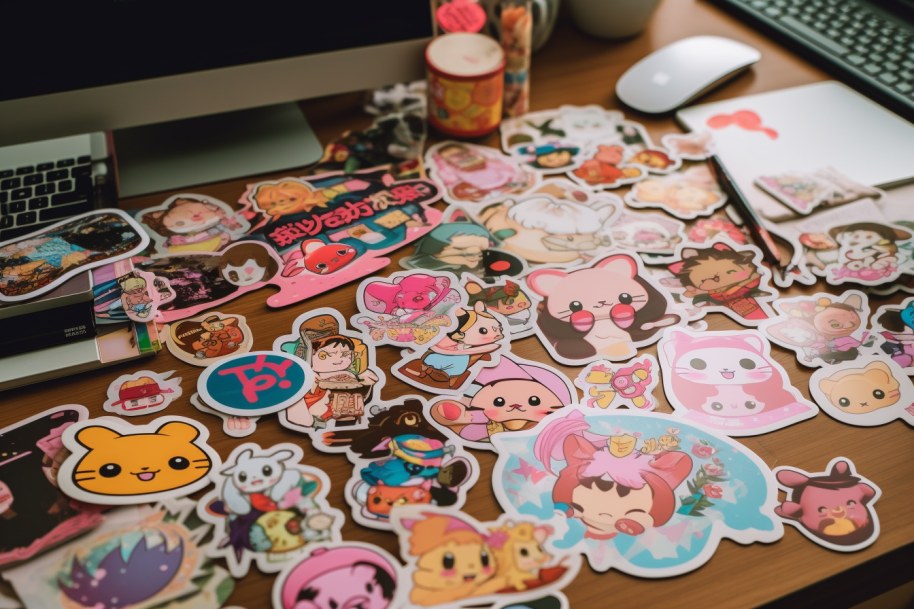 Inject a dose of cuteness into your life with your favorite Kawaii figures!
Kawaii cactus character
Cute sushi roll with a smiley face
18. Video game icons and characters
Gaming can be a big part of your life and your personality. So show a little love for your favorite video game characters and icons by putting them in custom stickers! Try:
Mario from Super Mario Bros.
Link from The Legend of Zelda
Any other favorite character!
19. Minimalist and line art portraits
Line art is trendy and fun — just the right relaxed vibe for a car or water flask sticker. Minimalist sticker ideas:
One-line face drawing
Minimalist Frida Kahlo portrait
20. Social media platform logos and icons
You can mix these with your username or use them alone.
Instagram logo
Your Reddit avatar sticker
YouTube play symbol
21. Animal and pet illustrations
We're a pet generation and we know it. Celebrate the awesomeness of our best canine and feline friends in your stickers:
22. Inclusive and diverse representations
If you're all about inclusiveness and tolerance, inspire others to coexist peacefully with a well-displayed sticker. Think:
"Live and let live" quote
Jewish-Christian-Muslim unity flag
"The more variety, the better society" quote sticker
23. Hobbies and craft icons
Show the world your passion. Sticker ideas for hobbies and crafts include:
Camera icon for photography
Paintbrush and palette for painting
Chess knight on chess squares
Football
24. Minimalistic plant and botanical designs
Got a bit of a green thumb? Make stickers to match! Here are a couple of sticker ideas for the plant lover in you:
Monstera leaf silhouette
Succulent plant illustration
"Home Is Where My Plants Are" flower pot sticker
25. Food and drink illustrations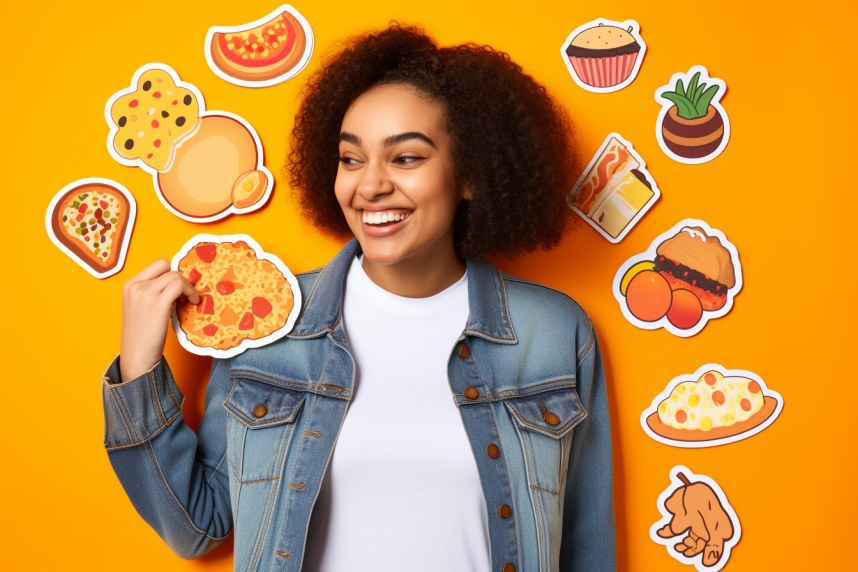 You say foodie, I say gourmet. You say appreciator, I say bon vivant! Let your love for food and the good life inspire your next design.
"Good food, fine wine" text with a bottle of wine graphic
Steaming cup of coffee design
Tacos illustration
26. Hand-drawn and watercolor designs
A penchant for the graphic arts should never go unattended. And stickers are the perfect way to channel it! Go with:
Watercolor mountain landscape
Hand-drawn feathers pattern
Boat at sea drawing
27. Tech gadgets and devices
Are you an utter, complete, confirmed, incorrigible techie? Then you just have to show that on your stickers. Try:
Oh For Fox Sake sticker with the Mozilla Firefox
"Don't Worry, I'm From Tech Support" funny cat sticker
"Have You Tried Switching It Off And On Again?" laptop sticker
28. DIY and maker culture symbols
DIYers are a select, but growing community. Help other members of the clan recognize you by adding a custom DIY sticker to your belongings. Here are a few ideas to get you started:
Sewing machine illustration
3D printer design
I S2 DIY sticker
29. Optical illusions and 3D designs
Just have some fun with weird shapes and optical illusion graphics. Any of these can be a good conversation starter:
Penrose triangle sticker
Impossible staircase design
Optical illusion elephant
30. Cryptocurrency and blockchain icons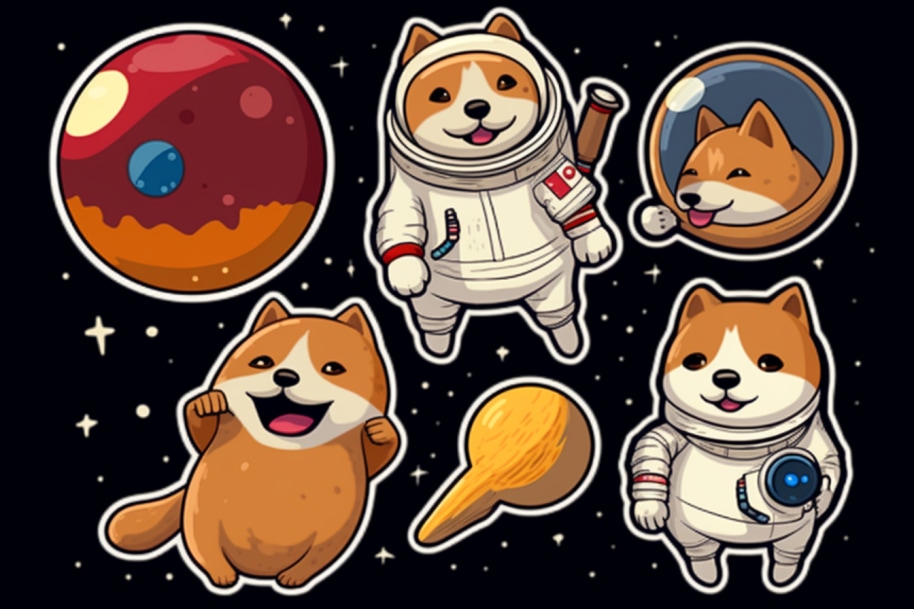 DeFi is the mot du jour, isn't it? If you're on the crypto bandwagon and proud of it, show your passion for everything decentralized with car or laptop stickers featuring:
The Bitcoin logo
The Ethereum emblem
A Doge
31. Upcycling and zero-waste themes
Are you hyper-waste-conscious? Then don't waste the opportunity to share the message on your favorite stickers. Ideas:
"Choose to Reuse" text
Mason jar with a reusable straw
32. Yoga, meditation, and mindfulness imagery
Spiritually inclined? In touch with your true self? Or simply inspired by ancient Eastern wisdom? Remind yourself that all is Maya — and make the reminder stick! Here are a few ideas:
Lotus pose silhouette
Om symbol
Buddha statue sticker
33. Fitness and workout motivation
Not just for fitness coaches, these stickers can mix a little fun with a little inspiration in a memorable way. Couple of ideas for you:
Dumbbell illustration with "I feel stronger already" text
"Sweat is Just Fat Crying" quote with funny graphic
34. Sports team logos and mascots
Showcase your affiliations in the world of sports!
New York Yankees logo
Chicago Bulls mascot
35. Activism slogans
If you're fighting the good fight with your deeds, why not do it with your words too? Stickers are the perfect channel for that. Proclaim your dedication to your preferred favorite social causes with things like:
"Build Back Better" car sticker
"Come and take it" window decal
36. Superheroes and comic book characters
The Man of Steel, the Caped Crusader, or any other superhero can be a big source of inspiration — and a fun way to remind yourself of your heroic potential. Try something like:
Spider-Man pointing graphic
Wonder Woman emblem
Batman with "My Superpower: I'm Rich" text
37. Street art and graffiti-inspired designs
Street art can be a big source of design inspiration — some companies even have logos made after them. So try your hand at that with:
Banksy-inspired stencil art
Colorful graffiti tag
38. Mythical creatures and fantasy themes
Add a touch of fantasy to your laptop, phone, or water flask. Ideas are plentiful:
Dragon illustration
Mermaid silhouette
Gollum "My Precious" sticker
39. Cultural and heritage symbols
Whether it's your true ancestry or a heritage symbol you'd be proud to be a part of, the world of heraldry and ancient symbolism has plenty to offer. You could start with:
Celtic knot design
Hamsa hand symbol
40. Personalized and customizable name stickers
Create decorated name stickers — your name or someone else's. Get creative with our online Studio app and flaunt that name! Try:
Name with a floral background
Name in a script font with a geometric pattern
And there you have it
That's 40 ideas to get you started in (or help you further explore) the fun world of stickers. We hope you'll find one that inspires you to create your own custom stickers — and have them printed on Sticker Mule.
So what are you waiting for? List your favorite ones and get to work designin' and printin'!