Free photo enlargers online: How well do they work?
投稿者 Sticker Mule 投稿日
Photo enlargers are software designed to help you increase the resolution of photographs or other image files. There are a variety of free and paid versions on the market nowadays. Below we'll take a look at some of the options out there and how you can benefit from them.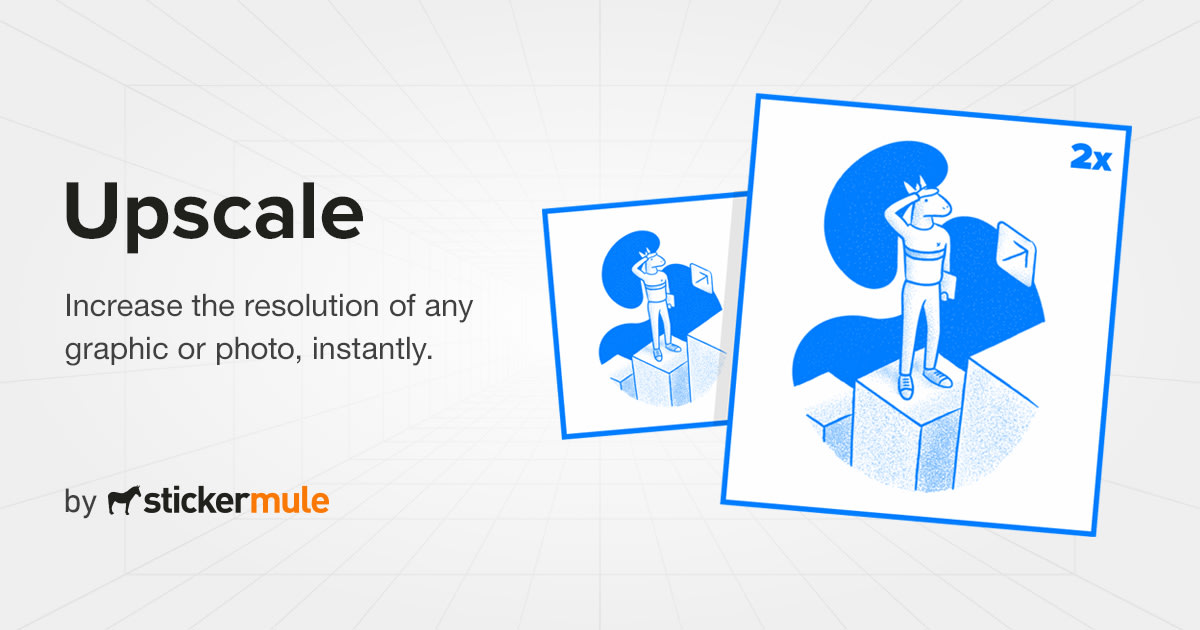 Common use cases for photo enlargers
Let's get started by taking a look at some of the most common use cases for photo enlargers.
1. Improving low-resolution photographs
Sometimes that perfect portrait-worthy picture is just too blurred or pixelated for a decent printout. Enter the photo enhancer: with state-of-the-art AI tech, the software can upscale your photo into a high-resolution, sharp picture that you'll proudly send straight to print.
2. Preparing images for large prints or posters
OK, so perhaps your image is a modern high definition pic — just not that high definition. If you need to have it printed in a large-size format (perhaps for a wall poster?), it's again the photo enlarger's time to shine. Apps such as Upscale will accurately render high-resolution graphics for posters and other large printout uses.
3. Enhancing digital art and illustrations
It's not all about old photographs; if you have a cool illustration or digital picture that's sadly not in vector format and unusable as it is, time to enhance it with a photo enlarger. From the simplest clipart to the most sophisticated modern art, image upscalers can take on pretty much any challenging graphic — and produce a superior, HD version of it.
4. Social media and online marketing
Images are the first thing we notice; our brain is attuned to them. And that's exactly why having high-definition images is so important for online marketing. When you have the perfect picture for a post, but it's only available in smartphone-compatible size, it's once again time to unsheathe your upscaling software of choice.
In an alternative timeline, your post would have been an eye-watering pixelated mess; here, it's a glossy paragon of professional graphic design.
5. Restoring old or damaged photos
Maybe you lost the original and only have a social media compressed version; maybe it's just an analog, pre-Digital Era pic. Regardless, you need it in a bigger size or it'll be useless. Once more, the free photo enlarger is your friend and can take your blurry old photo look like to iPhone quality in a blink.
Online photo enlargers are getting so good at reviving historical pictures that, yes, you guessed it — it's even generating controversy from indignant historians.
Key factors for evaluating photo enlargers
How do you pick a photo enlarger for your use case? There are a few criteria to keep in mind.
A. Image quality
Well, duh! As the main point of the photo enlarging process, your first question is: Does the photo enlarging app deliver on its overall HD quality promise? If the question is no, you're probably better served looking elsewhere; if yes, move on to the next point.
B. Resolution and detail preservation
Many apps will seemingly produce a high-quality picture within seconds of your inputting the low-definition one. Upon closer inspection, though, you may notice the result was achieved at the cost of important details. Paradoxically, the resulting image may look like it's better quality but be less rich than the original one.
C. Noise reduction
How does the app handle noise? Photo enlargers that are incapable of turning noise-filled, old-looking pictures into sharp, digital-era ones are probably not worth your time, to begin with.
D. File format support
The photo enlarger should be able to output all of the most common digital image formats, such as jpg, png, gif and bmp.
E. User-friendly interface
However complex a software's internal processes, its exterior — the user interface — should be simple and easy to navigate for even the least experienced of us. So that's definitely another factor to look for in your free photo enlarger of choice.
F. Processing speed
Is the upscaling online software able to process your pictures fast, preferably for this century — here's another key question to ask. Because, really, who's got time to sit around and look at a progress bar in this day and age?
G. Price and value
If the app is free, does it offer real value or a subpar service that will take you nowhere? And if it's not a free photo enlarger, is its quality really worth the price? Often, the only way to find out is by testing it out; for that, test out your free software first and take advantage of free trials for the paid ones whenever possible.
Top free online photo enlargers: A comparison
Now that we know what to look for in an online picture enlarger, let's take a look at some of the main choices out there and what they've got to offer.
1) Upscale by Sticker Mule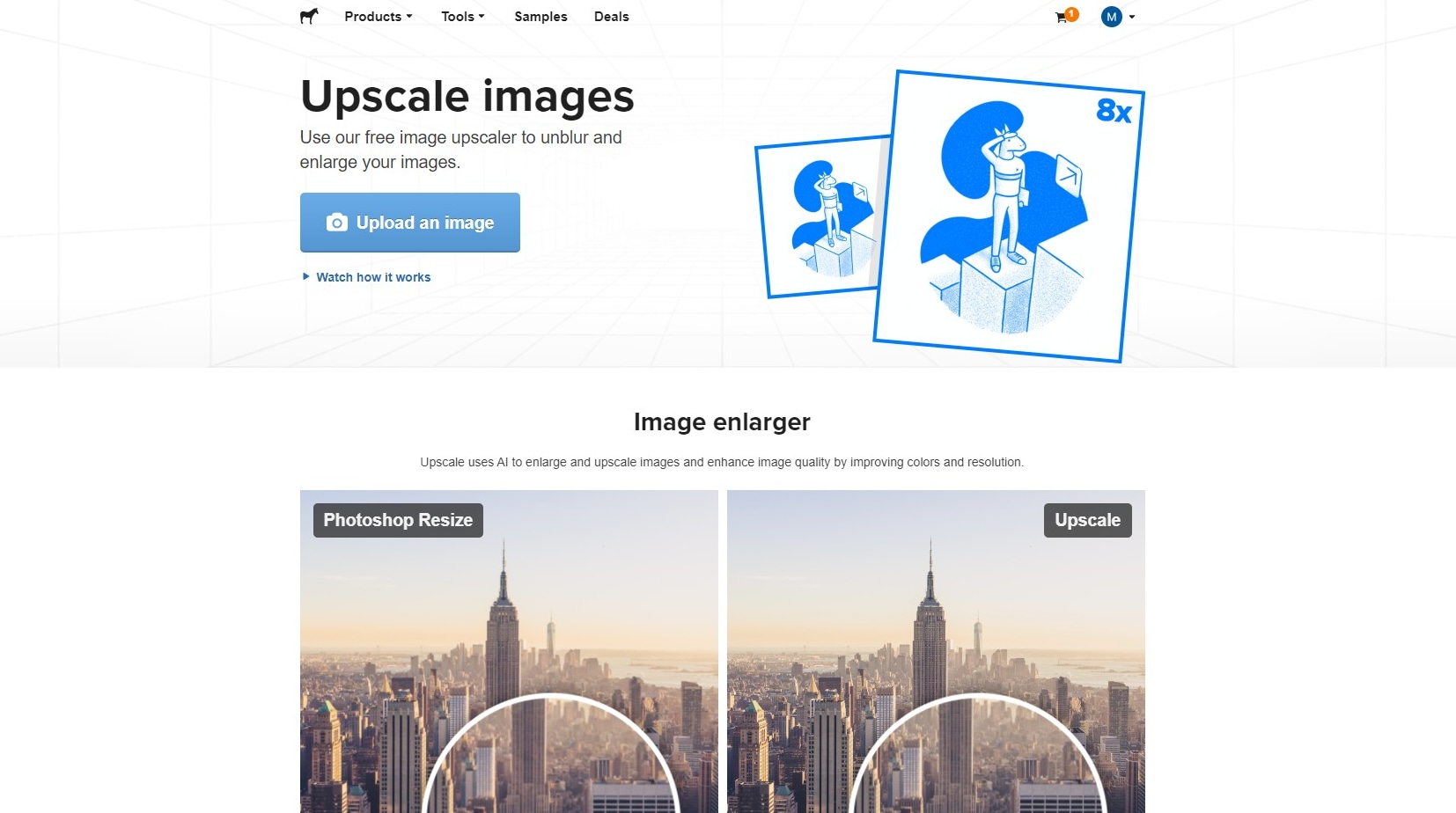 Upscale by Sticker Mule is one of the top free online photo enlargers. Available entirely on a browser version (no downloads needed) in an intuitive drag-and-drop interface, the software taps into artificial intelligence to upscale your images, adding missing pixels and enhancing the overall image quality.
Improving image quality up to 8x the original size, Upscale is a great solution for blurry, pixelated, or small-size photographs, logos, digital art, and other graphics.
Upscale can be used 100% free of charge.
Visit stickermule.com/upscale
2) Let's Enhance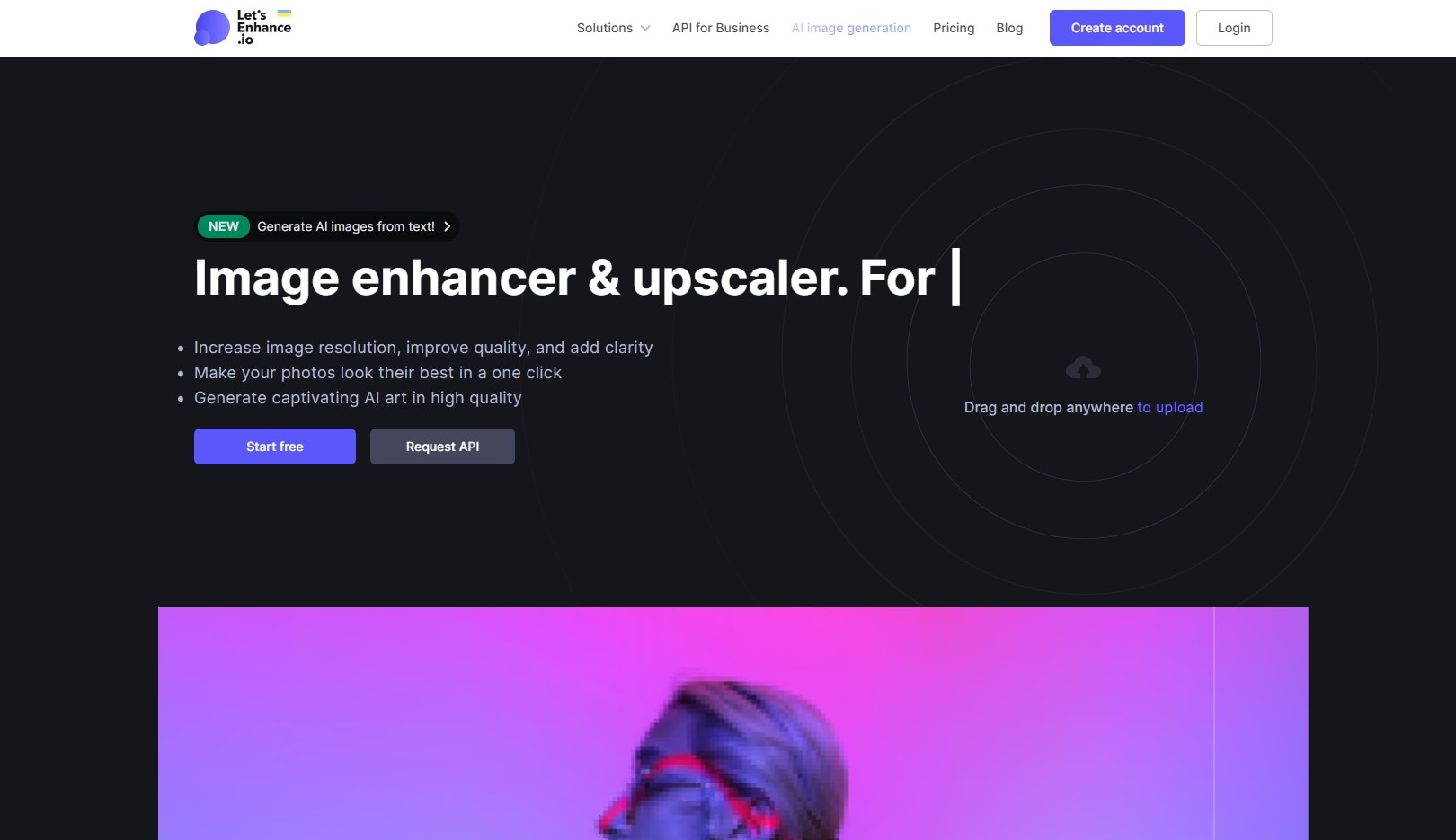 Let's Enhance offers a powerful, AI-based API to enhance, brighten, and sharpen images — hundreds at a time. It's a great solution for things like logos and product photos and has the capacity to enhance images up to 16x the original size.
Although it's one of the best solutions available out there, Let's Enhance is only available with a paid subscription, after the user has worked through their initial demo credits.
Visit letsenhance.io
3) Bigjpg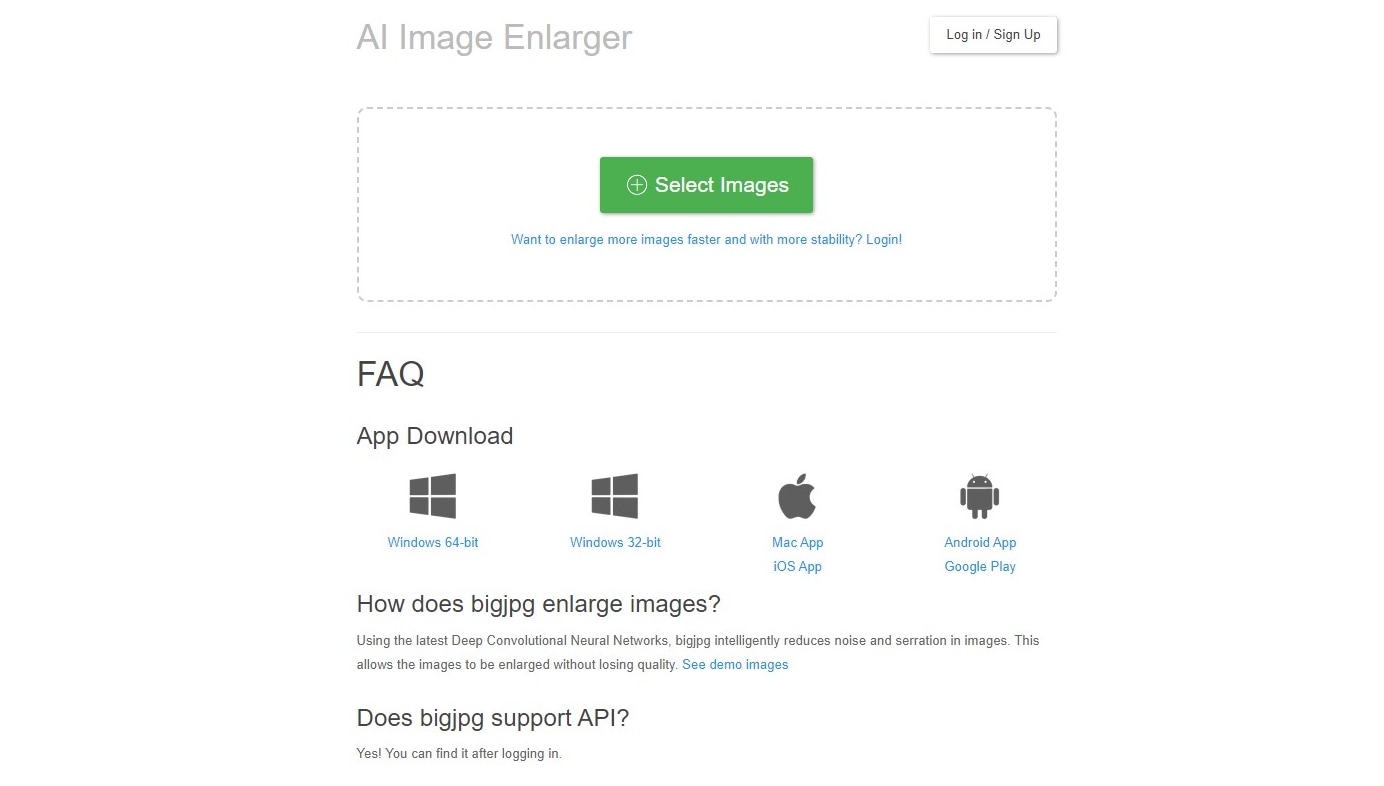 Bigpjg is a powerful image enlarger that leverages deep neural networks (DNN) to remove noise and improve image resolution — either online, on the browser, or through dedicated apps for Windows, iOS, and Android.
Bigjpg works on a freemium model: free users enjoy more basic features, with limits on the size of uploaded images, whereas premium users can enhance larger images at greater speeds.
Visit bigjpg.com
4) Deep Image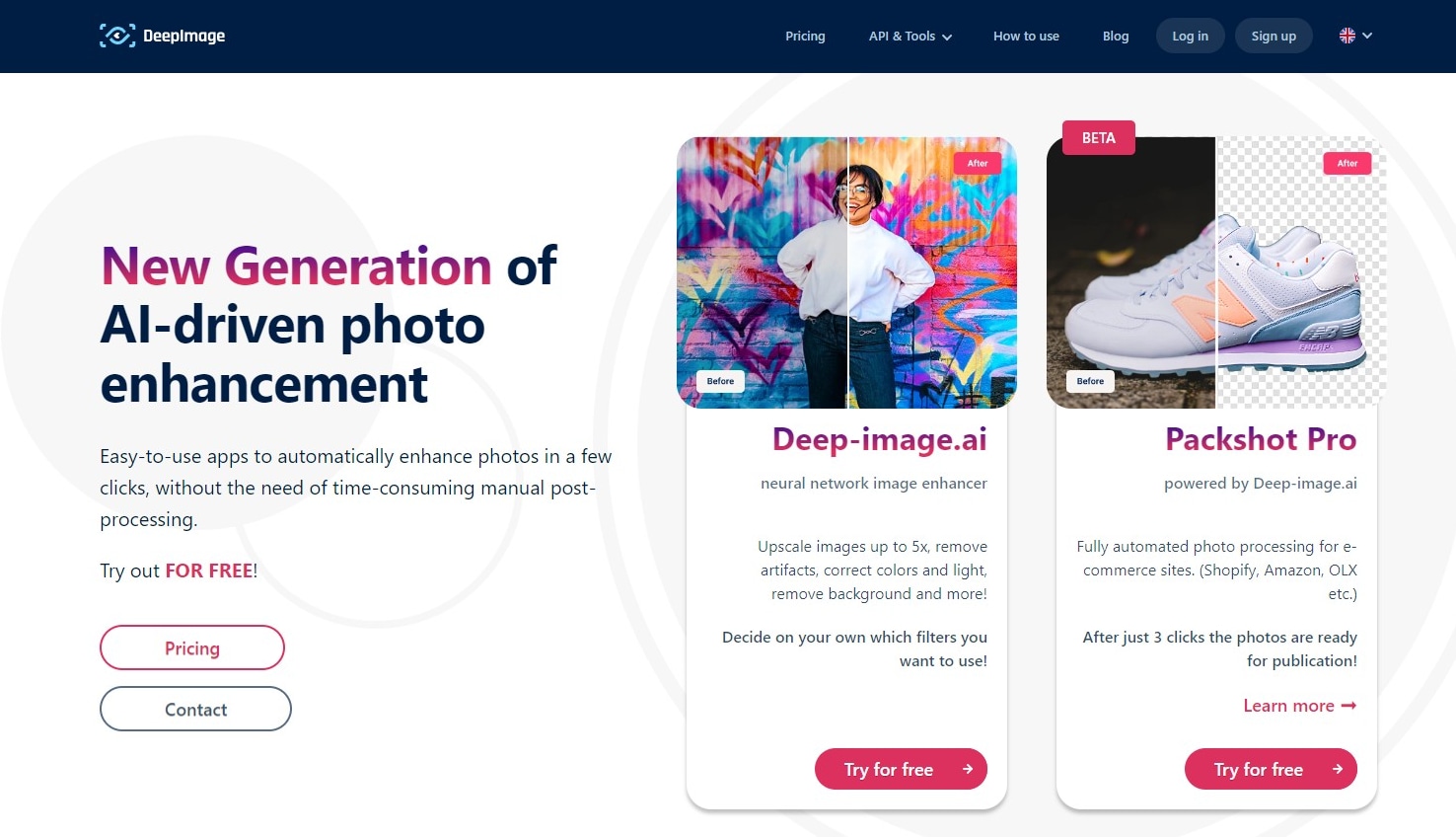 DeepImage allows you to remove image noise and serration, sharpen overall quality, correct colors, and remove backgrounds, among other options. It's a comprehensive and feature-rich software that can be used by graphic designers, professional photographers, and for a variety of business use cases.
DeepImage gives users access to a trial version, but strictly speaking it's not free, as images generated by free accounts are watermarked and not fit for printing or professional use in general.
Visit deep-image.ai
5) ResizeImage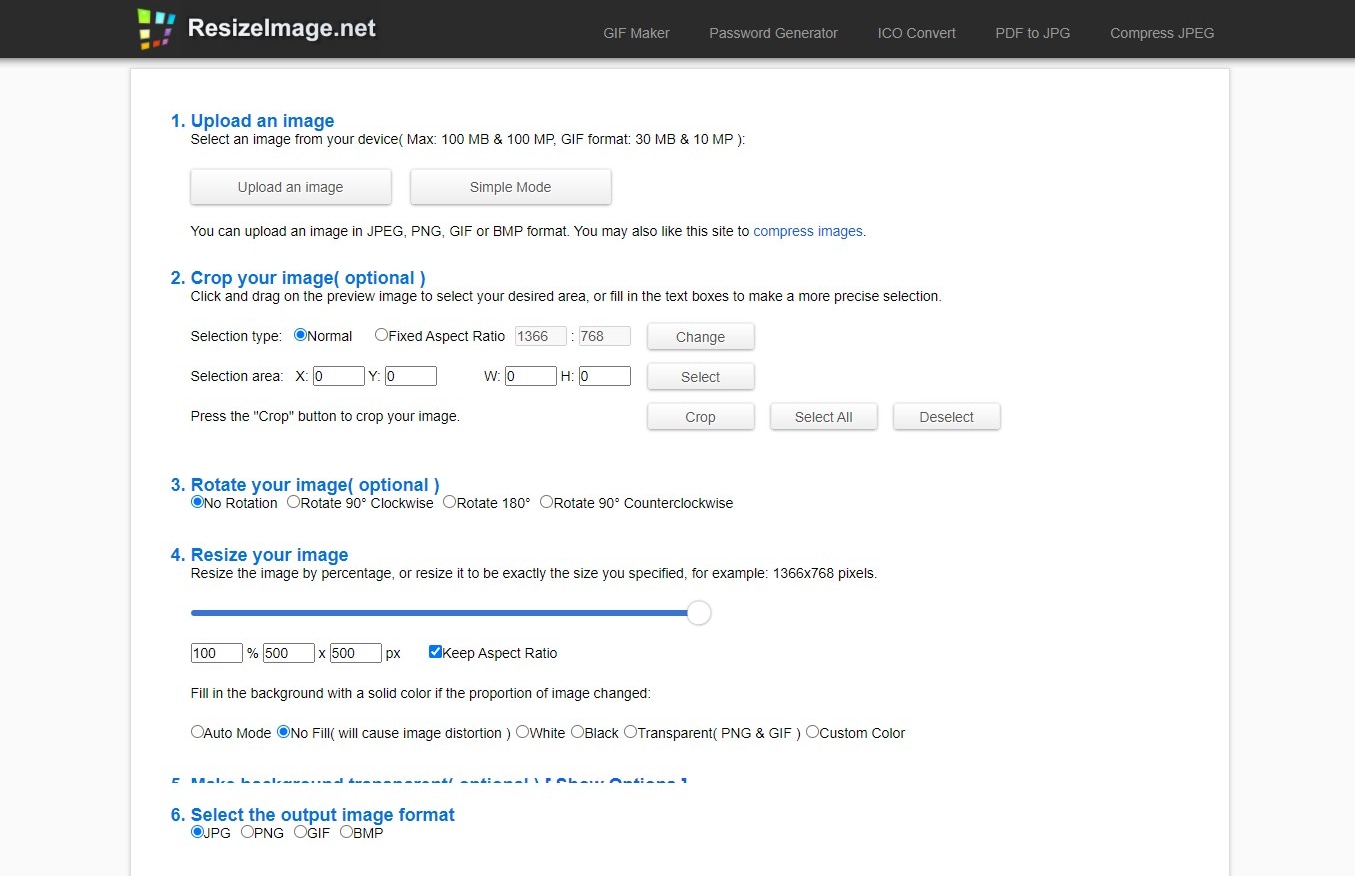 ResizeImage is a handy, free tool for cropping, resizing, and compressing images. Although it is technically not an image enlarger, as it cannot increase image size without losing resolution, ResizeImage is a helpful, free, and easy-to-use online tool for image editing.
Visit ResizeImage.net
Comparison summary
There are pros and cons to every software above, but there are also overall winners.
Upscale by Sticker Mule is the only truly free image enhancer able to produce sharp, high-definition graphics and photographs. It compares positively to ResizeImage.net, which is also free, but doesn't have the ability to retain resolution while enlarging images.
On the other hand, for professional users willing to pay for a wider array of options, both BigJpg and Let's Enhance are powerful solutions and can handle multiple, large-size image uploads with fast processing and accurate image enlargement.
Ultimately, your choice of image enlarger will hinge on your needs — whether you require an upscaling platform for mass uploads, with plenty of other image-editing features, or need only high-quality a free photo enlarger for one or a few pictures at a time. For the latter, Upscale by Sticker Mule is our recommendation.
How Upscale by Sticker Mule stands out
Upscale can generate premium-level enhanced images for free, which in itself makes it stand out from other similar options. Its advantages include:
Advanced AI-powered enlargement technology: Upscale's AI algorithms find and recreate missing pixels, making it possible to increase images up to 8x the original resolution.
Superior image quality: Unlike some free image enhancement apps, Upscale accurately enhances blurry or low-res images to print-worthy definition.
Fast processing times: Even bulk uploads are processed fast on Upscale's browser interface; for single images, the processing time usually takes only a few moments.
Seamless and free integration with Sticker Mule products: With a few clicks, you can edit your newly-enhanced image on Studio and integrate it with a logo or product design; another click will send it directly to production as a custom sticker, label, t-shirt, or other Sticker Mule product.
Tips for using free photo enlargers
Free photo enlargers are pretty intuitive, but it's worth keeping a few things in mind as you set out to improve your photographs:
1. Start with the highest quality image possible
The better the input, the better the output. Even though AI-based image enlargers can do wonders, their magic will always work best on larger-size, higher-quality images.
So, before you start uploading, make sure you are working with the best version available for your image.
2. Choose the appropriate enlargement ratio
You may not need to go all the way to 8x or 16x the original size if you're only planning to use your enhanced image for a social media post or small printable. But if your graphic is meant for a printed poster, wall sticker, or another large-size device, it may be good to avail yourself of the highest enlargement ratio available.
3. Use additional editing software like Photoshop for further enhancements
Free photo enhancers like Studio can take you a long way toward your ultimate goal, but sometimes it's worth having an extra tool to add a few finishing touches and regulate things like brightness, object sharpness, and contrast. So consider using apps like Photoshop (or free apps like our own Studio) to leave your image just the way you want.
4. Save images in the right format for your needs
Once you download your finished product, remember to pick the right format. For instance, JPGs are best for finished social media posts, whereas a BMP or PNG might be better for further editing your graphic.
Conclusion
Free online photo enlargers can be the perfect way to upgrade your images into high-resolution printables without the hassle of downloading more expensive and time-consuming software. All you need is a relatively fast internet, a browser (could be your phone's), and a couple of spare minutes.
Among the many choices available, Upscale by Sticker Mule is one of the best. It's fast, it's free, and it outputs high-quality images that are good for professional use — all while working on an extremely intuitive and easy-to-use interface.
Have an image you want to upgrade? Try Upscale now and tweet us about your experience @stickermule. The Mule always loves hearing from you!