Custom promotional t-shirt printing for effective advertising
投稿者 Sticker Mule 投稿日
Custom t-shirts may not be the first thing that comes to your mind when you think of advertising, but they can be a potent and surprisingly effective way to market your brand. A good t-shirt offers real value to the client and can stick around for a long time, featuring your brand out and about for years to come.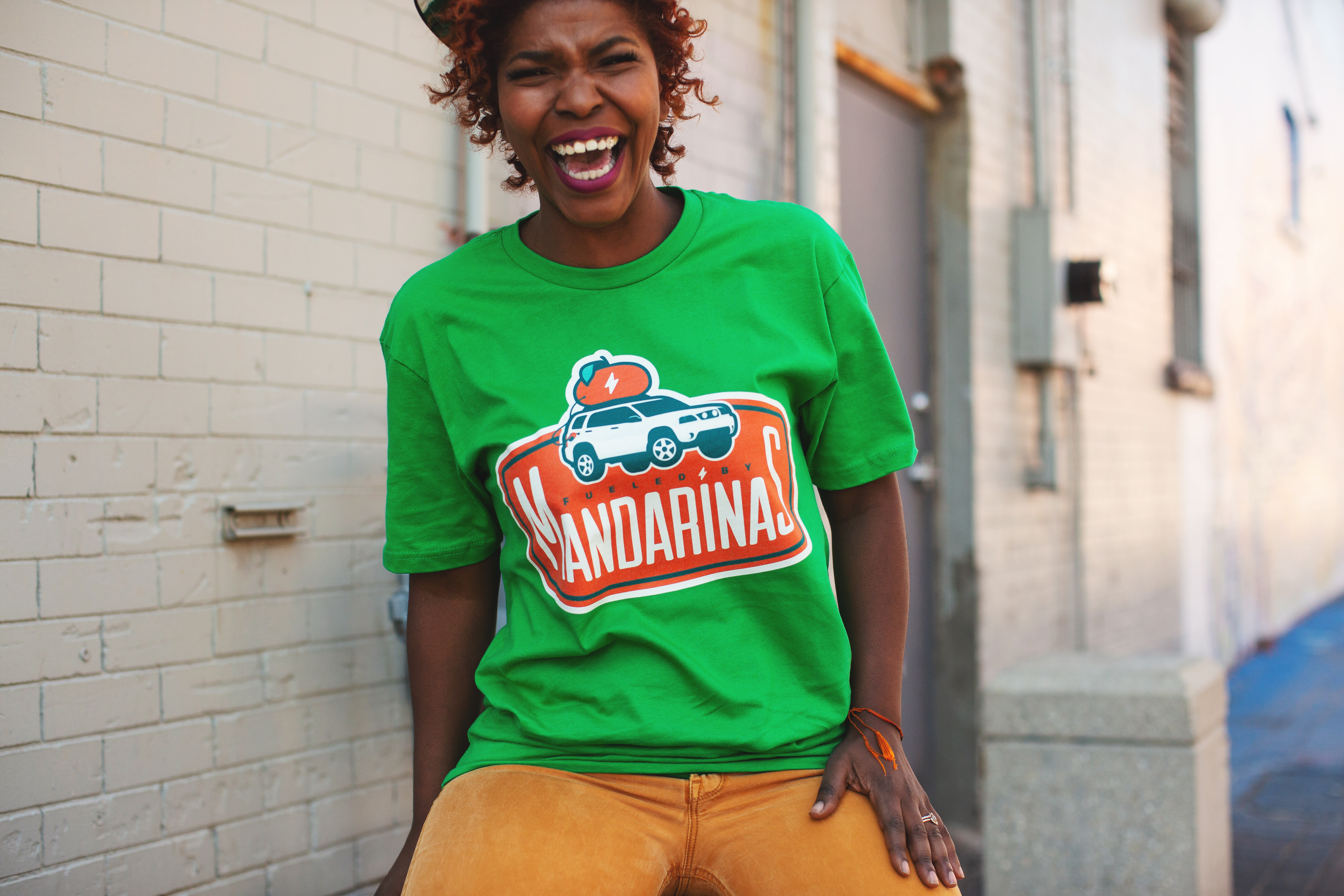 The catch, though, is quality — fabric as well as print quality.
Think about it. There is a world of difference between a nice, crisp tee with a well-delineated logo that you'll wear with pride time and again, and the cheap, junky piece of garment that loses shape and fades after a single wash, meeting an untimely end as a car drying rag.
To get your promotional t-shirt campaign going, you need a solution that'll get you first-rate tees at an affordable price, with high-quality printing and fast and free delivery.
And that's where Sticker Mule comes in.
The problem with traditional promotional t-shirt printing
You'd think a basic thing like getting a decent, custom-printed t-shirt to give away at company events would be a piece of cake. But you'd think wrong.
A number of issues have plagued custom t-shirt printing for years. We're talking about things like:
poor print quality for anything other than a solid color design
designs that crack fast or discolor after a little contact with water/sun
slow, cumbersome ordering, turnaround, and shipping
exorbitant prices and inability to bulk-order
Quality is a given — you don't want your clients throwing away a crappy free t-shirt and thinking everything else you offer is just as much junk. You definitely don't want your logo to end up scrubbing away dirty shoes.
But, if you are to have a successful advertising scheme with t-shirts, you need a model that scales, that's seamless, and that pays for itself. So every one of the issues above is a pretty clear no-no for a company looking to advertise through t-shirts.
How Sticker Mule custom t-shirt printing solves your problem
From design to print, to getting your product on your doorstep, Sticker Mule makes ordering custom t-shirts a breeze.
Upload your logo or design. (Or create one using our free Studio tool!)
Provide any printing instructions (such as frayed edges on the design or sending a sample of what you have in mind)
Check out and wait a few hours before you…
Get a free proof showing how your design will be printed. Now all you have to do is ask for changes or send to print!
Unlike traditional t-shirt printers, Sticker Mule uses DTG (direct-to-garment) printing, which means a pretty much infinite color palette that'll accurately reproduce even the most intricate and colorful designs.
To address your scaling needs, Sticker Mule allows bulk ordering up to 500 t-shirts, allowing you to save more than 40% on large orders. And, one of the best parts, the turnaround takes 4 days or less and shipping is free worldwide.
Here are just a selection of some reviews from satisfied customers;
The T-Shirt exceeded my expectations! It looks fabulous and the material is soft. I'm really happy with the way it came out! You guys Rock! - Frank C.
We bring the same type of satisfaction no matter what we print for you. Case in point:
I ordered this shirt as a sample for my non-profit's 15th anniversary. I was more than pleasantly surprised by the quality of both the shirt and the printing. We already order our stickers and buttons from Sticker Mule and we may start ordering shirts from them as well. - Jennifer R.
We strive to do all the little things correctly, which leads to great results!
Design was easy and intuitive, shipping time was short, and the quality of the print and shirt is excellent! - Josh C.
Best practices for designing effective promotional t-shirts
Designing can seem like a daunting process. But stick to a few tried-and-true principles and your design will come out looking just as it should — elegant, effective, and perfect for your brand.
Here are three elements to help steer you through the ocean of design possibilities:
Simplicity: Using your print space well doesn't mean adding everything you can think of to it. Be economic, and focus on a few design elements that'll drive home your logo, slogan, or other information without making too much of themselves.

Clarity: Make sure your design is easy to grasp — and remember to take into account the t-shirt color that'll serve as background. If you have written content, you want it to be easily perceptible and readable. Go with simple fonts and don't overdo your color scheme.

Relevance: Your promotional t-shirt design should be consonant with your overall branding. This means understanding the main visual elements of your company's style and not drifting too far from them in terms of color, graphics, and tone.
Examples of some successful promotional t-shirt campaigns
Companies and organizations have been using t-shirt promotions with great success for a very long time.
1) Coca-Cola t-shirt vending machine promo
Coca-Cola once installed branded t-shirt dispensing machines at trio of train stations throughout London, prompting individuals to tweet with the hashtag #ChooseHappiness. In return, they would receive a complimentary t-shirt and coke. This innovative approach not only boosted interaction on their digital channels, but also increased brand endorsement as individuals donned the company's t-shirts.
2) I ❤️ New York t-shirts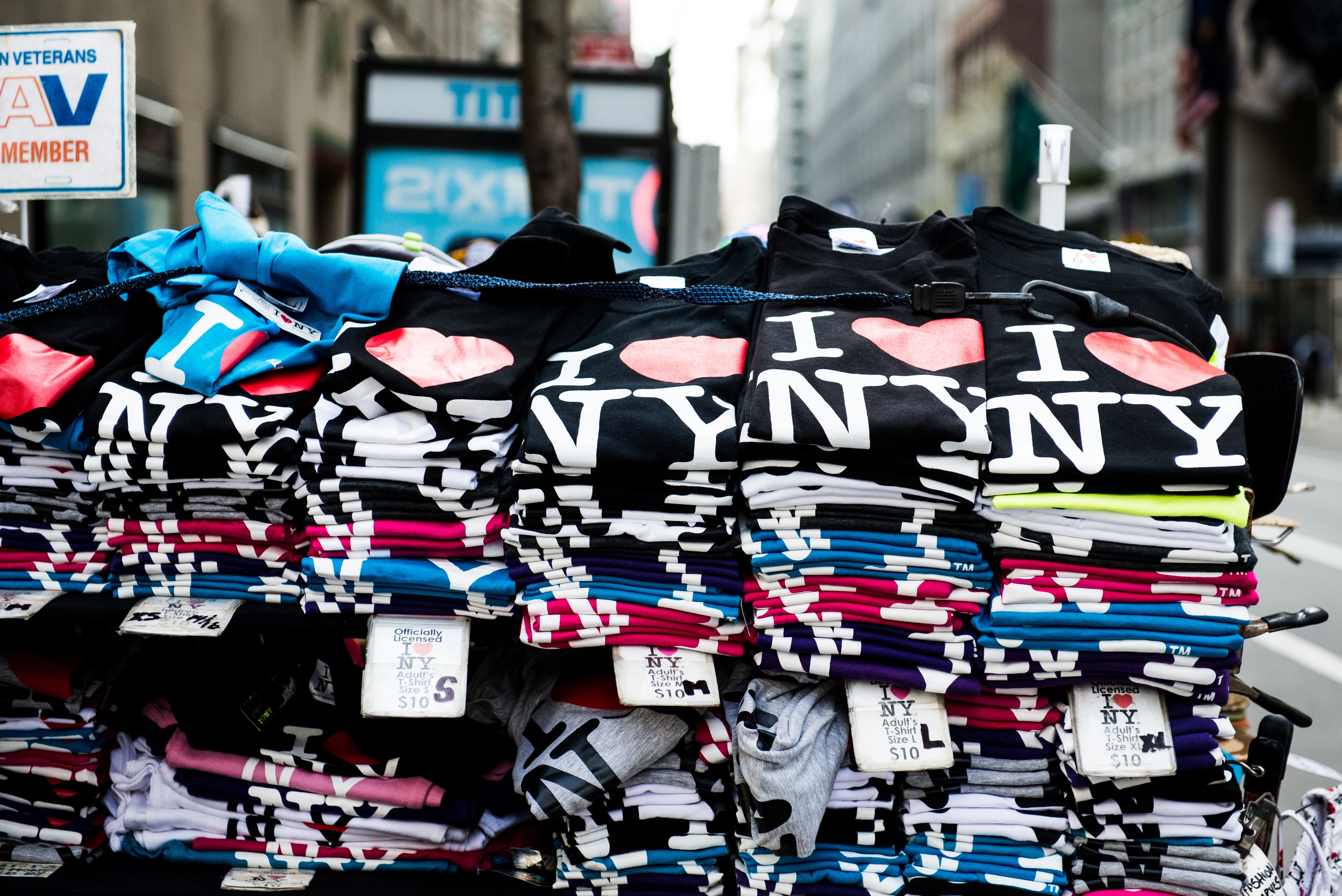 Among the most prominent t-shirt promotional strategies, the I Love New York t-shirts were conceived by the New York State Department of Economic Development to stimulate increased tourism in both the city and state. The initiative proved so triumphant that one can hardly visit a souvenir store in any leading global city without encountering locally-inspired adaptations of the initial concept.
3) Mailchimp's 1000 shirt giveaway
To promote their latest offerings, MailChimp opted to distribute 1000 complimentary branded t-shirts among their social media fans. The t-shirts were released in increments, as followers were motivated to stay tuned to MailChimp for announcements on the availability of new sets. This approach successfully piqued interest and curiosity surrounding their new plans while transforming dedicated followers into brand representatives. Astonishingly, they managed to dispense 100 t-shirts in just a few short minutes!
Conclusion
It's easy to see promotional t-shirts, used right, can be a dynamic and compelling addition to your marketing game. Durable and with a longer promotional life than many other promotional devices, tees are a great way to fire up giveaways, please your clients, and get your brand out with a great ROI.
For businesses looking to create high-quality, effective promotional t-shirts, Sticker Mule offers first-rate color DTG printing on 100% cotton t-shirts, bulk discounts, free proofing, fast turnaround and free shipping worldwide. It doesn't get better than that!
Think it's time to step up your marketing game? Try our custom t-shirts now!