How to fix low resolution photos with an AI image quality enhancer
投稿者 Sticker Mule 投稿日
Low resolution images can be a major hindrance to businesses and individuals alike, often causing a loss in quality and marketing value. That's why many companies have started aggressively investing in AI upscaling tools for images and photos alike.
But since these tools are on the cutting edge of technology, it can be hard to find your way around them. If you're looking for something easier to understand, Sticker Mule offers a solution anyone can use: Upscale.
In this post, we'll take a look at what exactly are low resolution images and how Upscale by Sticker Mule works to enhance image quality.
The problem with low resolution images
Low resolution images are those that have a lower number of pixels compared to the original image. This can result in a blurry, grainy, or pixelated appearance, making the image look unprofessional.
Using low-quality cameras, compressing images, or setting a small image size are all ways you can end up with low resolution images.
While that may not seem like a big deal, low resolution images can have a significant downside, especially for businesses that rely on visual content to sell their products or services. In fact, low resolution images have been shown to decrease trust in online marketplaces, negatively affecting sales and customer acquisition.
For individuals, too, low resolution images can detract from the overall quality of personal projects or online profiles. A low resolution image will often convey the impression of sloppy, lazy work, priming viewers to look for faults in the whole of your content.
A solution: Upscale by Sticker Mule
Upscale by Sticker Mule is an AI-powered tool that can instantly enhance your low resolution images, transforming them into high-quality images. The tool uses advanced algorithms to analyze and recreate missing pixels, resulting in a clearer and more detailed image. For best results, use high-quality images as the starting point for enhancement. Upscale can still enhance low resolution images, but the results will be limited by the quality of the starting image.
Upscale brings you a bunch of features and benefits, including:
• AI-powered image enhancement: Upscale uses AI to analyze and restore missing pixels for greater clarity and detail.
• Easy to use: Upscale has a user-friendly interface. Enhance your images in just a few clicks!
• High-quality results: Upscale delivers high-quality results that look professional and can be used in any context, formal or informal.
• Competitive pricing: Upscale is affordably priced, making it a cost-effective solution for businesses and individuals.
Compared to other image enhancement tools in the market, Upscale by Sticker Mule offers a unique combination of advanced technology and affordability. The product has received positive feedback from satisfied users, who report it's helped them transform low resolution images into high-quality graphics.
How to use Upscale by Sticker Mule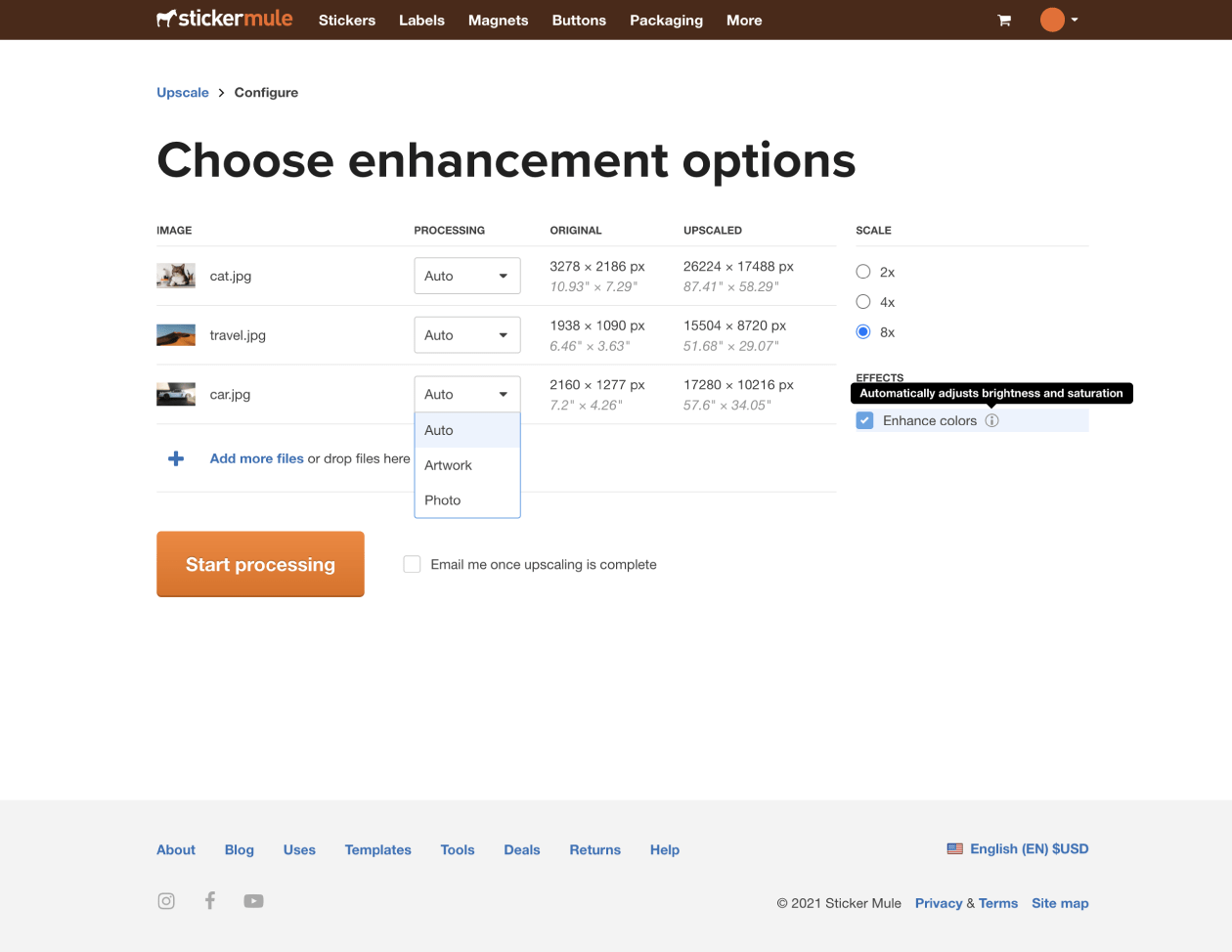 As you'll see, Upscale by Sticker Mule is simple and straightforward to deploy. Here is a step by step guide on how you can use the tool:
Upload your low resolution image to Upscale
Determine how much you want to enhance it
Wait for the AI to analyze and restore missing pixels
Download your newly-enhanced image
Conclusion
Low resolution images can be the bane of your product listing, CV, or website. The good news is that, with Upscale by Sticker Mule, this issue can be an easy fix.
Tap into the AI-powered benefits of Upscale to instantly enhance your low resolution images and generate professional-looking graphics. Easy to use and highly affordable, Upscale is a cost-effective solution that works well for you whether you're a business or individual.
Think it's time for a New Year's resolution that won't fade? Then give Upscale by Sticker Mule a try and see the difference for yourself.