How to build your Etsy shop brand
Posted by Mary Green on
Wouldn't it be great if every one of your Etsy customers sent others to your shop?
As a small business owner, you want people to enjoy your creations and tell others. You don't just want them to come back and buy again. You also want them to recommend your shop to their friends and help you grow. But if you're a small Etsy shop owner, you might recognize this conversation:
"I found this super cute Etsy shop the other day." "What's it called?" "...I can't remember."
Now, that's tragic. The good news is that a combination of good branding on Etsy along with some simple Etsy SEO will make it easier for your customers to not only find you the first time but remember your name and share it with all their friends.
How to get noticed on Etsy in 2020
A major issue with selling on Etsy is being found in the first place. There are thousands of sellers who create similar products, so when a potential customer is simply referred to finding you "on Etsy," it's almost impossible to relocate an exact item.
It's not easy for buyers to just "find you on Etsy".
Here's a simple search on Etsy for a purse. As you can see, there are thousands of results and it would be hard to get your purse to stand out in search. To bring your shop to the top, you need to start with a little Etsy SEO.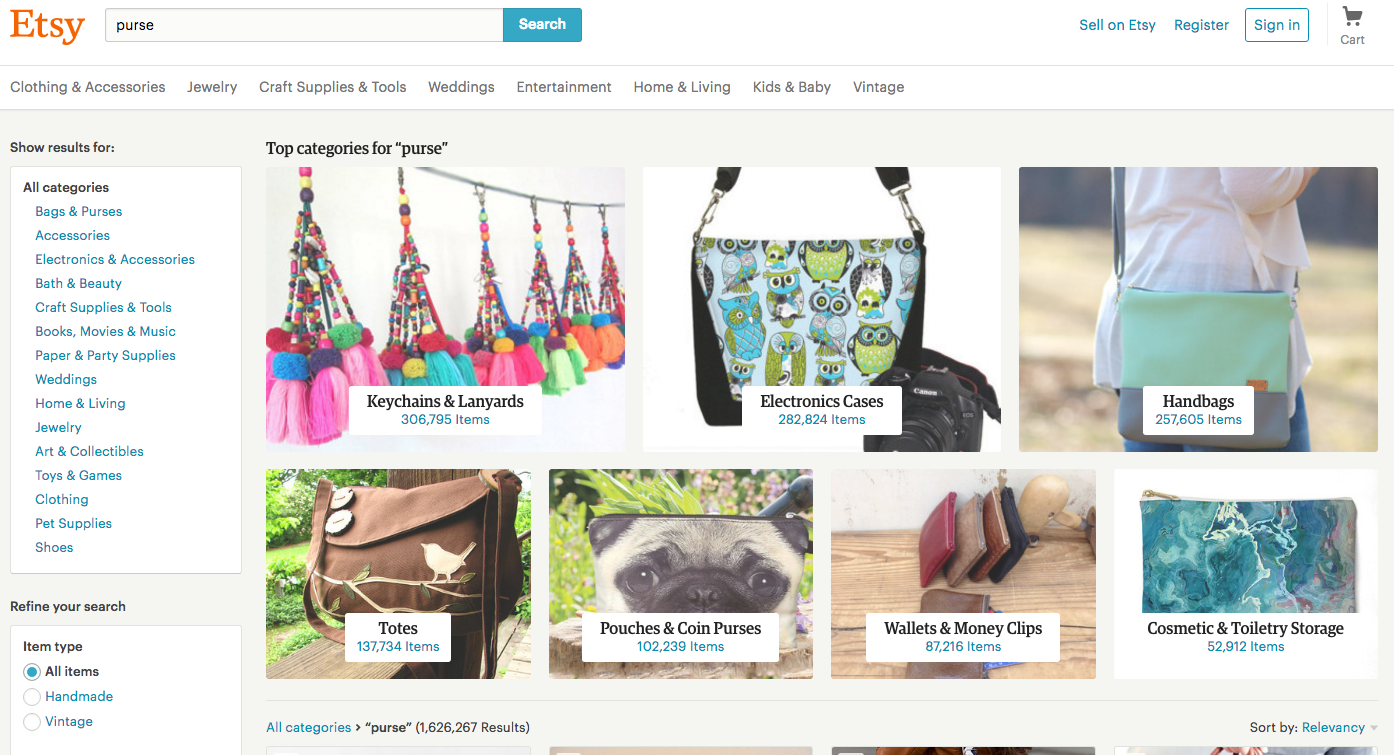 What you need to know about SEO for Etsy
Did you know that Etsy runs its own SEO game? And playing by Etsy's rules is what all those big, successful shops are doing to succeed?
Thankfully, Etsy doesn't keep its SEO program a secret. The Etsy staff keep an up-to-date guide on the site called "How Etsy Search Works".
Shops get found on Etsy in two phases:
Query matching happens when your new customer does a search on Etsy for a product. Then, Etsy looks through all the listings that match the query.
Ranking is similar to Google. The Etsy team wants to provide buyers with the most accurate search results. So, they look through the listings and pull out the ones that best match the search term. Usually, these products then make up the top selling Etsy items thanks to sheer visibility alone.
You want the product Etsy chooses for page one to be yours. So, how do you make it happen? The answer is finding the best keywords for Etsy.
How to find the best Etsy SEO keywords
To get started with SEO on Etsy, you need to find the right keywords, which is a funny way of saying "a couple of words that accurately describe your product."
Keywords are the foundation of setting up an Etsy store: choose the right ones, and getting found is easier. Using keywords that don't match your product or the buyer's intent will make it harder for you to use more advanced tools to get ahead.
Start with Etsy's own search tool. You can learn a lot about what people search for on Etsy simply by doing lots of searches yourself. You can see what other keyword suggestions Etsy makes and figure out what kind of products come up when you hit the 'search' button. Write your findings down, but don't rely on this method alone!
Confirm your hunch with an Etsy keyword tool. You don't need to play a guessing game with keywords. You can confirm your suspicion and use data to find the most popular keywords by turning to tools like the Etsy Keyword Tool Dominator. If you're new to Etsy and don't have cash to spare for keyword research, you can also use the Google Keyword Planner, which is available at the unbeatable cost of absolutely free.
Optimize your title, tags, attributes, and categories. With your list of sweet keywords ready to go, it's time to sprinkle them around your store like magic dust. Add them to every aspect of your listing, including in your content. If you're brand new to Etsy, you can find a short guide to the different parts of your listing, like titles, tags, and categories, over on Etsy.
By building a foundation of accurate and highly-searchable keywords, you're preparing yourself to be found by Etsy's 41.03 million active buyers.
What are examples of successful Etsy brands?
Now that you're on your way to taking over the top spot in the Etsy rankings, what you need is branding. Branding is more than coming up with names for an Etsy shop: true branding helps people remember your store so they can come back again — and bring their friends. Branding is a highly individual exercise. Your brand is a reflection of your shop. But if you're new to buying and selling online, you may find you need some inspiration to kick-start your branding brainstorm. To get started, let's take a look at three Etsy shops who are already successful.
Lovelane branded by quality & photography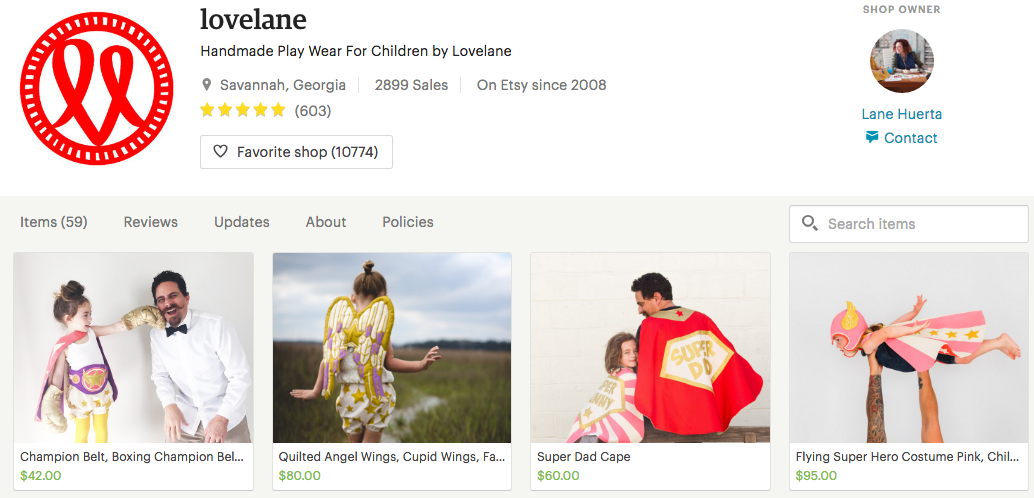 Lovelane is a custom children's costume shop with gorgeous photography and glowing reviews. They have a logo, several places for you to follow them on social media, and a website.
The company is especially active on Instagram where you can see dozens of pictures of their products in use.
What really stands out for this brand is the unique quality of their children's costumes and photography that goes beyond the effort of what a normal shop would.
They have images of children in their costumes playing. There is a nice touch of a child being held in the air in their costume to fly like a superhero. And, you'll find a few pets and babies in costumes as well.
Takeaway Tip: Be creative with what you offer, and show it being used in your photography. Skip 'stock' images, and ask customers to come back and leave a review. Social proof is a great way to show others how great your product is.
Creepy St. Shop is a fun nightmare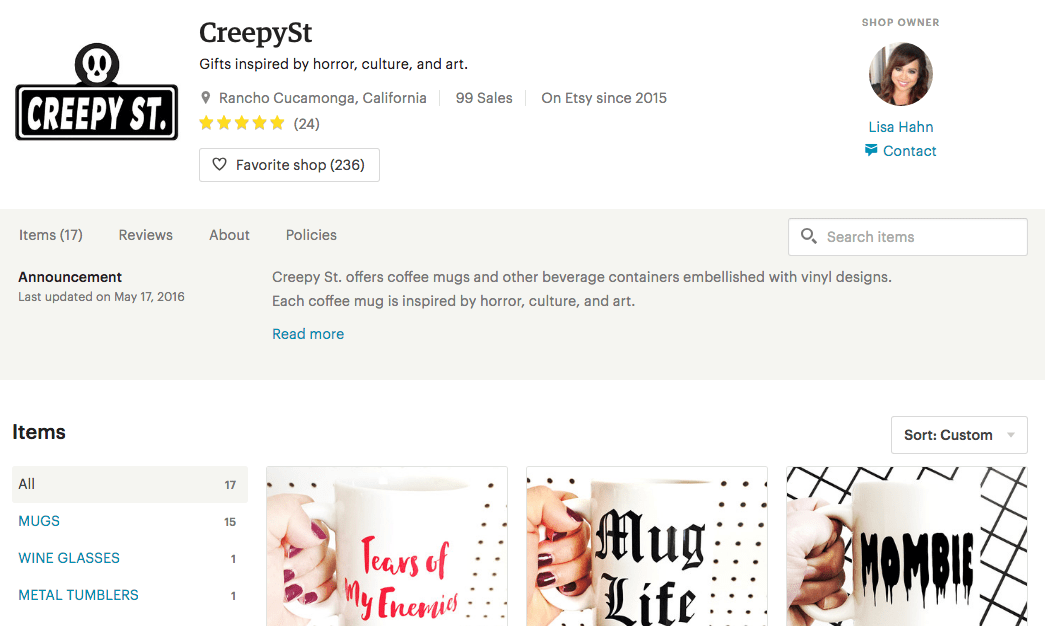 When it comes to horror films you either love them or hate them. Lisa from Creepy St. loves them so much she's set up her own Etsy shop selling goods celebrating horror film culture.
Lisa has a fun logo with a skull to indicate the dark nature of her shop. Most items in the shop are related to the horror world, and she stays consistent with her scary brand.
What's really fun is how Creepy St. shares horror flicks links, history and facts on social media. She's active in getting recognition for her brand, while also providing a newsfeed that is interesting to her followers on Twitter.
Takeaway Tip: Entertain your buyers. From the design of her logo to the fun newsfeed, Lisa is able to keep people interested in her shop by staying active with industry news.
Shine Invitations for beautiful wedding stationery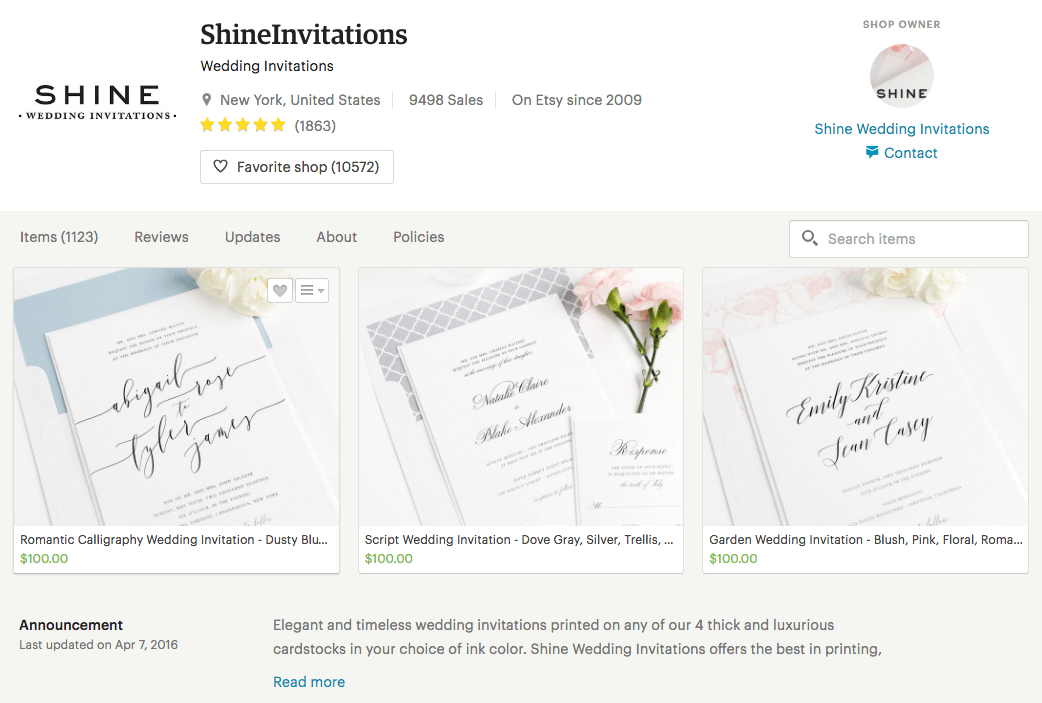 The wedding category is massive on Etsy. To stand out, a store has to optimize every setting and option. Shine Wedding Invitations does this very well. From their photos, to their titles and descriptions they use every opportunity to show the elegance of their invitations.
For branding they make sure to use their company name in emails and they refer people to their actual website and social media accounts (where they are highly active).
Takeaway Tip: Use fonts in your products and photos to stay consistent with your branding. In these pictures they use elegant fonts consistent with wedding invitations.
What you can learn from successful Etsy brands
Setting up your shop with a fluid theme is one way to help people remember your brand, but successful shops also do a lot behind the scenes. Here are more ways to work on your branding.
Use your Etsy shop name in emails
When you send emails about your shop, use your shop name in your signature and at the top of the email. Say "thank you for shopping at My Etsy Shop."
Set up social media accounts for your Etsy shop
If you don't already have social media accounts on Facebook, Twitter, Pinterest, or Instagram, set them up and start using them. The more active you are, the more likely you are to bring visitors to your shop. You don't have to be on all social media networks.
Work with others
Etsy has communities, and there are several other places that Etsy sellers congregate to support each other. You can find these places by searching on Google for the Etsy sellers group.
Surprise and delight customers with little branding touches: Even though you're an online business, most customers will still experience your product offline. Thoughtful packaging, with branded touches like custom stickers and labels, will help you bring your online brand into the real world from the very first moment your product reaches your customers hands!
Check out our packaging and branding post for more tips on what to include in Etsy packaging.
Get ready to make money on Etsy
Popular shops on Etsy have a lot to teach those who are willing to pay attention. Be sure to check out other shops to see what they are doing to increase sales, and gain exposure to their products.
As you learn more you can implement similar changes both when you start your Etsy store and as you continue growing your brand on Etsy.
There are countless ways to grow your brand using stickers and other custom printed products. Why not get started with branding and packaging, and watch your business grow from there?