How to decorate a nursery with wall decals
Posted by Sticker Mule on
Whether cute and cozy, Scandinavian minimalism, or charmingly traditional, choosing how to decorate baby's nursery can be a lot of fun.
Are you ready to start decorating your baby's room? In this post, we'll share with you the best tips and tricks in transforming your baby's room into a fun and safe haven for your little one.
When is the best time to decorate a nursery?
The months before your new baby's arrival can be hectic, but with a little preparation and a solid timeline it's easy to manage all the little tasks that need to be done, including decorating your new nursery.
Typically, experts suggest starting to decorate your nursery at around 20 weeks into your pregnancy. This allows plenty of time to order any furniture or nursery decorations you need, as well as having it all installed.
What essentials do I need in my baby's room?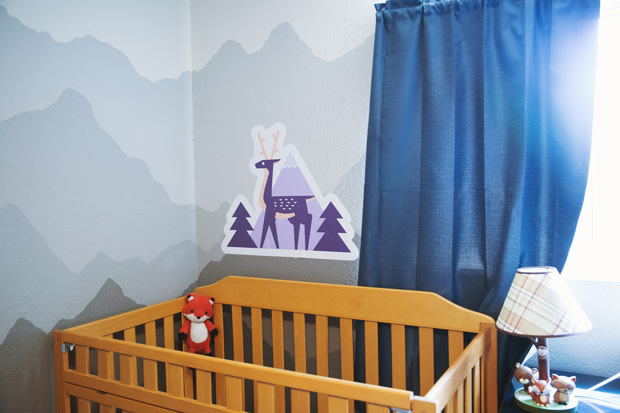 It can be hard to decide which of the latest gadgets you'll actually need in your nursery, but there are a few basic essentials you'll need:
Crib or bassinet - make sure it meets all safety standards!
Changing table - look for one with built-in storage underneath
Chest of drawers - somewhere to store baby's clothes and toiletries
Comfortable armchair or rocking chair for nursing and cuddling in
Toy chest - to store away toys, mobiles and other baby bits
What colors work best for a baby's room?
Choosing a color palette to decorate your nursery with is entirely up to you; whether you go for a traditional pink or blue theme or something neutral, opting for soft, calming colors works best for creating a soothing environment.
Opting for one central theme to tie the room together will make decorating a nursery so much simpler, too – animals, geometric shapes, or clouds and stars all make excellent nursery themes, and can be brought into the room on textiles, furniture or nursery wall decals.
What if I don't want to paint my baby's room?
If you're not quite ready to paint an entire room, why not try decorating your baby's room with wall stickers? Quick, easy and – most importantly – fun, nursery wall decals add instant cuteness to your baby's room with minimal effort and zero fuss.
Decorating baby's room with wall stickers
Nursery wall decals are perfect for adding colors, shapes, patterns and pictures to your baby's room, can be applied quickly and effortlessly, and best of all, they can be removed with no damage to your walls once your little one grows out of them. (In fact, they also work very well on any room in the house!)
Printed on a fabric-like material, nursery wall decals will sit perfectly on your walls and add that little extra flair to your nursery decoration.
Where can I apply wall decals in my baby's room?
Nursery wall decals can be placed virtually anywhere in your nursery; all they require is a smooth surface to adhere to:
Try a repeating pattern wrapping around the entire nursery, or decorate the wall surrounding baby's crib
Decorate the nursery's ceiling – after all, it's what your little one will be looking at from their crib and changing table
Wall decals can also be applied to doors, so why not put your baby's name on it?
How do I apply nursery wall decals?
Applying wall decals is simple, and takes just a few easy steps.
Unroll your nursery wall decal and discard the paper backing
Place the wall decal face down on a smooth surface
Peel off the top section of the sticker's backing (larger wall decals have separate top sections)
Stick the top of the decal to the wall – the adhesive allows it to be repositioned until you're happy with the placement
Slowly peel away the rest of the backing and use the squeegee included to smooth down the rest of the wall decal, making sure you avoid any bumps or bubbling
That's it! Your nursery wall decal is good to go.
Ideas for wall decals for a baby's room
If you can imagine it, it can likely be made into a nursery wall decal, but here are a few favorites to get you started.
Wall decals for a baby's nursery
When it comes to decorating for babies, wall stickers can bring instant cuteness to her nursery, and the world's your oyster when looking for design ideas.
If you're decorating your baby girl's nursery, don't be limited by soft pinks, gentle greens, pale yellows, and blues. All kinds of pastel hues work well for both baby girls' and baby boys' rooms. Be open to a variety of color motifs!
Regarding designs, you can go classic with fairytale motifs, or add a wall decal of your baby's name above his or her crib. Feeling adventurous? You can also do wall decals of lions and tigers to a starry night sky. Another idea is to have wall decal quotes from your own favorite nursery rhymes.
How can I create custom wall decals for my baby's room?
We can make custom nursery wall decals in any shape, color or size you like. Here's how to order:
Choose the size and quantity of wall decals you want
Upload your artwork and add any comments
Place your order and choose your delivery date
We'll send you a proof via email within 4 hours
Approve your proof, or request any changes you'd like (it's free!)
Once you approve, that's it: we'll send you your custom wall decals
Nursery wall decals: FAQs
How can I decorate my baby's room? If you're still asking this, here are a few tips and tricks, based on parents' and guardians' most frequently asked questions...
Can I decorate a nursery without painting?
Yes, you can easily decorate your nursery using wall stickers, with no need for paint. Nursery wall decals are faster and easier than painting your room. Wall decals can be custom made in any color, shape or size you want, and removed once your little one has outgrown them.
How can I make my baby's room look cozy?
Along with adding plenty of soft, cozy textiles, like rugs and blankets, choosing a warm color palette (think pinks, terracotta and warm-toned greens) brings wonderful warmth to a baby's room. Incorporate this palette throughout, including in paint and wall decals.
How can I remove nursery wall decals?
Baby room wall stickers are easy to remove. Simply follow these steps and your wall decals will come off quickly with no damage to your walls.
Gently pull the bottom corner of the wall decal; if it lifts easily away, you should be able to simply peel it away slowly and carefully
If the wall decal doesn't peel away easily, heat the area with a hairdryer on a low setting until it lifts away. Then move on to the next section and repeat.
Slow and steady is the best way to remove a wall decal in order to avoid any wall damage
Wash away any leftover residue with warm, soapy water. That's it!
Can I order custom nursery wall decals?
Yes! Sticker Mule can create custom nursery wall decals in any shape, size and design you want, so you can really put that personal touch on your baby's room!