Raster vs. vector images – what's the difference?
Posted by Sticker Mule on
Basically raster images are made up of a bunch of tiny pixels vs vector images which are made from mathematical paths.
Why is this difference important and what does it actually mean?
What is a raster image?
A raster image is a term in computer graphics and digital photography. A raster, also called a bitmap image, represents a rectangular grid of pixels.
They are viewable using a bitmapped display or another medium.
How do you increase the size of a raster image?
Let's pretend you have a raster image that is 300 x 300.
While it's easy to make an image smaller, increasing the size usually means decreasing the resolution. Although with AI tools, it is possible to increase your artwork resolution.
Upscale your images for free with AI
What is a vector image?
A vector image or graphic is a type of image defined on a plane, connected by lines and curves. They form shapes based on mathematical equations. And because of this, if you zoom in or out, the lines, curves, or points always remain smooth.
What are the uses of vector graphics?
Vector graphics are used by artists who are creating illustrations, logos, and other designs that are going to be printed on big surfaces. This is why a lot of designers prefer to convert their images to vector before printing them out.
How do you increase the size of a vector image?
Now let's pretend you have a vector image that is 300 x 300.
Because a vector image is made up of mathematical paths, you can increase the size of the image as much as you want and it would never decrease in quality. You could literally increase the size to 3 million x 3 million and all the details would still look sharp (assuming your computer could handle a file that big).
This difference usually makes vector images a superior option, especially when it comes to print. However, there are times when using raster images might be your best option. For example, photographs are always raster images. Converting a photograph to a vector image is possible, but will usually result in a drop in detail.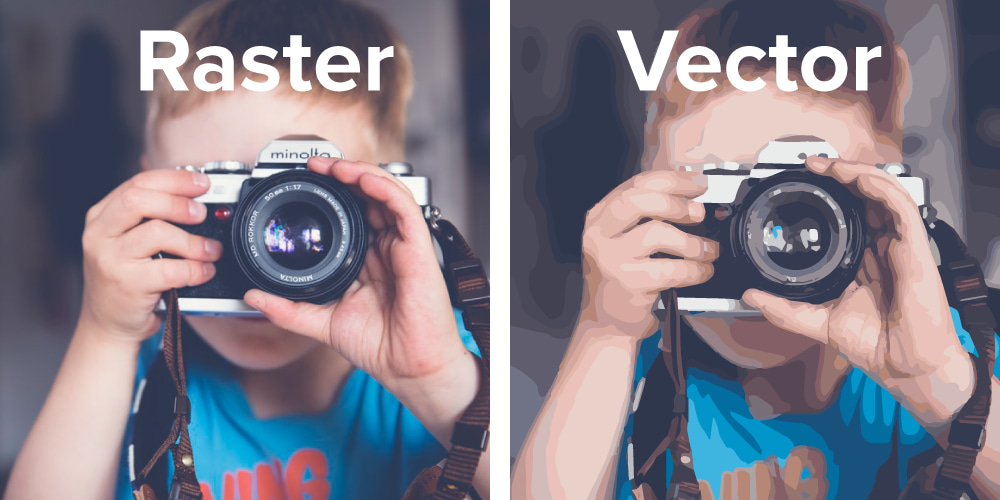 Raster vs vector image comparison
In this case, you might want to keep your image a raster file. As long as the resolution is at least 300 pixels per inch, your image will be able to be printed just fine.
It's also common for vector images to be converted to raster images to make them more accessible on the web. For example, Google's standard logo on Google.com is actually a .png file, while the design itself was originally created using a vector editing software. The .png file is very small (16kb) and makes for a quick loading page. But when it comes to printing, Google would want to use a vector version of their logo.
If you plan on using a logo, text, or illustration for print, we recommend tracking down a vector version of the artwork if possible. Otherwise, try to get the highest resolution version of the artwork possible.
What are the common raster file types?
.jpg or .jpeg
.gif
.tif
.psd
What are the popular raster-based image editors?
Adobe Photoshop
GIMP
Photo-paint
What are the common vector file types?
What are the popular vector-based image editors?
How do you convert raster images to vector images?
Redraw is a service that upgrades any raster image to vector format for a flat rate of $19.
Simply upload your artwork and checkout. Within a few hours we'll send a proof showing how your new artwork will look. You can request changes to the proof for free until you're happy (or cancel if you're not happy).