About Space Beards: Space Beards is a popular Tumblr blog (30,000+ followers) that replaces the hairy beards of celebrities (past and present) with cosmic galaxies created by Joshua Arter.
How he uses stickers: Space Beards went viral early on. Josh uses galaxy styled mustaches and beards as stickers to continue growing traffic and bringing attention to the popular site.
Results: Space Beard stickers have driven traffic and awareness for the site as it continues to grow beyond this galaxy.
It was the perfect storm of internet gold: beards plus space.
At first, Josh Arter's popular Tumblr blog "Space Beards: The Facial Frontier" was just a joke that Josh shared with friends. Those friends said he should start a blog so Josh set up a Tumblr site.
Within a few months, it was featured on major sites including Mashable and The Daily Dot. Then, it was featured as a trending blog on Tumblr Tuesday's "Blogs you should be following."
He knew he was on to something when his traffic took off through organic shares and went viral, "It was the perfect storm of internet gold: Beards plus space."
So he took his galactic momentum and set up an online shop with t-shirts, phone cases, and coffee cups.
Building a constellation
As part of his strategy to keep growing traffic, he printed off stickers with Sticker Mule of the space beards he posted on Tumblr.
When asked about how a digital blog bridges the gap between online and offline worlds, Josh says, "The key is to stay true to yourself. If you have a strong brand, stick to it and keep it consistent across all channels."
Josh wasn't content to just make stickers that were selfishly self promotional. Instead of stickers with a URL or his name, he made the stickers as whimsical as the blog itself. Each design is a die-cut sticker in the exact shape of the beard design. With rich, full color on quality vinyl, the stickers are as original as Josh's blog.
"The Space Beards stickers are essentially the blog logo, but like the characters Space Bearded on the site, each sticker represents a different look at the cosmos, keeping the Space Beards offline brand fresh yet familiar."
"I wanted to give away something others could put up around town to gain organic, local traffic to my site. Friends gave them to their friends, I see them around town and in bars."
People will walk up when they see the sticker and say 'Hey I love that site!'
When traveling around Milwaukee, the center of his bearded galaxy, Josh (and now many others) has space beard stickers on his car, laptop, and bike helmet. And when he's traveling, he brings a stash of stickers and puts them up around cities in prominent places.
"Space is infinite, the chances of creating a viral blog just the same, discovering a Space Beards sticker wild on the street is just as fun. People will walk up when they see the sticker and say 'Hey I love that site!'"
Others asked to have their own stickers and placed them in famous spots around the U.S including Seattle's infamous Market Theater Gum Wall.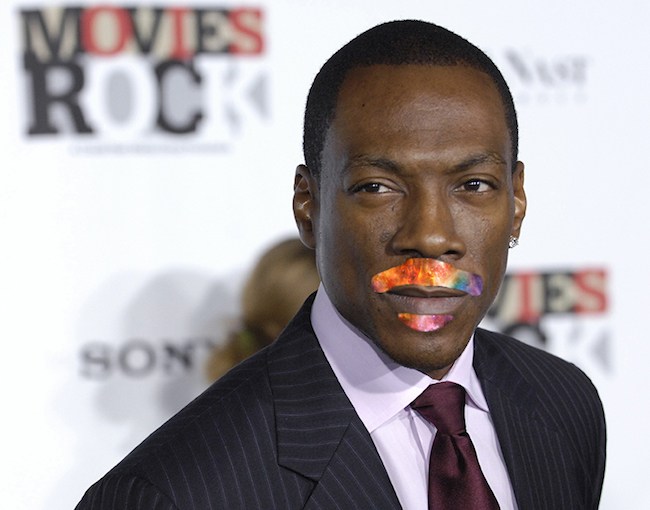 An Ever-expanding Universe
Josh attributes the stickers to increasing blog traffic, stoking interest, and driving sales of his other products like t-shirts.
"Stickers definitely brought in more traffic. In Milwaukee, some of the stickers are used in hip parts of town… The stickers stand out because of their shape and unusual mix of color."
Josh has found other ways to promote his blog and keep it trimmed and fresh.
Stickers definitely brought in more traffic.
Last November, Josh partnered with a blog about Milwaukee mustaches (yes, there is a blog for everything) for a Movember event. The theme of the party? Facial hair for a good cause! It was complete with custom shirts. The party was an easy way to promote his blog within his community.
At the event, mustache stickers were available for attendees to pick up to show their beard love and to continue to boost traffic to the site.
An altruistic artist, Josh has shared his artistic power away through a space beards app for iPhone and iPad.
Why Sticker Mule?
He originally heard about Sticker Mule through a friend. "All he could talk about was quality" and said that they last forever.
Before Space Beards, Josh used Sticker Mule for another blog "Thanks for the love MKE" — a website that showcases the city of Milwaukee through photos taken by residents to give a more intimate view of the city.
"I love the city and wanted to show it off. It's underrated and a well kept secret."
The stickers he made for the MKE blog have become a common sight throughout the city.
The quality, reordering, and turnaround time is the best in the business.
"At one of our meetups, we handed out stickers and ran a campaign for people to take a photo involving their sticker and their favorite Milwaukee spot. It ended up being a broader campaign as people threw them up around the city in general."
With two popular blogs that use stickers to drive traffic, Josh exclusively uses Sticker Mule because of "the quality, easy reordering, and turnaround time is the best in the business".