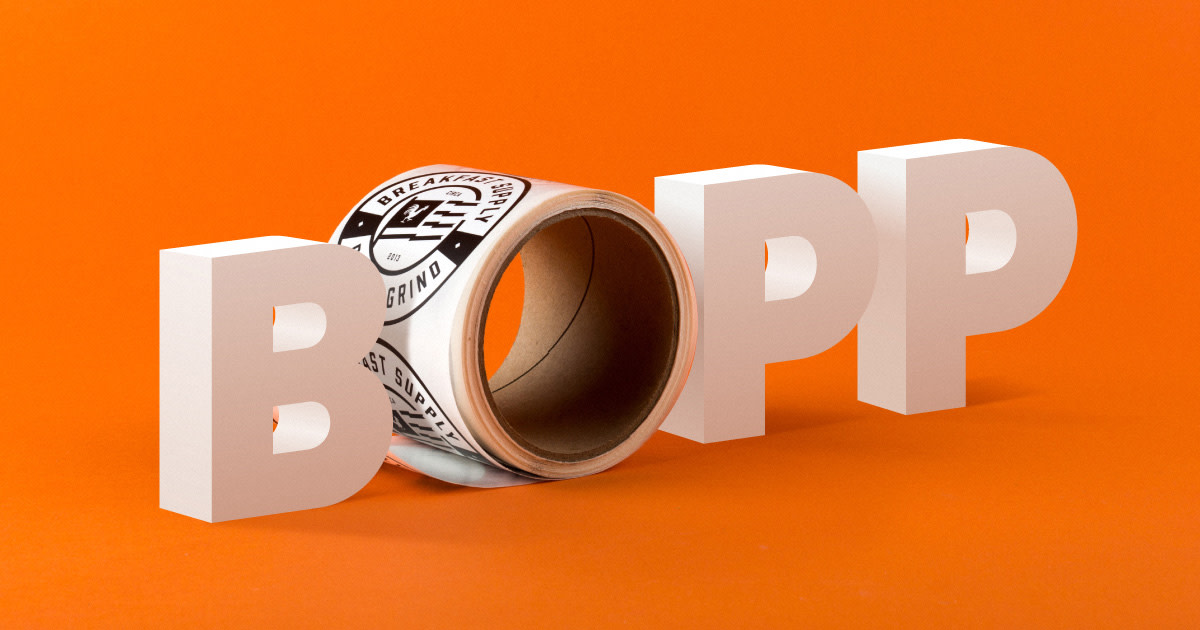 We use BOPP for all of our custom labels. But what is BOPP exactly?
Packaging industry experts would answer the question with a technical term: biaxially oriented polypropylene. That's a fancy name for a type of plastic. "Biaxially oriented BOPP" means manufacturers stretch the plastic film in two directions during its production. They do this to improve its strength, flexibility and clarity.
Basically, BOPP is the kick-ass material we use to make the best labels and stickers. Here's why we and other online printing services love it.
Talk to me like an engineer, what exactly is BOPP?
BOPP (Biaxially Oriented Polypropylene) is a thermoplastic polymer that has many similar properties to PET (Polyethylene Terephthalate). It is commonly used in sticker and label printing, food packaging, bottle caps, and other applications.
BOPP is produced by cross-linking two propylene molecules with a chemical compound called di-(2-propen-1-ol) adipate (DA). The resulting thermoplastic polymer chain is biaxially oriented. This orientation creates a film that is stronger along two axes than it is along just one axis.
/end nerdTalk
When was it invented?
BOPP is a type of plastic that was first commercially manufactured in the early 1960s by companies like Brückner-Maschinenbau. It became popular for its low cost, opacity, and ability to withstand harsh outdoor conditions. Today, BOPP is one of the most commonly used plastics in the world; by some accounts, it's the 2nd most popular plastic in the world!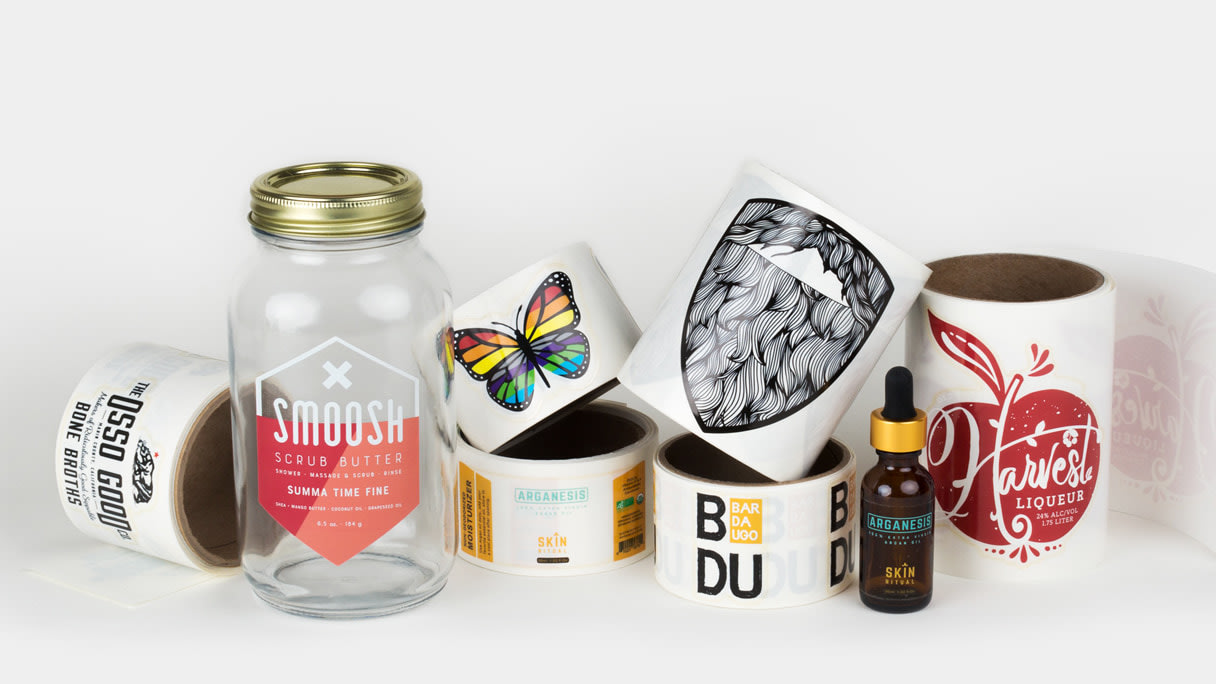 Why is BOPP a great material for stickers & labels?
Stickers and labels should be easy to print on, resistant to water and chemicals, and either clear or opaque, depending on your needs. BOPP label material ticks all of these boxes and more.
BOPP is perfect for printing
Printing with both water- and solvent-based inks is possible on BOPP labels. Manufacturers of BOPP film treat its surface using various methods—like corona treatment—to improve its adhesiveness and printability.
The corona treatment is a process of applying a thin layer of metal oxide to the surface of the BOPP label. The metal oxide layer is added by applying a liquid or gas on the surface of the label. The liquid or gas is then evaporated to form an oxide film on the surface of the label.
The corona treatment is not only applied on the surface of BOPP labels, but also to other labels as well, such as those used in food packaging and automotive parts packaging, due to the ease of printing and durability it provides.
Water, chemical, and UV resistance
The tough BOPP is "the Hulk" of plastic films. Almost indestructible, it resists oil and water, making it perfect for labeling products used in the kitchen or in the bathroom.
Thanks to its resistance to most chemicals—solvents, bleaches, and disinfectants—BOPP is also suitable for drug and cosmetic labels.
BOPP film is an excellent choice for any indoor or outdoor use. While it's waterproof, it doesn't have to be sealed against moisture, which means it can be used in kitchens, bathrooms, and classrooms. It can also withstand harsh UV light exposure, meaning it can be used for printing signs, graphics, and more.
BOPP can be crystal clear or opaque
BOPP has excellent clarity, so it's ideal for see-through labels. But this material is also available in its opaque variety. So, whether you want a totally transparent or brightly colored label, we have a type of BOPP label to meet your needs.
Why BOPP is the only material you need for labels
Versatile and durable, BOPP is an excellent material for labels in the food and non-food packaging sectors. It has many advantages over other label materials, like paper and vinyl. BOPP has a long shelf life, which means it will last longer than other labels. This makes it ideal for use in the food and non-food packaging sectors where shelf life is important.
BOPP can be used in any type of container, whether plastic or metal.
BOPP vs. paper labels
Unlike paper labels, BOPP stands up to water, oil, and chemicals. Plastic is also more durable and stronger than paper. So, a BOPP label resists tears and scratches better than paper does.
However, since it's a plastic material, BOPP will usually have a shiny look that some people and designers may not like. If you want a more "matte" finish, paper labels and stickers might be more for you. Just remember these stickers and labels will be way less durable, and are not great for many practical uses.
BOPP labels vs. vinyl stickers
BOPP is thinner (3.4 mil) than the vinyl material (7 mil) we use for custom stickers. And because labels are printed on a roll, this makes them ideal for fast peeling and application. Check out stickers vs. labels for a more detailed comparison.
BOPP labels are safe for indirect food contact
BOPP is a superstar in the food packaging industry. Many food products can use a BOPP label. Coffee and tea packaging, honey jars, wine bottles, and all sorts of food containers are just a few examples.
As an open-cell construction material, BOPP has many advantages: lightweight, easy to handle, inexpensive to produce, and doesn't need any special packaging.
Thin and flexible for any container
Flexible and very thin, BOPP labels stick well to any container. That can be a mason jar or a jelly jar, a container for spices, or a scented candle. Add the scratch resistance of BOPP, and the label may last longer than what's inside the container.
BOPP labels are water and oil resistant
Any label that may encounter oil or water needs to come out undamaged. The water and oil resistance of BOPP label material make it useful for applications in the cosmetic industry and many others - Sticker Mule labels are perfect for moisturizer jars, shampoo bottles, and lip balm tubes, among others.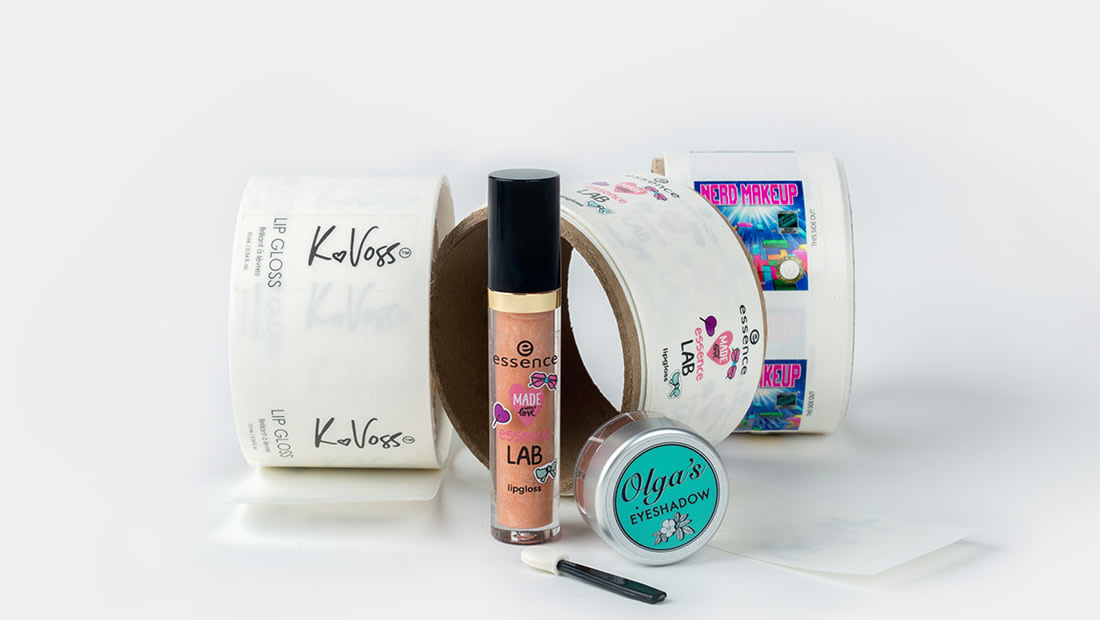 Why aren't you using BOPP?
BOPP is a material that needs specialized equipment to print on. But the good news is that Sticker Mule is the easiest way to print stickers, labels and other promotional materials for your homemade products or promotional business needs with BOPP.
Whether you need a few custom stickers for your Etsy shop or a large quantity of custom stickers for your retail store, Sticker Mule can help you get the job done quickly and easily. We use the best materials and equipment so we can turn your design into a high-quality printed product.