Best sticker material guide: Top choices & expert tips
Posted by Sticker Mule on
From the custom vinyl sticker on your laptop to the price tag on a book, stickers are all around us and vary not only in size and color but also in the material they're made of. Which is exactly our topic for today.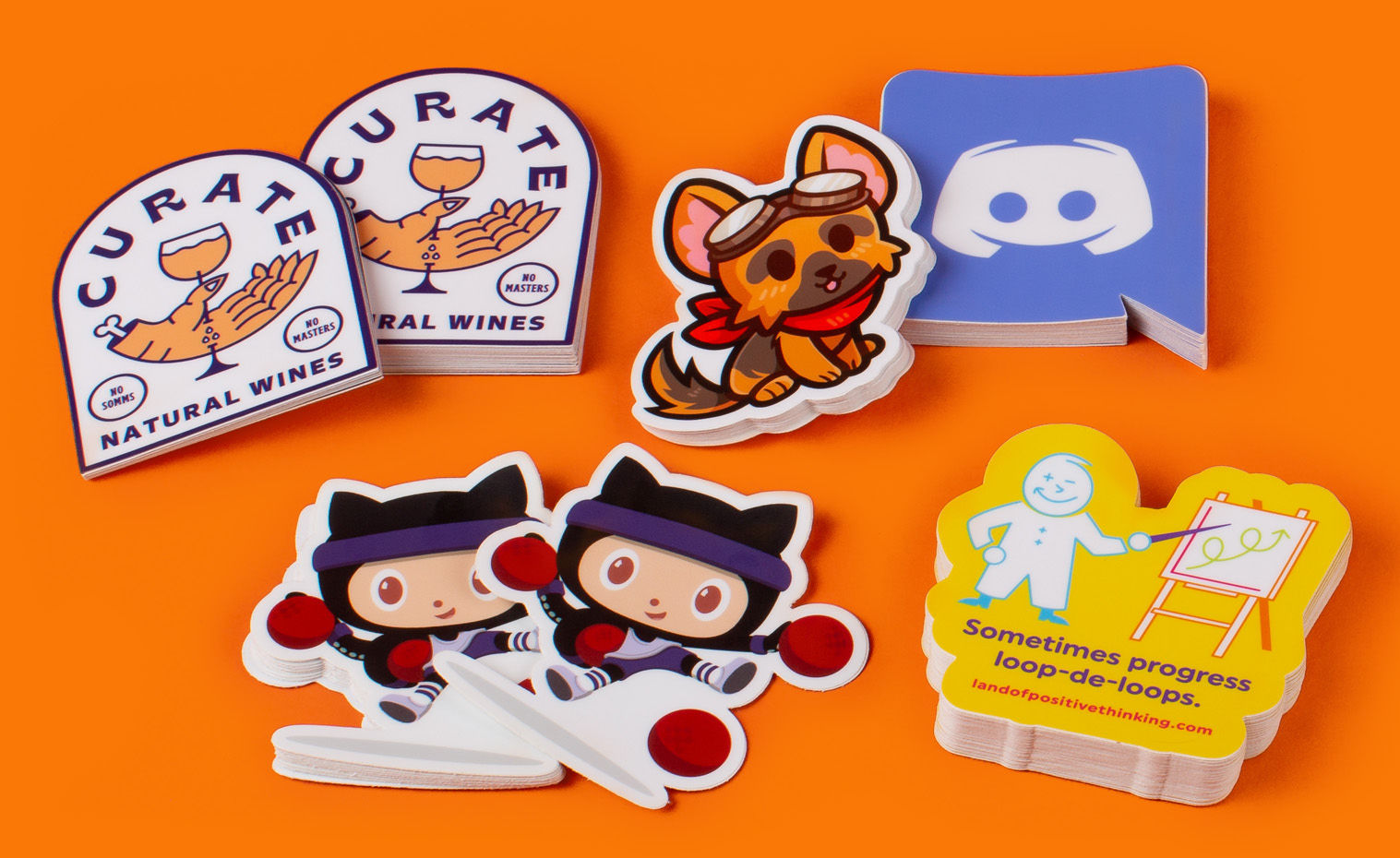 Does the material my sticker is made of matter? You betcha. The material determines what you can use your sticker for, how long it's likely to last, and even how eco-friendly you are. So join us as we go over the main sticker types, their uses, and some pros and cons.
Types of sticker materials
Let's begin by looking at the main types of sticker materials and what they're good and bad for.
Vinyl stickers
The most commonly used type for both personal and commercial uses, vinyl stickers are made from a thin layer of PVC that makes them waterproof and generally more resistant than other kinds of sticker. They can adhere to almost any surface, including metal, glass, wood, and plastic.
Popular uses for vinyl stickers include car decals, laptop stickers, office signage, and product labels.
What are the pros and cons of vinyl stickers? Let's take a look.
Pros
vinyl stickers are waterproof, sunlight proof, and fairly weather-resistant in general
they last longer, are harder to tear, and can be washed together with the surface they're on
given their flexibility, they adhere easily to curved materials and thus have the best adhesion of any type of sticker
vinyl stickers are easily customizable in a variety of colors, sizes, and die-cut shapes
Cons
although recyclable, vinyl stickers are not the most environmentally-friendly option, as they are not biodegradable
tend to be somewhat more expensive than other materials
Paper stickers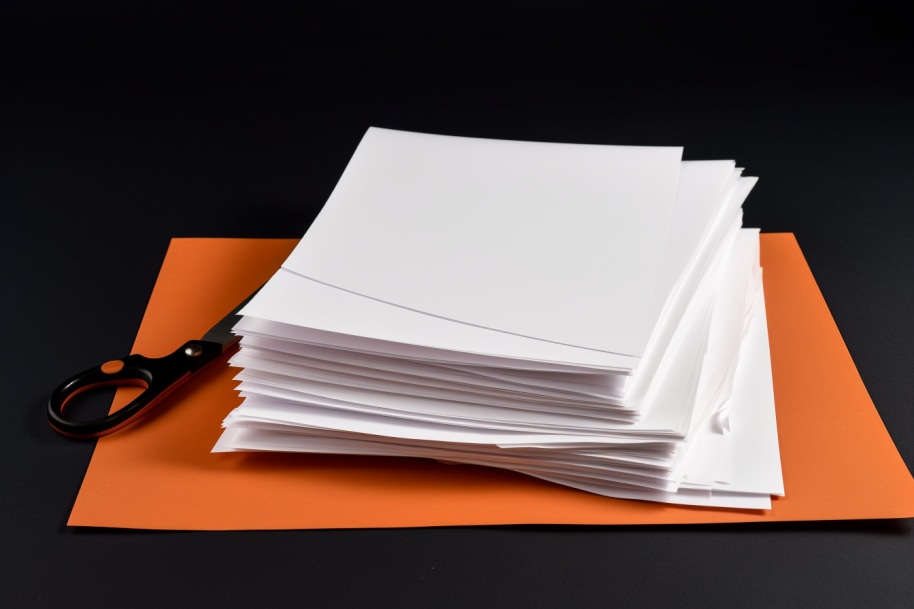 Paper stickers can be a more budget-friendly option that you can still customize with a variety of finishes, including matte and uncoated. Good for indoor use, they're often used as product identifiers or labels and are often applied to materials such as paper, wood, glass, metal, and plastic.
Paper stickers have their own pros and cons.
Pros
price (cheaper than vinyl and other materials)
biodegradable: unlike vinyl, paper decomposes quickly and completely
easier to print: paper stickers don't require high-tech printers for their production
Cons
poor durability: even coated paper stickers have lower durability than their vinyl counterparts, and will typically fade and become illegible under external weather conditions
don't deal well with dirt: unlike vinyl stickers, they can't be washed
tear easy (they're paper, after all!)
Polyester stickers
Polyester stickers are the most durable of the bunch. Slightly thicker than vinyl stickers, they can take a beating from the sun, rain, snow, dirt, harsh chemicals, extreme temperatures, and other elements — and come out looking just fine.
That's why polyester stickers are often used for very long durability purposes, such as product labels that need to remain legible for the full lifetime of a product.
Pros
extreme durability against all manner of weather and elements
high level of tear resistance
Cons
print quality tends to be lower than that of vinyl stickers
cost — polyester is typically somewhat more expensive than vinyl
eco-friendliness: unlike vinyl, polyester is a non-recyclable material
Holographic stickers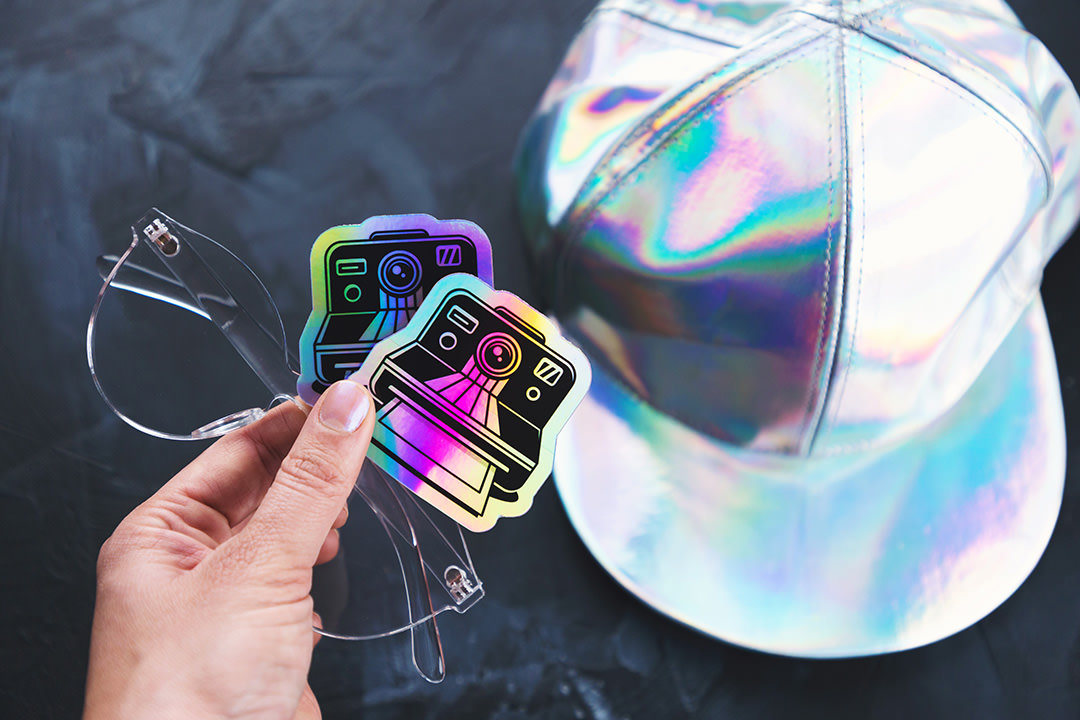 Holographic stickers can be made of either paper, vinyl, or polyester, but what sets them apart is the unique iridescent glow added to them (usually through an extra vinyl layer).
The holographic light-catching effect is a great way to set your stickers apart and also makes for some special uses — holographic ID stickers for your car's front window, for instance, are harder to replicate than normal stickers.
The pros and cons here are pretty straightforward:
Pros: Create a unique visual style and are harder to replicate.
Cons: Tend to be more expensive and require more advanced tech to make.
Factors to consider when choosing sticker material
As you see, each type of sticker has its pros and cons. To know which to choose for your company or your personal uses, you must keep a few factors in mind.
Intended use
Are your stickers meant for indoor or outdoor use? As seen above, paper stickers tend to be suitable for use inside, while the sturdier vinyl and polyester stickers are more suitable for out-of-doors applications.
Surface type, too, plays a role. If you intend to place your stickers alongside a curved or round surface, the extra flexibility of vinyl stickers will be a good plus; for surfaces more likely to end up grimy or oily, polyester stickers are the superior choice.
Durability
How long should your stickers last? There's another question to ask yourself. If you need them to stick around for quite a while, both vinyl and polyester are a good choices — they'll usually hold up well in any weather and deal well with dirt and high humidity.
On top of that, you may also want to look for additional specs such as UV coating (to make sure your stickers won't fade fast when exposed to direct sunlight) or resistance to repeated washing and higher temperatures (as in the case of mug stickers).
Print quality
For intricate designs that are likely to get inspected up close, vinyl and paper tend to be the way to go. Polyester is a challenging fabric to print on, and although it can take beautiful designs and a variety of colors, it's more suitable for large decals meant to be visible from a distance, and not inspected at close quarters.
The difference between vinyl and paper tends to be not so much in image detail but in color vibrancy. Vinyl lends itself to more vibrant printouts (both glossy and matte), whereas paper will naturally be more on the matte side.
And, of course, for a supremely vibrant and eye-catching design, you can't go wrong with a good old multi-layered holographic sticker.
Cost and budget considerations
Cost may or may not be one of your primary considerations, but it makes sense to factor in the equation — especially when bulk ordering. Paper stickers can be significantly cheaper than their longer-lasting counterparts, and can also be printed in most home printers.
On the other hand, higher-quality designs tend to pay for themselves, which means vinyl stickers almost always give you an excellent bang for your buck — especially if you take advantage of bulk-order discounts such as the ones we offer at Sticker Mule.
Environmental concerns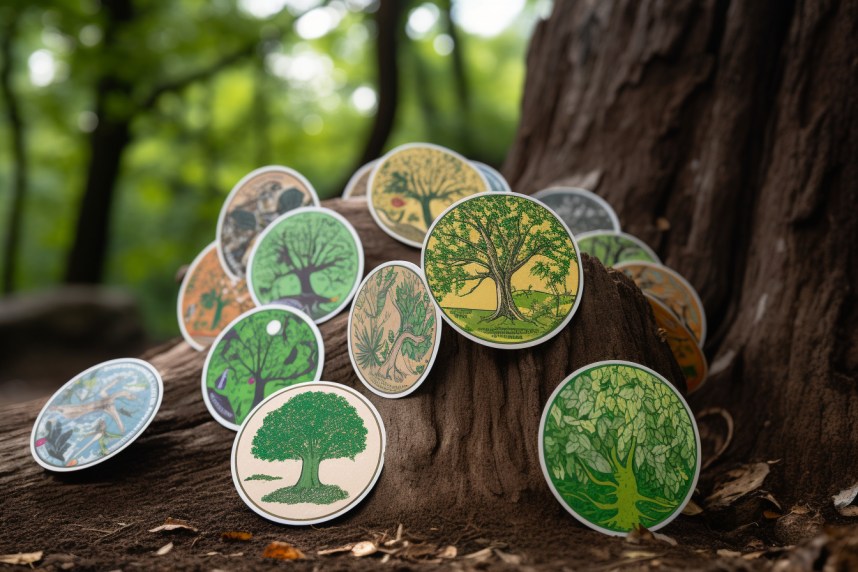 Some companies pride themselves in being ecologically correct, which is not only good for the environment, but also a lucrative niche all of its own — as of 2020, 45% of US consumers showed interest in buying from sustainable or environmental-friendly brands.
With that in mind, from paper (biodegradable) to vinyl (recyclable) to polyester (non-degradable, non-recyclable), there's a decreasing scale of environmental-worthiness that you might want to consider if you've been looking to make your packaging more eco-friendly.
Tips for selecting the best sticker material
So, what are some good tips for selecting the best material for your stickers? With the above info in mind, we recommend you:
Assess your needs. Begin by determining how you'll be using your stickers and what are your needs in terms of print quality, durability, weather and waterproof, etc.
Test different materials. For that, you can benefit from ordering small custom samples.
Consult with professionals. I mean, why do all the work yourself? Ask a professional at a printer. At Sticker Mule, we're always happy to answer your questions.
Consider eco-friendly options. After all, if it's good for the environment, it's good for you — one way or another.
Conclusion
High-flexible vinyl stickers with great print quality, sturdy polyester designs to put through the elements and all kinds of abuse, cheap and simple paper stickers, or fancy shiny holographic ones — there's something to recommend each and every type of sticker. They each have their purpose.
So, just make sure you know what you're getting yours for, test with a sample, and you won't risk ending up with the wrong sticker material for your designs.
If you've read this far, you're either (incredibly) bored or (almost certainly) looking for stickers. So why not try out Sticker Mule's vinyl and holographic stickers? You know you want to!