Stickers that sparkle ✨ Glitter stickers are now available!
Posted by Sticker Mule on
While some people don't like the number 13, we're super excited to have fulfilled our customers' needs for 13 amazing years. Sticker Mule was formed to be the best way to print stickers online and is now one of the world's leaders in all online printing. It's been a fun ride, and that's what we're all about: good old-fashioned fun.
I mean, what could be more fun than making custom stickers as a business? And not just. Posters, decals, labels, packaging tape, keychains — our product line is constantly expanding. 
And guess what, now there's even more fun on the horizon with our newest product: custom glitter stickers!
These sprightly little fellas are the sticker equivalent of popping a confetti cannon at a lively party — they tone up the fun-o-meter a couple of notches and make everyone smile. 
Want to be part of our product launch? Then let's find out what our glitter stickers are all about.
Why glitter stickers?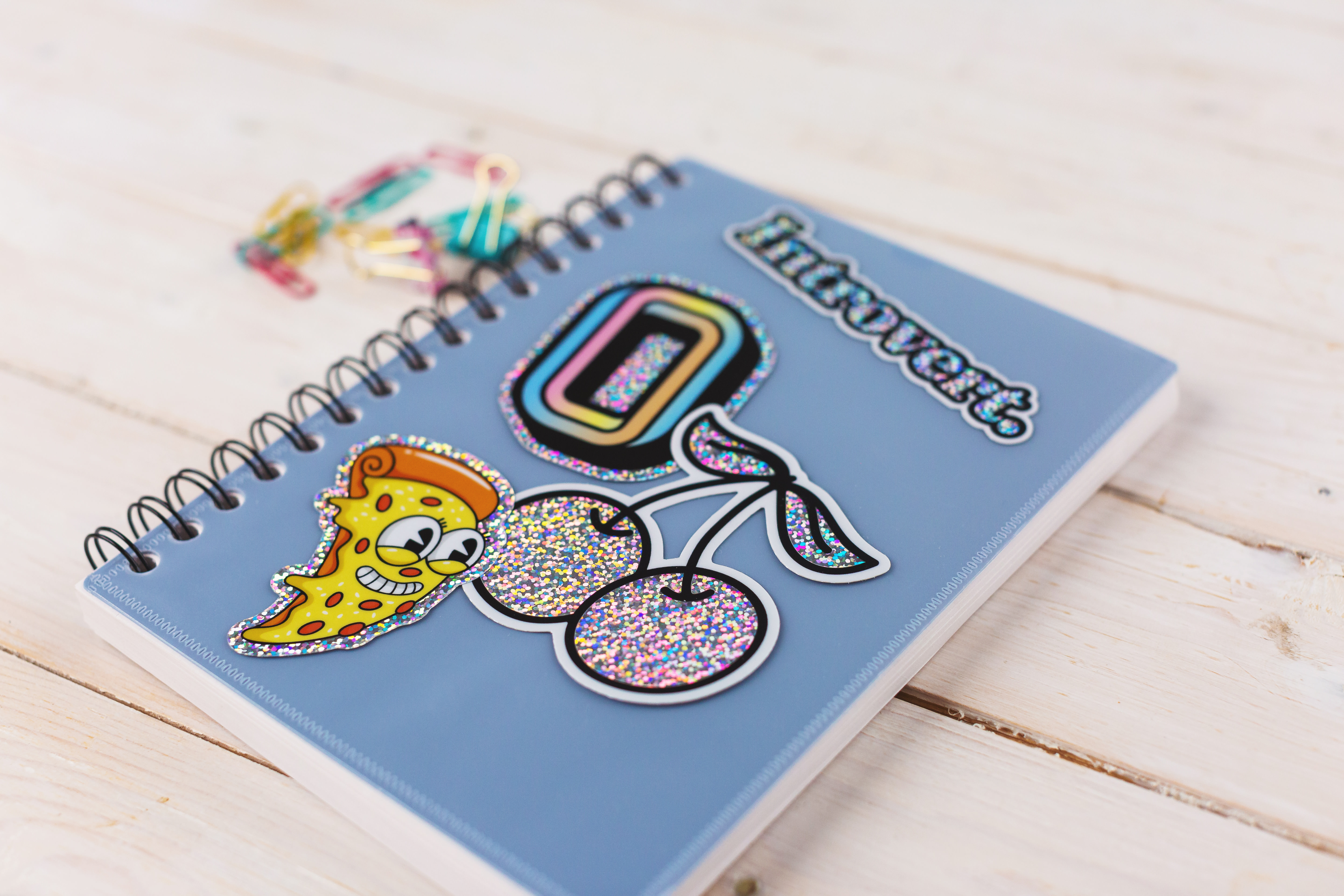 Over the past decade, sticker marketing became a thing when businesses began trying different, more cost-effective ways to advertise. Inexpensive and easily shareable, stickers were the perfect solution. Now businesses all over the world add free logos or brand stickers to their custom orders as a way to form a positive connection with buyers and help them spread the word.
As for glitter, it hardly needs an introduction. Earlier associated with glam rock and fashion subcultures, glitter has since gone mainstream, and for good reason. It's a great way to add a sparkle of friendliness to just about any product or brand.
Glitter stickers are a surefire way to make your custom art, brand logo, or even pet picture shine. Slap them on a car or laptop and watch how they capture every ray of light — and quite a few smiles too.
Benefits of custom glitter stickers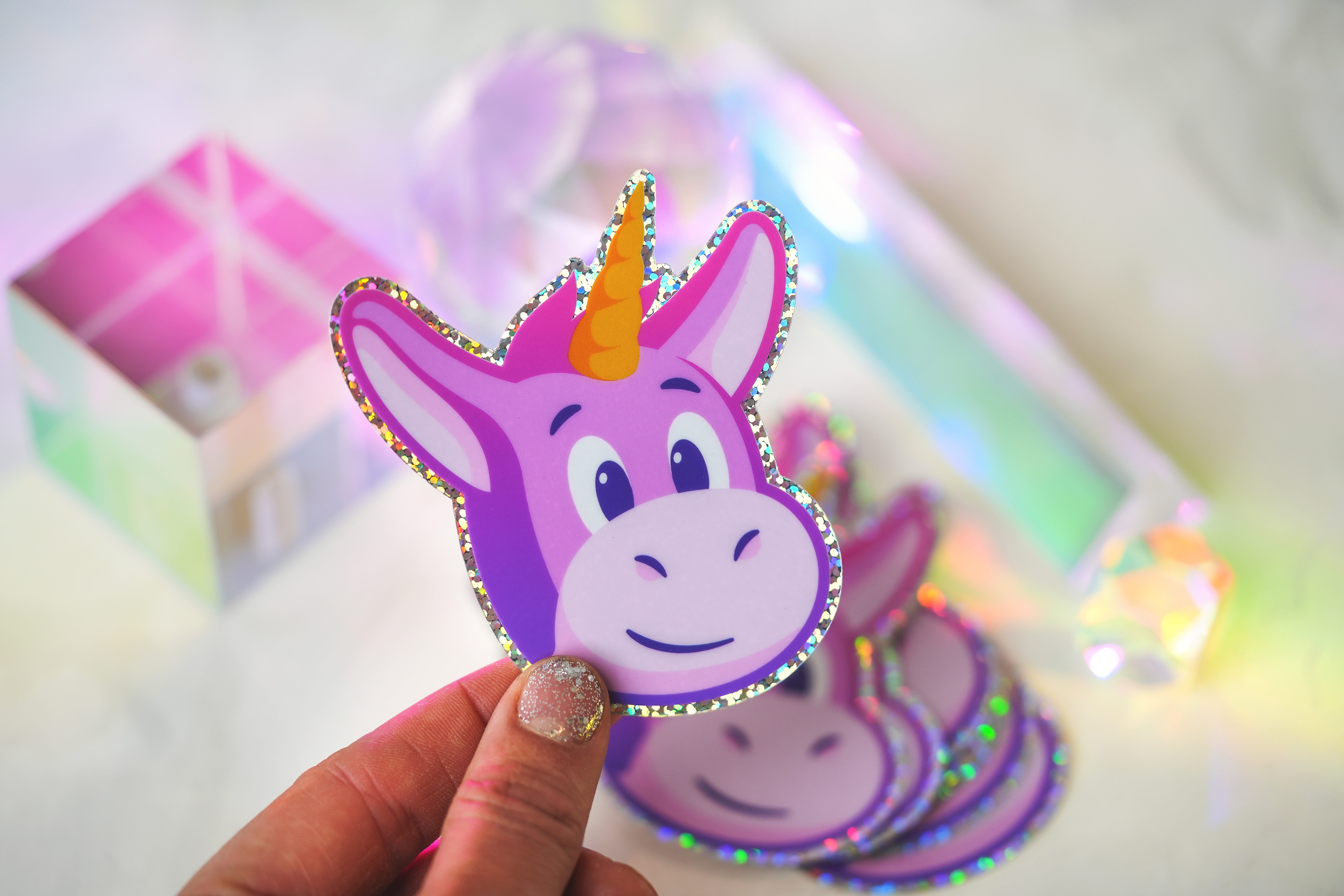 One of the best things about our glitter stickers is how incredibly customizable they are. You can order them in all shapes and sizes; we print them circle, rectangle, and square, as well as just about any die-cut format. With our very thorough (and very free!) proofing process, you get to edit your art and printing specifications until your stickers sparkle just the way you want them.
Also, they are Sticker Mule stickers, and if you've been with us for some time, you know that means quality. 
Printed in durable vinyl, our glitter stickers are made to stand the test of weather and water, sunlight and smog, dust, and detergent. They really kind of just stick around, looking as sparkly and new as ever.
All this means that if you want to harness the scintillating visibility and recognition that glitter stickers bring to your brand, there really is no limit to all the creative ways you can use them. Indoors or out.
How to order your custom glitter stickers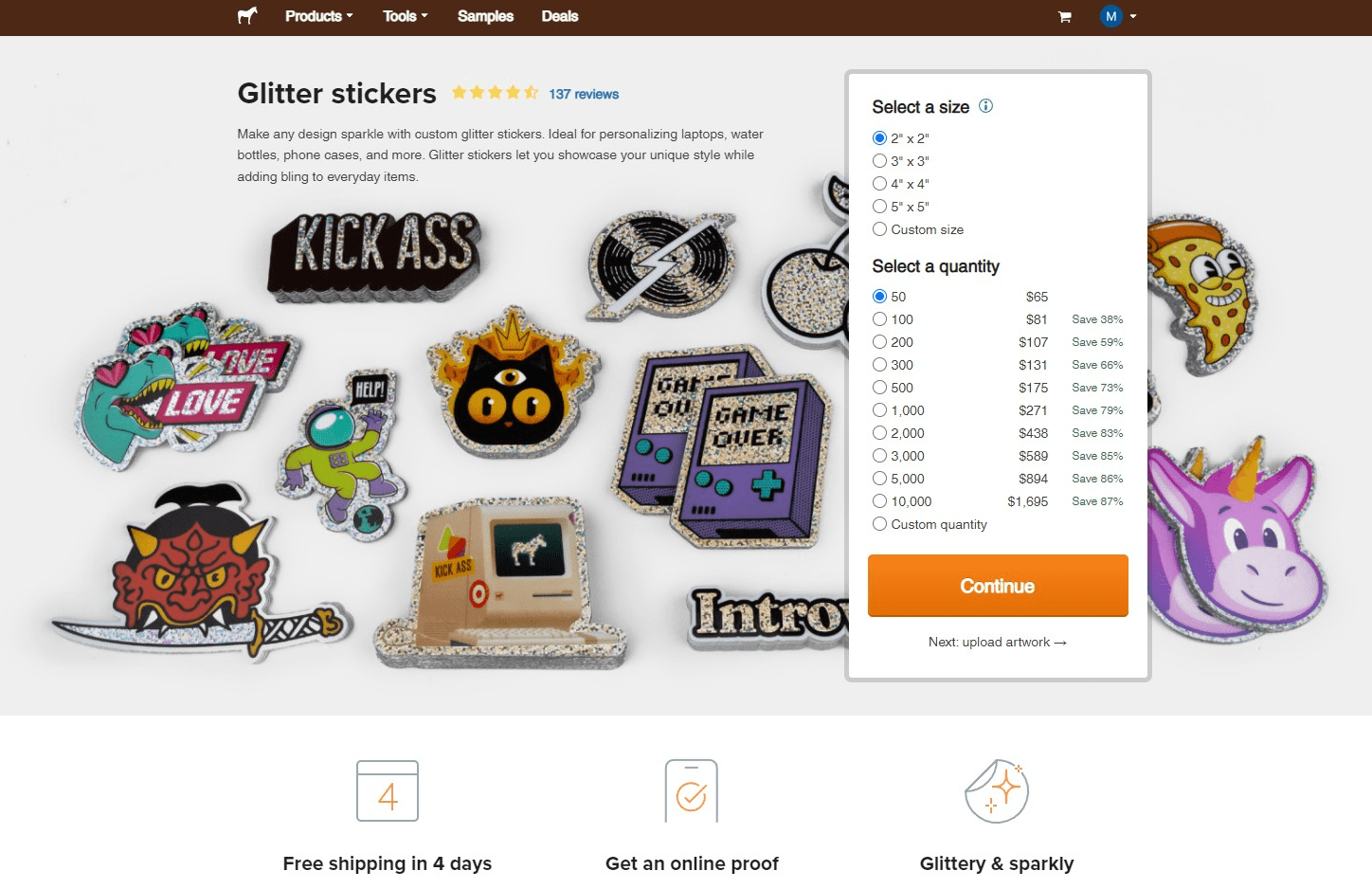 Ordering with Sticker Mule is easy. We understand buying online can be something of a hassle, so we've made sure to simplify our ordering process to its bare essence. You don't even need to create an account, although doing so only takes a minute and allows you to share your sticker art or save it for future reorders.
So it's all very simple. 
Select the amount and size of your stickers. 

Upload your art and add any printing instructions you have.

Check out! It takes only a moment, and you won't be charged yet.

Within a few hours, you'll get an email showing just what your stickers will look like printed. Now is the time to request changes to the design (all free) — or give us the green light.
Pretty neat, huh? And believe us, our discounts are pretty neat too. They come in several types:
Discounts on order number: The more you buy, the less you pay per sticker — up to a whopping 87%!

Discounts on sticker size: If you ordered a 5x5'' sticker, but your design turns out to take up 4x4.5'', your price is automatically adjusted to reflect that. And believe us, the difference adds up, especially for larger orders.

Discounts on multiple items: The more individual artworks, sizes, or products you add to your cart, the bigger the discount. 
And of course, we run weekly promotions where our loyal clients get some of the sweetest sticker deals out there. Feel free to go right ahead and subscribe to never miss out on those!
Customers are already raving about custom glitter stickers
"Everyone is raving over the quality of the stickers!--- And slapping them on their cars too LOL! I highly recommend to anyone that wants a sticker that holds up to the weather etc. The glitter actually does have a bit of a rainbow affect in certain light."  - Rachel G
check out this review
"I am so happy with how the glitter stickers turned out that I almost cried!" - Heather
or this review too
"My favorite sticker creation thus far! This is my fourth sticker creation using sticker mule and the glitter stickers are my favorite. the glitter background to my artwork were the finishing touch to make this design pop. I absolutely love everything about this sticker! Thank you sticker mule for all your awesome and affordable deals!" -Kandice
Capping it all off
You can see why we're excited about our latest product launch, and we hope you are too. Custom sticker glitters are a perfect way to promote your brand and give a joyful iridescent rainbow to any design or artwork you love, and we suspect at this point you have at least one design in mind you're just dying to make glittery.
So go right ahead, and order your custom stickers now. Get them in a few days with free shipping and enjoy the glittering enthusiasm of Sticker Mule!