Get saucy with hot sauce packets in bulk from Sticker Mule
Posted by Sticker Mule on
Our hot sauce, Mule Sauce, is already the internet's favorite hot sauce and a top hot sauce in contests. To make it easier to use in any situation, the sweet and spicy hot sauce is now available in convenient individual packets in bulk that make it easy to use on the go!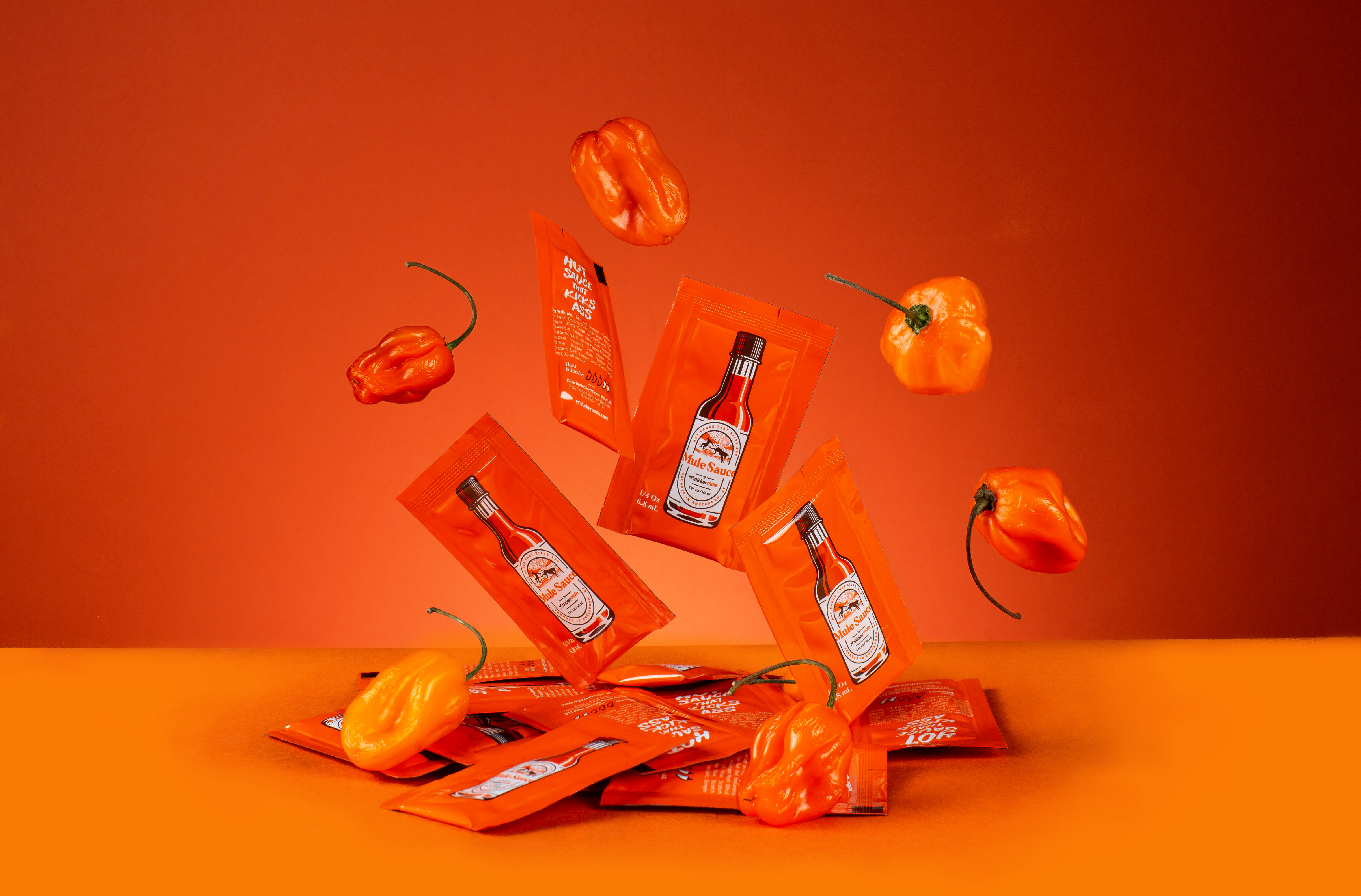 Mule Sauce is a unique blend of spices and peppers that packs a flavorful punch. The sauce is made with a combination of habanero, jalapeno, and serrano peppers, giving it a spicy kick that is balanced out by a dash of sweetness. The result is a hot sauce that is both delicious and versatile — the perfect addition to any meal.
The sauce is not just hot: it has a unique flavor profile, a perfect balance of sweet and spicy, with a tangy finish that makes it perfect to pair with dishes of all types and tastes.
One of the biggest appeals of Mule Sauce is its versatility. It can be used to add flavor to anything from Mexican and Tex-Mex favorites like tacos and burritos, to more traditional American fare like burgers and fried chicken. The sauce is also great for spicing up eggs, soups, stews, and even pizza. It can be used as a marinade, a dipping sauce, or even as a dressing.
Long story short? Mule Sauce is a great addition to any dish in want of some extra heat and flavor.
The individual packets of Mule Sauce make it incredibly easy to use on the go. Whether you're heading to work, school, or a picnic, you can simply toss a packet in your bag or pocket and enjoy a little bit of heat and flavor wherever you go.
The packets are also great for events and promotions: hand them out as a fun and unique giveaway or include them in a gift bag or as a complimentary item with a purchase. It's a nice little way to show your customers you care about their taste buds as well.
Another big plus? The individual packets of Mule Sauce are perfect for sharing. Hand them out to friends, family, or coworkers so they can add the joy of sweet heat to their lunch. It's a great way to introduce them to the deliciousness of Mule Sauce and spread your love for all things spicy.
In conclusion, Mule Sauce packets in bulk from Sticker Mule are the perfect way to add a little heat and flavor to your life. Convenient, versatile, and delicious, they make a great addition to any meal — or event. And with our individual packets, you can use them on the go, give them away in events and promotions, and share them easily and safely.
So, whether you're a hot sauce aficionado or just looking for a new way to add some flavor to your food, be sure to give Mule Sauce a try — you won't regret it. Before you know it, our sauce will be a staple condiment in your household, bringing you flavor and spice for many meals to come.