Mule sauce wins #1 hot sauce at a top Texas hot sauce competition
Posted by Sticker Mule on
Mule sauce is already the internet's favorite hot sauce. Now it can add being the top ranked hot sauce to its repertoire!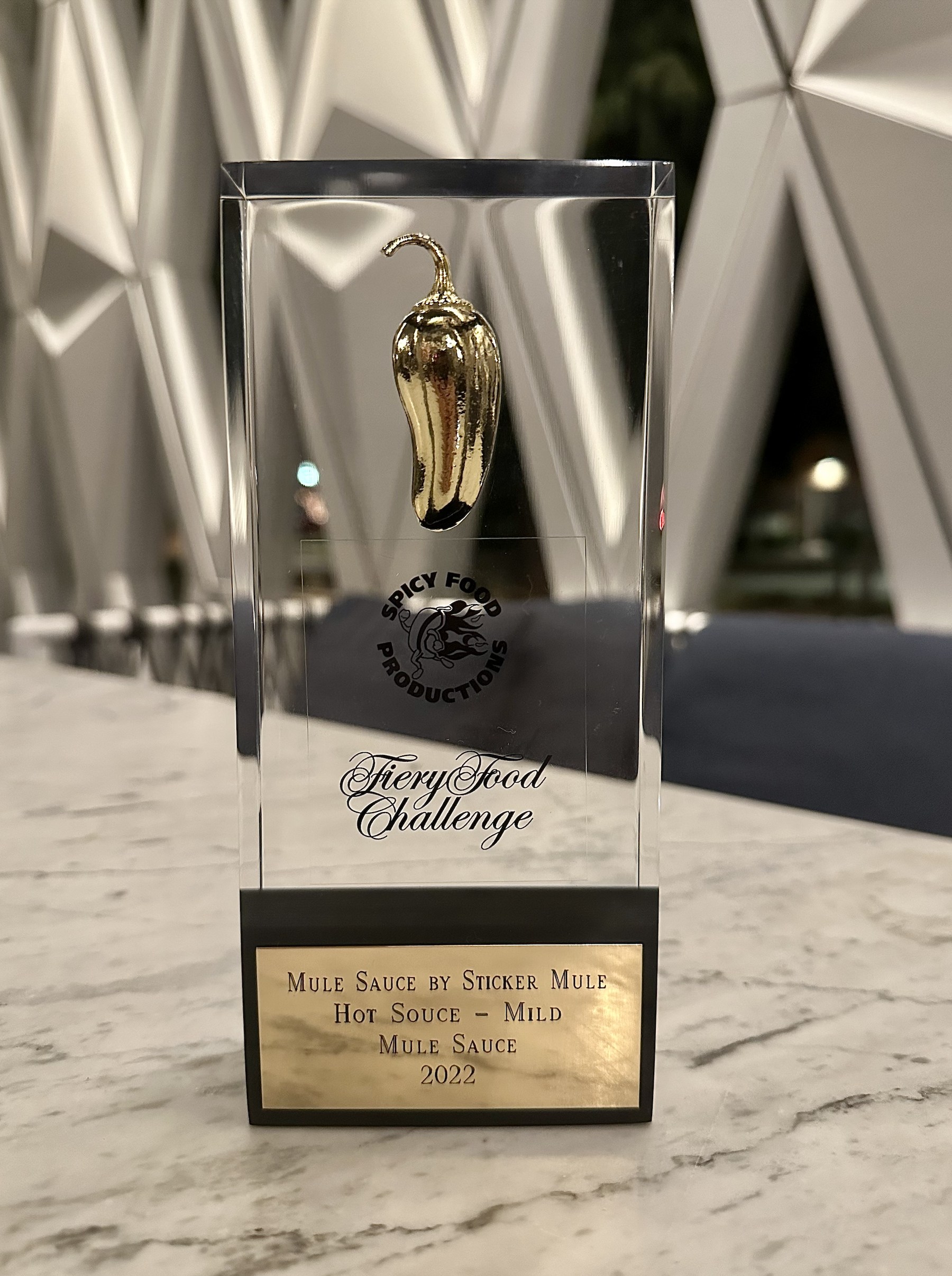 Earlier this month, it won the top spot in the Spicy Sweet Sauce category out of the 710 hot sauces submitted in the Fiery Food Challenge at Zest Fest in Dallas, Texas on Oct 2nd, 2022. The internet already knows how tasty the combo of a gentle sweetness mixed together with a slight rumble of heat is, but it's an honor to be awarded recognition in the Lone Star State. What makes Mule Sauce so special? Most likely it's the unique blend of flavors and heat. The difference between Mule sauce and other hot sauces comes from the sweetness in addition to the spice. Mule Sauce isn't just hot—it also adds just the tiniest of sweet flavor to pizza, ribs, and anything else that can use a kick!
Winning first place at Zest Fest
The Fiery Food Challenge is an annual competition that brings together the best chefs, hot sauce makers, and food lovers from across the country to compete in various spicy challenges. This year's event was held at Zest Fest in Dallas, Texas. Mule Sauce took first place in the Spicy Sweet Sauce category. Mule Sauce's win at the Fiery Food Challenge was the culmination of years of work by the Sticker Mule team. What began as experimenting with different ingredients and flavor combinations to create a unique, but approachable, flavor for all types of palates has turned into being rated a top hot sauce in Texas!
What makes Mule Sauce so special?
Mule Sauce is different from other hot sauces because it has the perfect blend of spicy and sweet. There are many hot sauces that are either extremely spicy or extremely sweet, but rarely do you find a sauce that is both. Mule Sauce is able to bring and ideal amount of sweetness to complement the spiciness of the peppers creating an optimal balance of flavor in every single drop.
Where to find Mule Sauce?
Mule sauce is currently available online at StickerMule.com, as well as Amazon. The recommended retail price is $7.99 per bottle, but prices may vary.
Final words
The spicy sweet flavor of Mule Sauce is a great fit for any occasion. You can create delicious and unique dishes using Mule Sauce as a condiment or dipping sauce. You can also use it to spice up your next batch of wings or even your next batch of nachos. Mule Sauce is the perfect blend of sweet and spicy, making it a sauce that can be enjoyed by both hot sauce enthusiasts and those new to the spicy side of life. No matter what you decide to put Mule Sauce on, one thing is for certain: you're in for a real treat! We hope you enjoyed reading about the award-winning Mule Sauce. Now that you know all the facts, you can try it for yourself and see what all the hype is about!