Where to put stickers on your car? Here's a car decal guide!
Posted by Sticker Mule on
Did you know that there's a way to personalize your vehicle without spending an arm and a leg on a new paint job or foiling? You read that right, and it's so easy, you can do it yourself (with a little help, of course). Motorcycle and car stickers are a fun, efficient, and stress-free trick to send a message through your automobile. The best part is that there are so many ways you can use it to show off your personality.
Are you ready to put a little pizzazz in your car?
Think about the vehicle sticker you want
First off, this is not a tattoo where regrets aren't optional. Still, make sure you've basically figured out what you want in your vehicle sticker before making any decisions. Do you want a subtle car sticker or an attention-grabbing motorcycle decal? Do you want it on the bumper or the window? Do you want a funny graphic or a fail-safe mantra?
Go beyond the usual "bullet hole" or "spider web" design. Custom vehicle stickers allow you the freedom to get pretty much whatever you want and the endless possibilities will surely ignite your creativity.
Interesting uses for vehicle stickers
A custom vehicle sticker can send an invaluable message with very little effort. Think it's just a random accessory for your vehicle? Think again.
1. Display your business
Business badges and business names are popular templates in the car sticker industry. Whether you're using a company car or just presenting loyalty via your personal automobile, decals or stickers are a convenient way to encourage business. Witty or notable vehicle stickers can rouse the oldest marketing tool in the world, word-of-mouth, which remains the best way to endorse a modest enterprise. When done right, affordable stickers can also yield massive return of investment.
Stick your logo on your car door, add your e-commerce website on your rear glass, or put your logo on the windshield—treating your vehicle as a mobile advertisement can help promote your brand anywhere you go.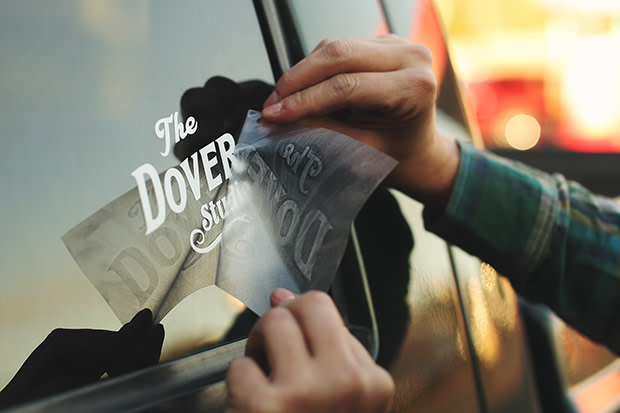 2. Voice out your personal message to the world
Bumper stickers were yesterday's social media status update. These sayings exhibit your life views and broadcast them to whoever sees your car or motorbike. It doesn't even have to be words. It can be a symbol, an emblem, a joke, or even a cartoon character that speaks to you at this point in your life. If you want to get philosophical, the sticker you choose expresses who you are the moment you apply it. Your vehicle can be sort of a personal diary that way.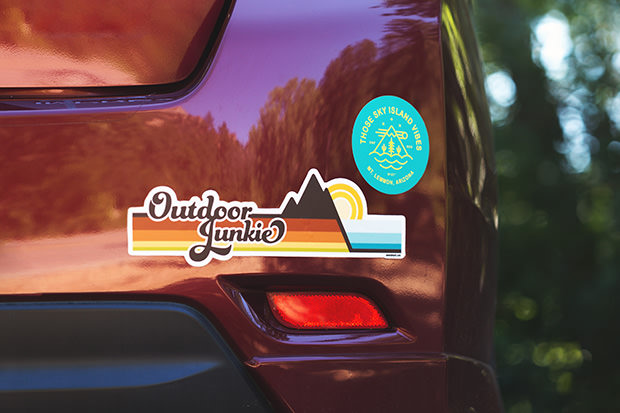 3. Show off what's close to your heart
Family car stickers are some of the most famous designs. We've all seen it: drawings with mom, dad, brother, sister, baby, and Spot. You can't really fault a classic. The beauty of having a sticker custom-made is that you can go beyond the usual stick figures.
However, these family stickers have been criticized lately for being threats to security. (For example, a potential identity thief would clearly know the names of the members of your family right away!) So an alternative would be stickers about your hobbies. Do you like football, basketball, or hockey? Maybe you're into cartoons and comic books?
4. Hand them out as gifts
Bespoke gifts are always a hit, so you can imagine how well a custom car or motorcycle stickers would go over when you give them away. They can be as intimate as a personal message to your loved ones or as great corporate giveaways. Hey, that's another way to spread your brand around.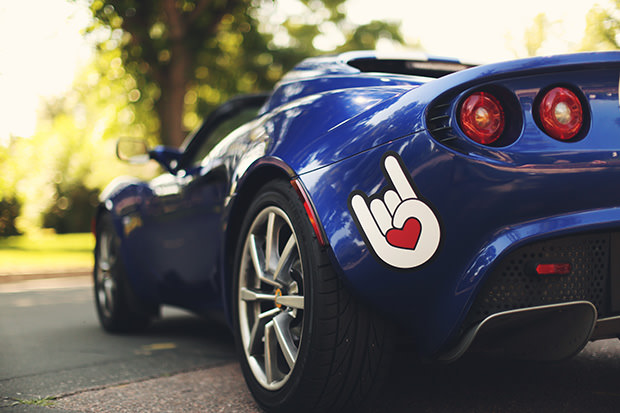 5. They're really versatile
There's no law that says vehicle stickers have to be used for your automobile alone. Sturdier than your average sticker, these kinds of stickers can be waterproof as well as transferable and can be made with a variety of materials. You can essentially stick them on any similar surface, like metal, plastic, or glass. Put them in your room. Display them at your storefront. Stick them on your mailbox. Spread them on the floor. Did we mention there are endless possibilities?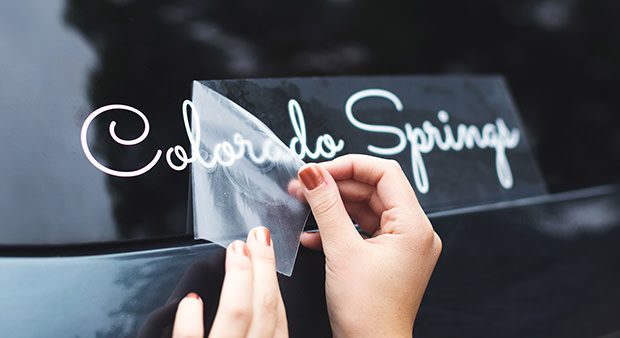 Why should you choose stickers to decorate your vehicle?
1. Vehicle stickers are inexpensive
Think of stickers as your accessories. They're those little extras that can really take a look above and beyond. Unlike an overhaul, like a new coat of paint or car wrap, stickers are much more affordable. (Pro tip: Bulk orders are priced even cheaper at Sticker Mule.) Besides, how many ways can you really demonstrate your personality with a shade of color?
2. Vehicle stickers are adaptable
Stickers and decals are the way to go if you want to add a personal touch to your ride without the huge commitment of a paint job (remember that time you wanted a nice navy shade but it came out bright blue?). Car stickers can be as subtle as a few inches or as extreme as a hood-sized piece of art. You can cover the entire body of your motorbike or just stick a cutesy one on the back of your side window.
3. Vehicle stickers are fast
At Sticker Mule, the turnaround process is as fast as four days — perfect for an auto that needs a quick makeover. Some varieties are transferable (Sticker Mule has bumper magnets available, too), so you can switch them around in case you get tired of them. With stickers, you can express yourself more freely and, because they're more reasonably priced, you won't feel too bad when you suddenly want to change them up.
4. Vehicle stickers are entertaining
Since when is a paint job ever amusing? Funny car stickers are always a good idea. It can be a smart joke, a clever pun, or even a humorous cartoon. Imagine being stuck in a traffic jam and the only thing to entertain you is the car in front. You see all these cool stickers featuring witty remarks and shrewd drawings. Suddenly, traffic isn't too bad. Do your part in alleviating traffic-related stress and sticker up.
Where to put your vehicle stickers
Placement is everything! Do you want your car sticker to be visible and shouty? Or do you want it to be soft and inconspicuous? Every part of the car or vehicle has its purpose when it comes to being a background for your sticker.
Windshields
Apart from fun designs, windshields are popular spots for important stickers that send an official, immediate, and direct message: car passes to quickly let you through, company-issued insignias, or notes that signify position or status.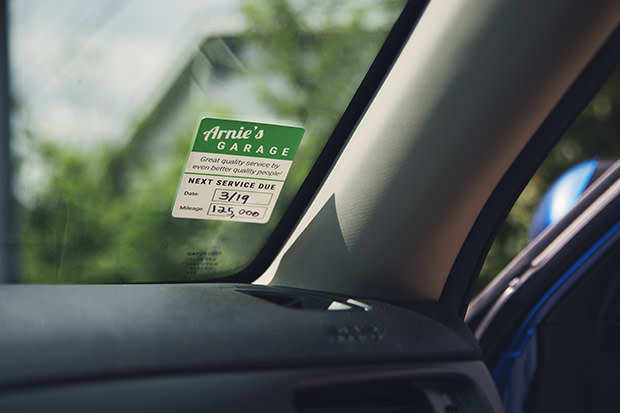 Rear windows
Rear windows are great for stickers that you want to be seen. Everyone looks at the rear windows — from passersbys walking past your parked car to the driver behind you. Just make sure to stick to the tops and corners so as not to obstruct the rearview.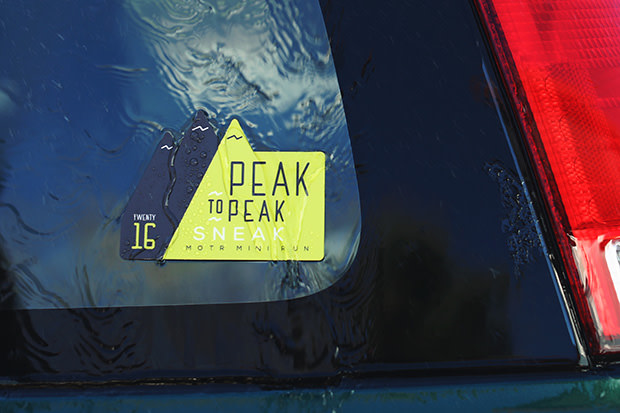 Doors
The sides of your vehicle yield a lot of space, making them the perfect canvas for large look-at-this car decals that are ideal for advertising and brand promotion. Car doors are also popular because any number or size of stickers you add won't block your driving view.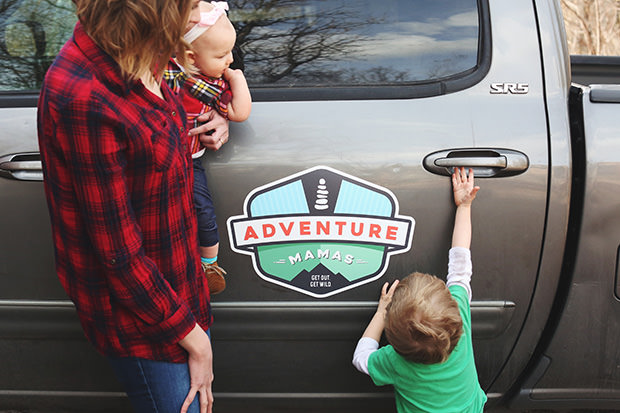 Windows
Windows are the perfect backdrop for clear stickers that make the colors and shape of your design pop.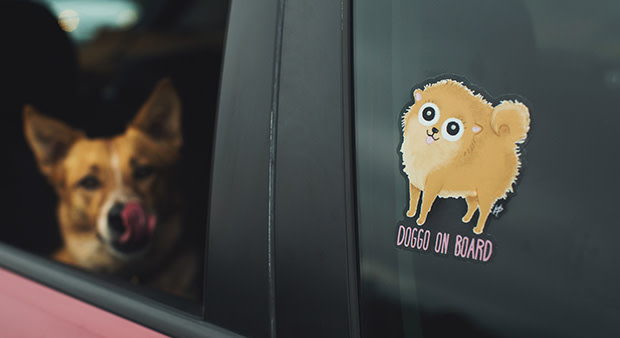 Bumper and fenders
Ever a classic, bumpers are the best setup for sending a message that will stick, no pun intended. Bumper stickers are famous for being used in political statements, famous quotes, and timeless sayings.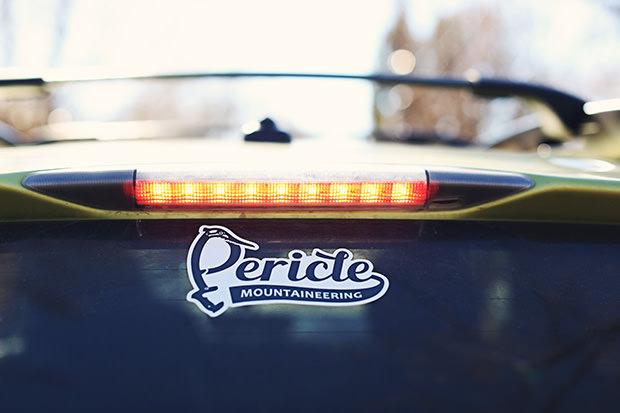 Gas tanks
The gas tank of a car has only enough space for an understated sticker, but a motorcycle, offers the biggest canvas and therefore creates the biggest statement.
What to remember about your vehicle stickers
It's easy to get carried away with the look of your custom car sticker and where you want to put them, but don't forget the logistics of it. Not all vehicle stickers are created equal, so once you've finalized your sticker's appearance, make sure to tick off this checklist to ensure only the best sticker quality.
1. Durable and weather-resistant
Don't think of your sticker as just a sticker. It's a message, a piece of your personality and imagination, so make sure it lasts. Bumper stickers, for example, are exposed to the elements. Even front-adhesive window stickers can take a beating from fogging. Make sure your stickers can weather them all. Sticker Mule prints their stickers on premium vinyl that can withstand even the rigor of a dishwasher
Their bumper stickers, on the other hand, are made with thick, durable vinyl and are covered in a special dirt-proof, dust-proof, sun-proof, and rain-proof laminate. With these extra layers of protection, your bumper sticker may last longer than your car engine.
2. Hassle-free removal
Sure, stickers are easy to put on, but are they easy to remove? The promise of stickers compared to a paint job, for example, is that they're generally easier to handle—and that goes both ways. Say you're tired of a sticker or you want to promote something else. You wouldn't want bits of adhesive on your glass or your paint peeling off. At Sticker Mule, bumper stickers and car stickers come with a removable adhesive that won't damage your vehicle's paint.
3. Do a final check on your design
Your design looks great on the computer screen, but that doesn't automatically translate well on vinyl. Sticker Mule's processes ensure that customers can see how their stickers will look prior to printing so that they're assured only of perfection.
Stickers or decals?
Many people often refer to stickers and decals interchangeably, and though they share a similar purpose, stickers tend to have an adhesive front or back while decals come in a special paper meant to be transferred to another surface.
Depending on your design, either type can work for your vehicle. If you want more details so you can make an informed decision, here are some of the available decal types offered at Sticker Mule.
1. Transfer stickers
Fully customizable and easy to transfer, these vinyl decals (available in black or white) are suitable for indoor and outdoor use.
2. Vinyl lettering
Relaying a message? Vinyl lettering lets you spell out what you want to say
3. Front adhesive stickers
Though not completely weatherproof, front adhesive stickers are perfect for clear surfaces. You can stick them on the interior side of your window so they're offered a semblance of protection.
4. Clear stickers
White print is used as a backdrop for your designs to really make the color stand out.
5. Die Cut Stickers
Protect your custom design with a thick, durable vinyl that makes it pretty much weatherproof.
How to stick your vehicle stickers
1. Clean the surface
It's a no-brainer. The grime on a dirty surface will adhere to your sticker, weakening its adhesion. Make sure to clean your vehicle with soap or rubbing alcohol and wait for it to completely dry before doing anything else.
2. Choose your location
While car and motorcycle stickers aren't as permanent, it's still preferred to know where exactly you want to put them. Your window? Sure, but what about the angle? How far away should it be from the edge? Try positioning your sticker without removing the backing. You can even hold it in place with tape so you can review how it looks from various angles.
3. Don't be hasty
Being overly speedy will make you prone to mistakes. With your sticker in place, take out the paper backing bit by bit and touch only the edge so as not to tamper with the sticker's adhesiveness. Carefully press the sticker on the surface as you peel it off the backing. Smoothen everything as you go along, ensuring no folds and air bubbles. Make sure to finish neatly by trimming off any excess margins that don't stick on any surface.
How to order custom vehicle stickers
Customization seems like a lot of work, but it's really not. At Sticker Mule, it's an efficient but careful three-way process.
Step 1: Make your design
Go crazy and let your creative juices flow. This is the first step of customization: composing what you want and exactly how you want it. Luckily, we've made the process a bit easier at Sticker Mule with our Studio design tool. Just head on over to the bumper sticker or other sticker templates section and pick a design that works for you and get started designing!
Step 2: Go to the Sticker Mule website and start the order process
Once you have a design, just choose what kind of custom sticker you want and decide on a size (custom sizing is also available). If budget is a concern, the prices are helpfully published as well to aid you in your decision-making. The next page lets you upload your artwork, specify the quantity, and that's essentially it.
Step 3: Check the proofs
Make sure that the stickers will come out exactly as you envisioned them. You get to see proofs of your design before your stickers are printed so you can make adjustments on the sizes, lines, and colors. Trust us, you won't be disappointed by the results.