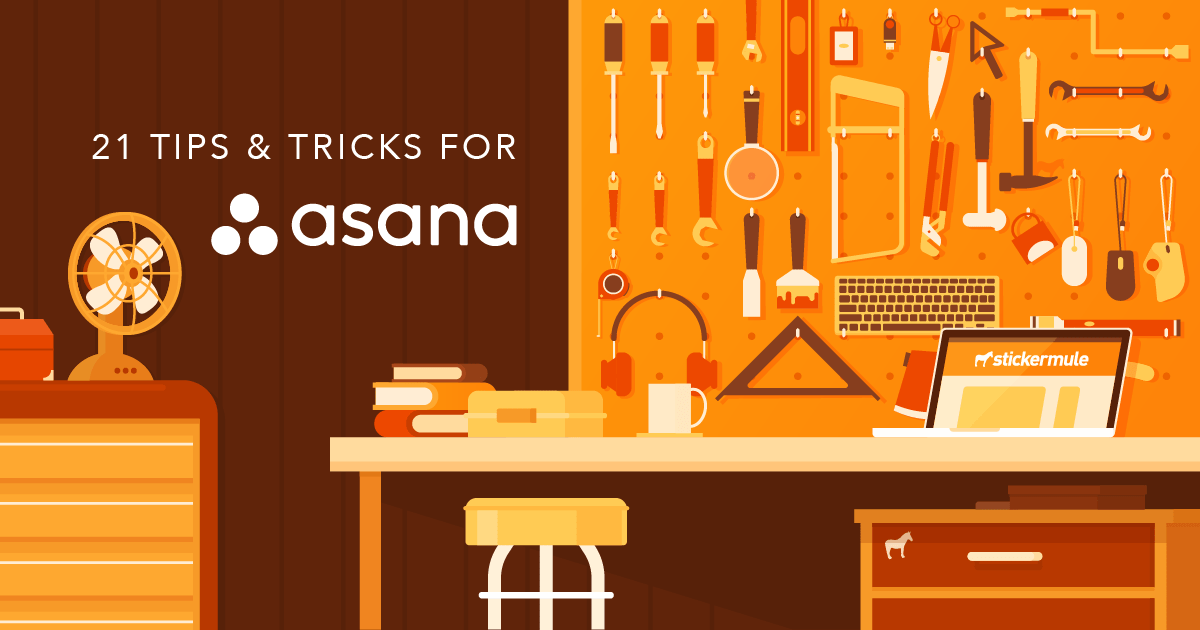 Our guide to Asana was well received so we decided to share additional tips and tricks for using Asana at Sticker Mule. Much like our guide, this document was initially written to help our team use Asana better, but we thought other teams might find it handy too. The 21 tips and tricks listed below cover all of the Asana features we want our team to understand.
1. Task naming conventions
Start task names with verbs (i.e. Consider, Send, Fix, Add, Design, Implement, Order)
Use sentence case. It's Easier To Read.
Be concise (see the example task names below).
Example task names:
Consider using Google Tag Manager
Redesign invoice PDF
Design custom labels early access landing page
Implement custom labels early access landing page
Fix issue with address validator presenting identical addresses
Send email announcing custom labels
Order new chairs for the office.
2. How to write a good task description
Use headings to give structure to a task description (CMD + B for bold)
Include screenshots & screencasts when possible using the Zight App
Be concise and comprehensive. Needless words waste an assignee's time but so does making them ask for clarification.
3. Turn off email
To speed up adoption we encourage everyone to turn off email notifications to get used to relying on the Asana inbox. Go to Inbox and select Email Notifications (see below) to make this change.

4. Assign tasks during onboarding
We assign everyone tasks as part of their onboarding so they start using the platform immediately. Example onboarding tasks we'll assign include "Place a free order using store credit", "Review and sign company handbook", and "Turn off email notifications in Asana".
5. Use today, upcoming, and later
Asana lets you organize your personal task list by putting tasks in Today (Tab+Y), Upcoming (Tab+U) or Later (Tab+L). Generally, we put current tasks in "Today" even if they're not to be done today and use "Upcoming" to track pending tasks. "Later" tracks tasks we might do.
6. Projects aren't required
It's helpful to organize work using projects but don't agonize trying to find the correct project for every task. The important thing is to create tasks, assign them to the proper person and notify the relevant people using the task followers feature (see below).

7. The task can belong to multiple projects
Most team members only care about a limited set of projects. To better coordinate, we sometimes place tasks in multiple projects so that relevant people can quickly view them. For example, a task could be in the "CS ideas" and "Checkout" projects if it's both a benefit to our CS team and related to our checkout.
8. Use Tab+Q
We encourage everyone to create tasks using the "Tab + Q" keyboard shortcut. It speeds up task creation and helps you quickly put all of your tasks in Asana.
9. Encourage task creation via other channels
We encourage each other to create Asana tasks when they're identified via another channel (i.e. in person, Slack, etc.). Usually, this is as simple as saying "Can you make a task in Asana and assign it to (me, yourself, another person)?" It's important to push new team members to create tasks so that using Asana becomes habit-forming quickly.
10. Copy & paste templates
Asana's templates feature is imperfect so we maintain our templates in a Google Doc. Often we'll post templates to a project description for quick access. For example, our "Onboarding and training" project includes a template of common onboarding tasks. A team member can copy & paste this list of tasks to create subtasks that need to be completed to onboard a new hire.
11. Create recurring tasks
Most businesses have lots of tasks that repeat a few times each year. It's helpful to create recurring tasks for these situations so you don't need to remember to do things. Examples might include "Prepare quarterly financials", "Send holiday gifts", "Test fire extinguishers", etc. Recurring tasks are most useful when tasks repeat infrequently.
12. Try the mobile app
The Asana mobile app is especially helpful for people that are often away from their desks. For example, our supervisors and maintenance staff use it regularly.
13. Use due dates + later
You can give tasks that need to be done in the distant future a due date and move them to "Later" (Tab+L) to clean up your task list. When the task becomes due it will automatically reappear in your "Today" list and you'll be notified in your inbox.
14. Attach Google Docs
You can attach Google Docs to tasks to make it easier to find them in the future. Attachment names are searchable and show up under the "Files" view for each project. For this reason, it's preferable to attach a doc rather than simply copy+paste the URL.
15. Configure saved views
Asana has a powerful search feature that you can use to build your own set of custom-saved views. It's worth taking some time to set up views that make Asana easier to use for you.
16. Save bookmarks to Asana
If you visit a webpage on mobile that triggers an idea for you to create a task and you have the Asana mobile app installed, you can quickly send a URL to Asana using the "Share" feature in iOS.
17. Integrate with GitHub
Connect Asana to GitHub and you'll be able to reference task URLs in commit descriptions to automatically post commits to tasks.
18. Forward task-related emails to Asana
Forward a task-related email to x@mail.asana.com and Asana will automatically create a task assigned to you that includes the email in the task description. Once created you can collaborate with others on the task or re-assign it. We often forward invoices to Asana and re-assign them to the appropriate person to be paid.
19. Use the vacation indicator
Asana lets you notify co-workers when you're on vacation. Set your vacation indicator to "away" and anyone assigning a task to you will see that you're on vacation. To set your vacation indicator go to "My profile settings."
20. Merge duplicate tasks
To keep Asana clean it's helpful to merge similar tasks when they're identified. Fortunately, Asana has a helpful merge feature (see below) that makes this easy.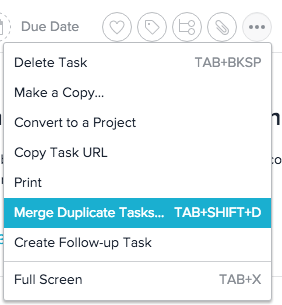 21. Use @mentions
Most team members quickly grasp that you can @mention people, but Asana also lets you @mention projects and tasks to link them in task descriptions or comments. Type @ and the first few letters of the object you want to reference and Asana will automatically help you create a link.
Concluding thoughts
Our remote team works extraordinarily well together not just because we share the same tools, but because we share a similar perspective on work. We all tend to be humble, independent, logical, thoughtful, and autodidactic. If you share these characteristics too, we're hiring.