The top 6 ShipStation alternatives in 2023 - Free and paid
Sticker Mule द्वारा इस को पोस्ट किया गया
With the growth of e-commerce — an industry projected to reach $8 trillion globally by 2026, — we've also seen an increase in the number of order management systems (OMS) available.
OMS platforms like ShipStation help manage customer orders, catalogs, and shipments. They can often integrate with marketplaces and shopping carts, and even partner up with fulfillment services such as Amazon Supply Chain, helping retailers automate and speed up shipments.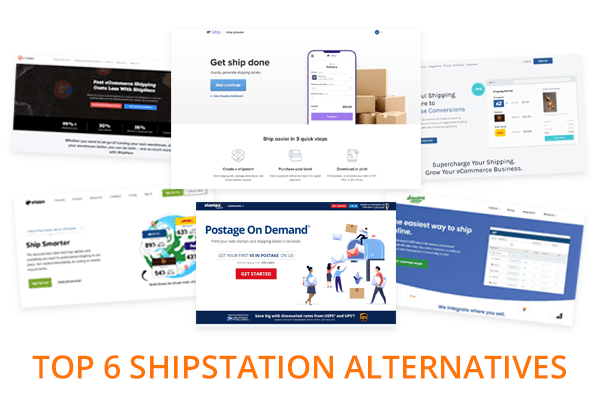 One of the main services provided by ShipStation and similar platforms is courier comparison and on-demand label printing. Let's take a look at how that works.
How do order management systems work?
Suppose you need to send a package, but are unsure which shipping courier offers you the best service and lowest cost. All you have to do is enter your shipping data into one of these platforms and choose from a list of postage options. You can then issue a printable shipping label, complete with barcode, for the selected courier — UPS Ground, say, or UPS Next Day Air.
After that, the only thing that remains is to print your label, stick it to your package, and send it on its way. Essentially, platforms like ShipStation work as licensed vendors. Instead of paying directly to USPS or UPS, you pay the vendor. This allows you to save on trips to the post office, while also benefiting from discounts and reduced fees.
Best ShipStation alternatives in 2023
While ShipStation is a popular OMS platform for multichannel merchants due to its wide array of integrations with marketplaces and carriers worldwide, it may not be the best choice for everyone.
For one, it can be a bit pricey — subscriptions start at $9.99/month, but can go considerably higher depending on things like number of shipments and users.
Besides, it takes a bit of time getting used to, as it's a large platform with a multitude of options and features. If you're looking for something less complicated — and less costly, — there are a few alternatives to consider.
1. Ship by Sticker Mule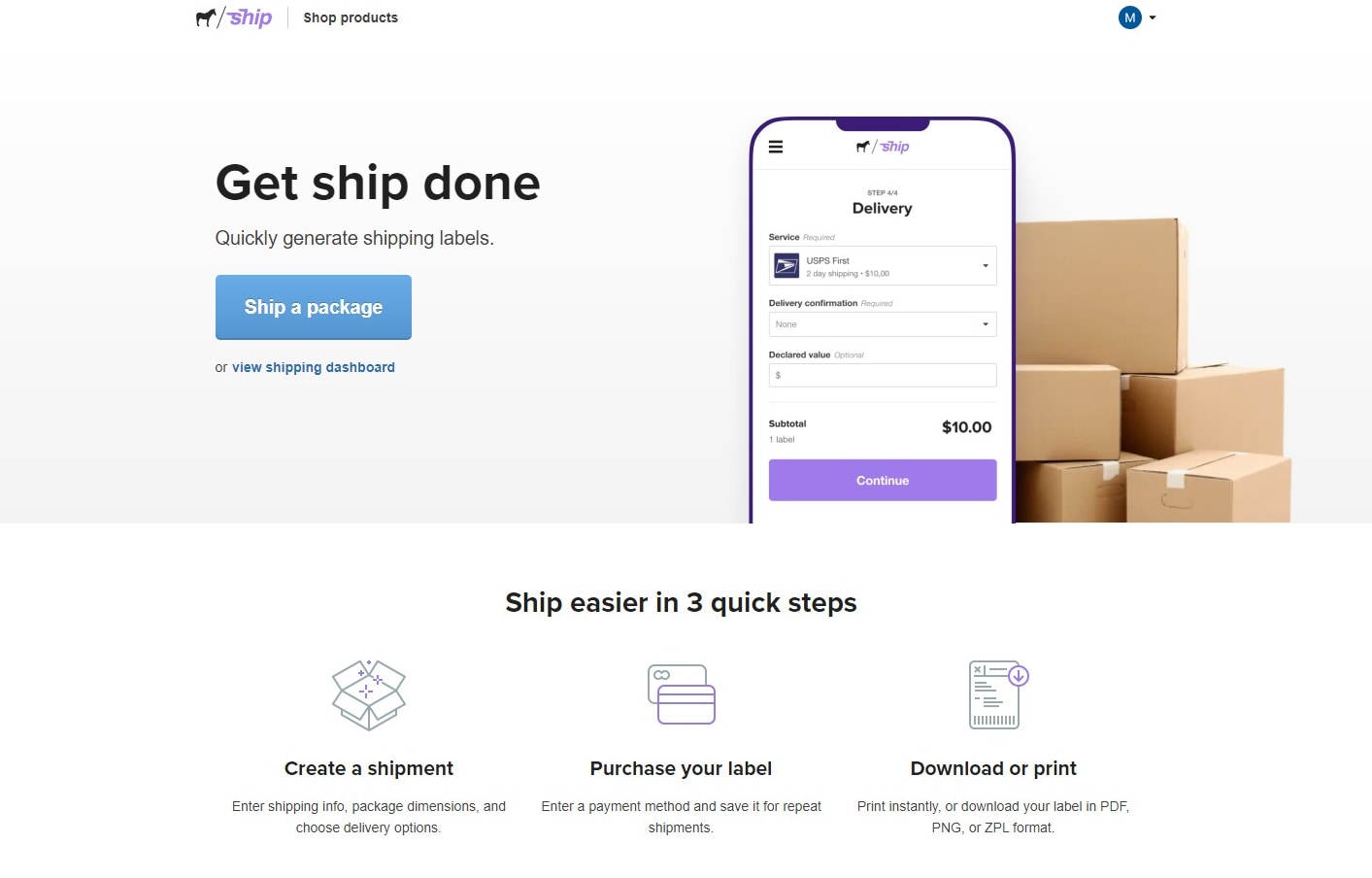 "Simplify, simplify." Thoreau's advice for life is exactly what Ship helps you do.
With Ship, finding the best shipping courier for your money and creating your own USPS or UPS shipping labels is a straightforward, 100% hassle-free process.
Create a free account (takes moments)
Input sender and receiver data (name, address, etc.)
Enter your parcel weight and size
Choose the cheapest and best USPS or UPS option from a list
Pay for your shipping label — no hidden fees
Print or download your label straight away
On top of helping you find the most wallet-friendly carrier option for your needs, Ship also allows you to track and manage the status of multiple orders with different postal services — all on a single platform.
The best part? Ship doesn't charge you monthly subscriptions or any other fees. Not a single dime.
Ship is the definition of user-friendly, and is number one among our free ShipStation alternatives.
2. Shippo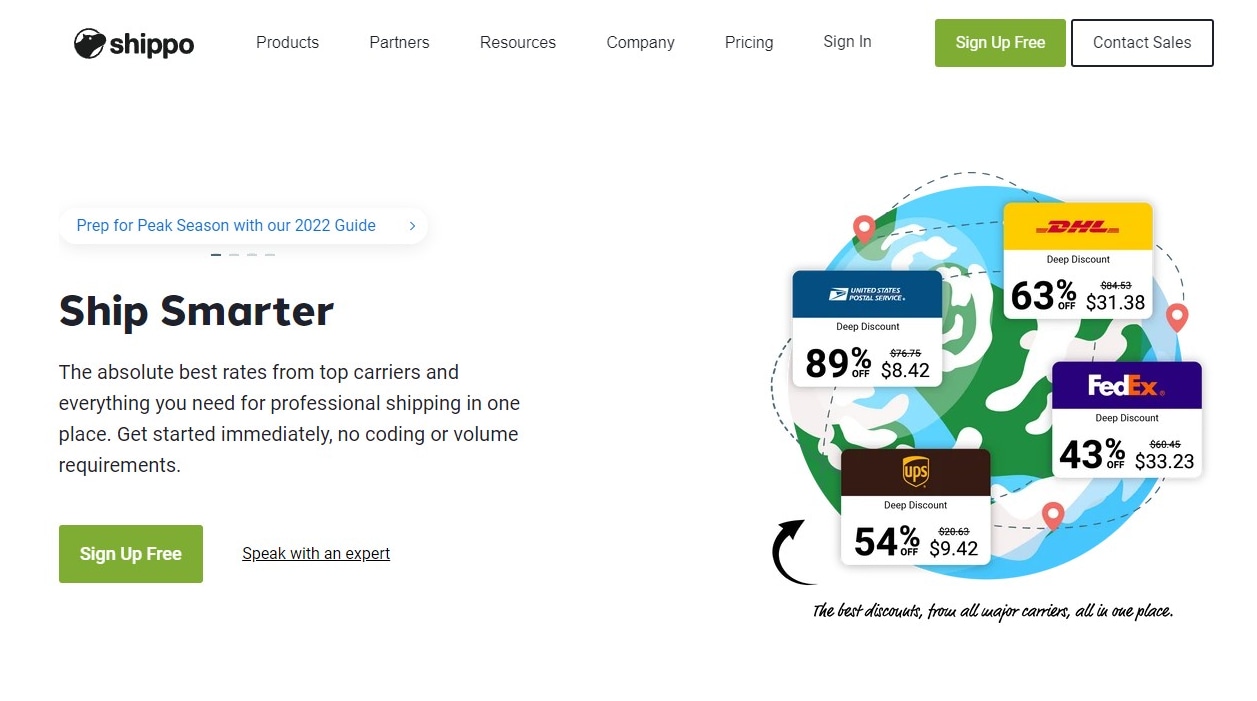 Shippo is similar to ShipStation in that it also caters to multichannel retailers, with integrations and partnerships with multiple global couriers and e-commerce platforms.
When comparing Shippo vs ShipStation, there isn't a whole lot of difference. Both are big platforms, allow for bulk label printing, and have a number of helpful task automation options.
Unlike ShipStation, Shippo offers a free option for single-person users, which can make it an interesting alternative for individuals or small businesses.
That said, it still will still charge you for other services, such as the use of its order-tracking API.
3. Stamps.com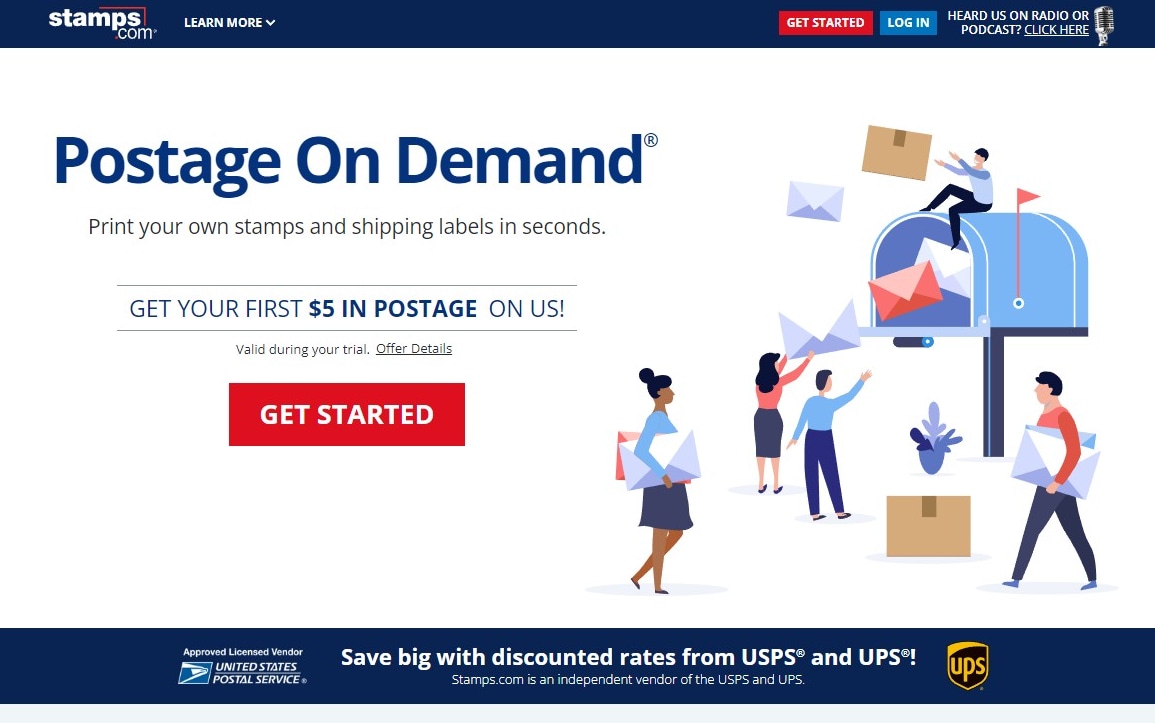 Stamps.com is popular throughout the US. Similar to Ship, it offers a more austere service that's only compatible with USPS and UPS. But, coming at a fixed monthly $17.99, it also provides several options such as:
compatibility with stores based in several locations
imports orders from shopping carts
allows for bulk CSV inputs
sends out shipping notifications to recipients
Although it comes with certain limitations, such as restricting users to a single login at a time, Stamps.com is one of the top alternatives to ShipStation for small retailers and businesses.
4. ShippingEasy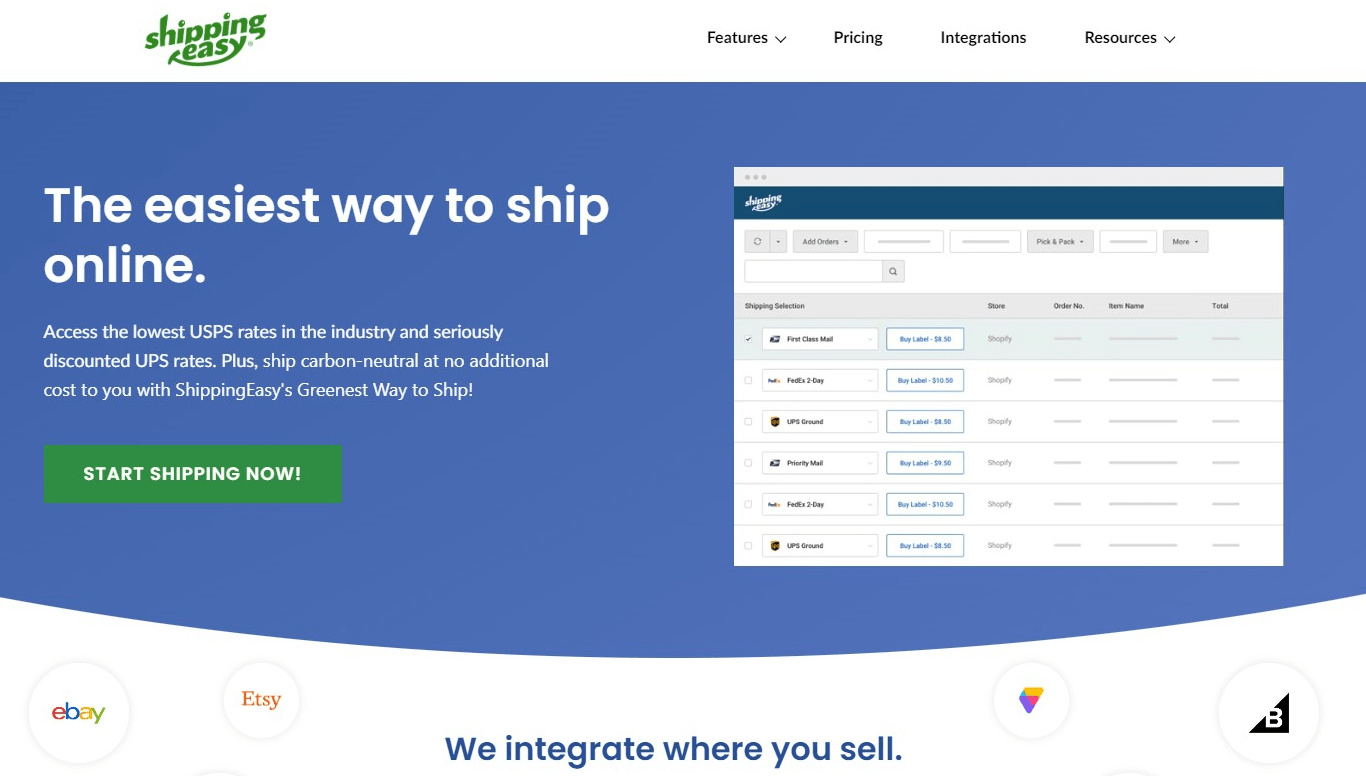 An uncomplicated interface, top-notch customer support, and a plethora of integration options with third-party platforms and order management services, Shipping Easy makes an easy fourth place in our list of alternatives. Among several mention-worthy features, it offers:
comprehensive and shipping reports and graphics
real-time order tracking and automation
shipment progress notifications to keep users informed every step of the way
send out return labels
print shipping labels from the comfort of your home
How do we stack up ShippingEasy vs ShipStation? The main thing to note here is that ShippingEasy provides a free package — up to 25 shipments per month. For small businesses looking to cut costs on shipping, it may be a better option than ShipStation.
5. EasyShip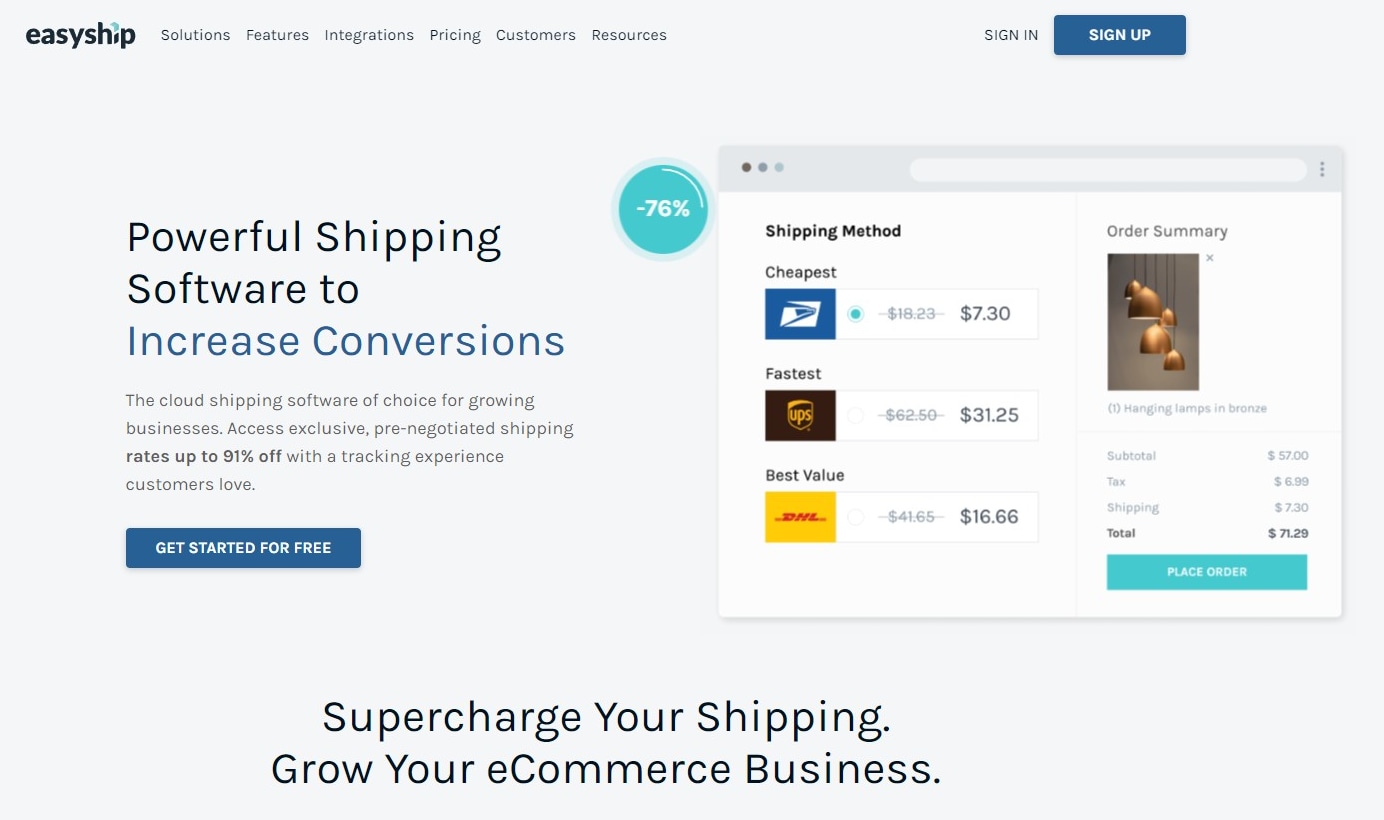 While similar in name, EasyShip stands out from ShippingEasy in some ways. It also offers a free subscription (but up to 50 monthly shipments), where it'll only charge users the cost of postage and insurance. However, its subscriptions are a little costlier, at $29 for an entry-level monthly subscription.
The main difference here is that some of its best options are only available in the top customer tiers: things like pre-generated return labels, phone support, label customization, and displaying import taxes and duty at checkout.
6. ShipHero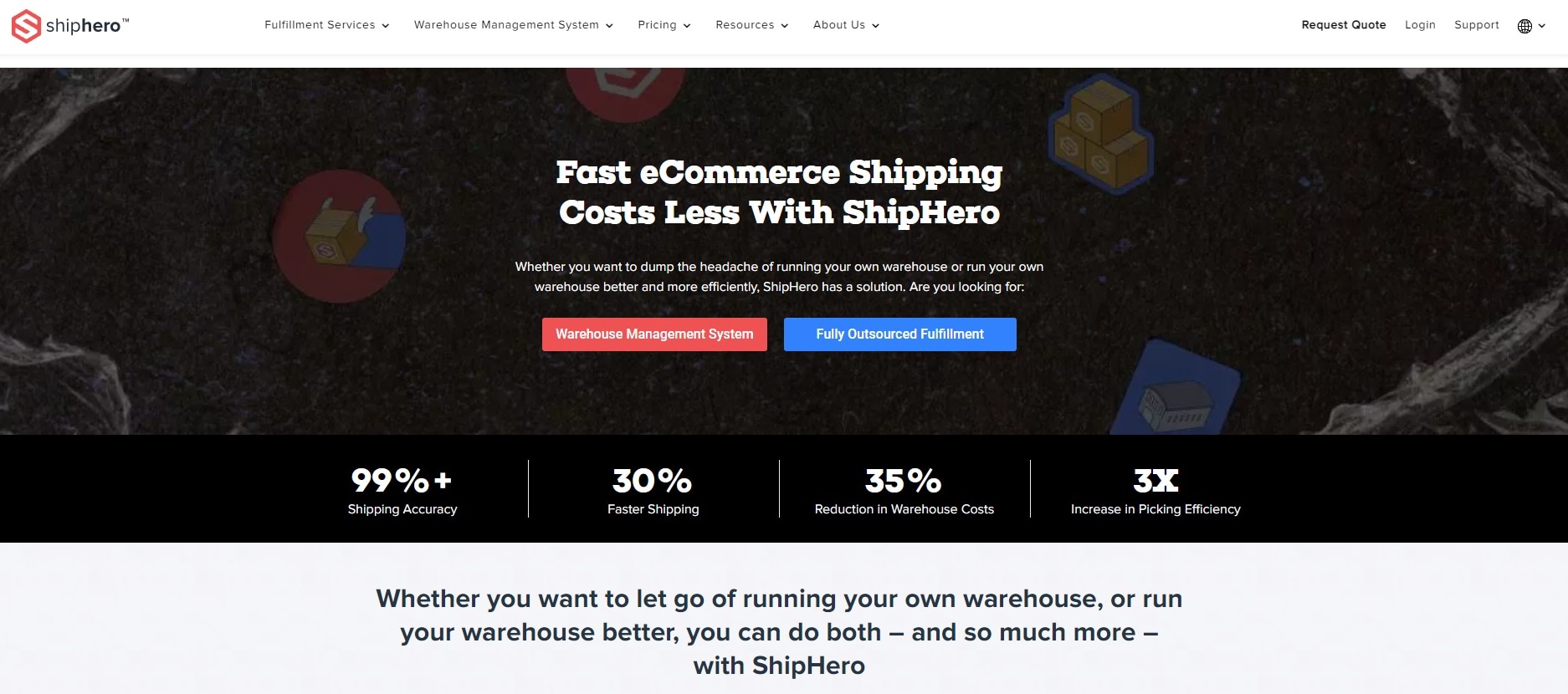 ShipHero is a true heavy-hitter in the OMS industry. Not only does it provide tracking and label-printing services, but it also works with warehouse management and order fulfillment.
As such, it may be a great choice for larger retailers looking for someone to take most of the shipping flow off their hands. But that, of course, comes at a significant cost. This makes it a less palatable pick if you have simpler needs and are not looking to scale exponentially over the foreseeable future.
Courier, wrap it up
In 2021 alone, a whopping 21.6 billion parcels were sent out across the US. Little wonder, then, that there's no shortage of order management systems out there.
How can you find the best order tracking and management service for your business? As usual, the most correct answer is: it depends.
ShipStation is a powerful platform for those who run vast, multi-integrated stores with tens or hundreds of employees and a profusion of different shipment management needs.
But, if you're looking for a simple and free platform to compare best shipping courier options, track your shipments, and print USPS shipping labels with no hidden fees, then we think Ship is the top choice for you.