Why we love shipping with our own custom printed mailers
Sticker Mule द्वारा इस को पोस्ट किया गया
As you know, we here at Sticker Mule love some good custom stickers — but not only! While we take pride in every single one of our products, today we want to tell you how shipping with our own custom printed mailers makes us especially proud.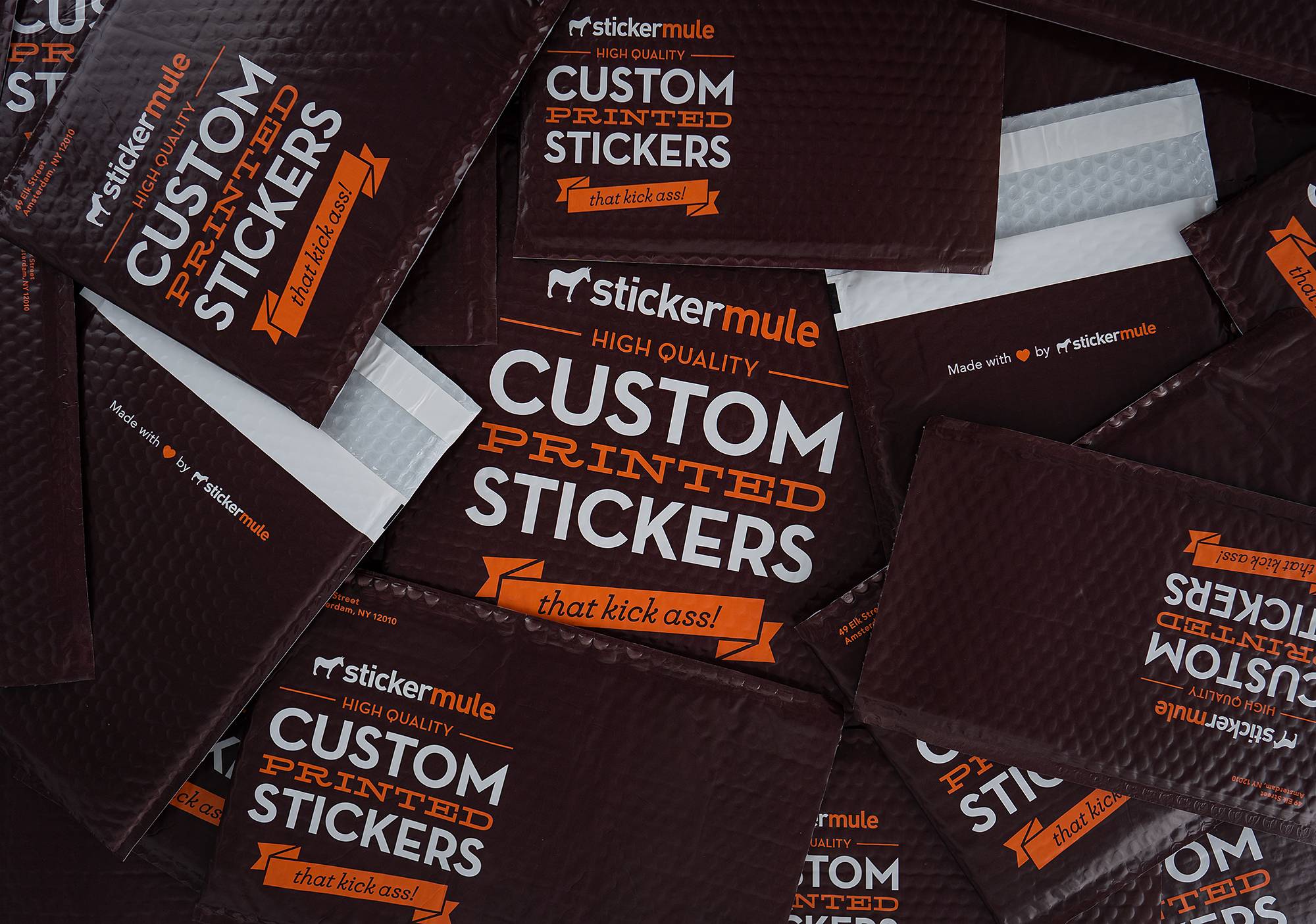 Lightweight, but incredibly sturdy, these babies are great for shipping anything from books to t-shirts. They're a time-saving solution, making it a breeze to bulk-ship your merchandise with elegance and care.
In fact, if you've ever bought anything from Sticker Mule, you probably know exactly what we're talking about. Because, yes, we invariably ship with our very own custom printed poly mailers! That's how confident we are in their quality and durability.
Why you should be printing custom mailers for your business
It's not just us. We just try and lead by example, because we think custom mailers are a great idea for just about any business out there.
Wanna know why? Here's why.
1. It increases your brand recognition
As you probably know, brand recognition (or brand awareness) has long been one of the cornerstones of good marketing. The formula is simple: the more people recognize your brand, the more they trust you. The more they trust you, the more they buy from you. 
And guess what: with custom mailers, you remind your buyers of your brand even before they open the package.  
So, add your logo to your design. How hard can it be? (Hint: not very hard.) Then print it out in the oh-so-nice-and-crispy shape of stylish custom printed mailers. 
Wonderful, isn't it? Now every shipment you make is more than just that — it's also extra brand recognition, at no extra cost.
2. It's a quick way to display your brand style and ethos
Fancy and creative or down to earth and minimalistic — a custom mailer design is a great opportunity to tell the savvy buyer, at a glance, what you're all about. It can give them a glimpse of your values and who you are as a company.
Besides being a great way to showcase some of your company's buying points, your mailers can also be matched to your target audience. 
Younger demographic? Consider opting for simpler lines and fonts for that "effortlessly cool" hipster look. For a more mature public, solid shapes and colors may be the way to go. And for a hand-crafted, artistic-oriented product, fanciful, out-of-the-box, and even extravagant colors, shapes, and lines can clearly point to your artistic aspirations. 
If you're starved for inspiration, be sure to check out some trendy style ideas we wrote about here.
3. It's cost effective — very
Honestly, there's just no end to the perks. Our custom printed mailers are actually super affordable, and may just turn out to be cheaper than your current shipping method of choice — especially if you buy the custom mailers in bulk, which you can do at Sticker Mule (and save up to 76%!)
Why we ship with our own custom mailers at Sticker Mule
As we were saying, we make it a point to ship with our own Sticker Mule-branded mailers. That's not only for the reasons stated above — although it's certainly cost-effective for us (ha!) and it does a good job of marketing our brand. 
No, our commitment to using our own custom mailers as we send out packages all over the world is important for other reasons: 
It ensures our merchandise is kept safe and protected no matter how far the destination
It's a way to test our own product against all kinds of climates and situations
It shows just how confident we are in their quality and reliability.
It communicates to our clients that we stand by our products. 
It gives customers a sample of a new product to buy!
"It's not about the money, it's about sending a message."
Or maybe it is about money. It's the packaging way of putting our money where our mouth is.
We keep improving
For us, it's vital to be constantly moving forward. Constant improvement and innovation are part of our culture, and using our own products helps us with that.
Based on customer feedback, we can make improvements to your user experience and make sure we fully meet customer needs and expectations.
In fact, that's just how we recently came up with full bleed printing. Deploying our own custom mailers is a really neat way to work research and development into the otherwise mundane task of shipping.
Conclusion
Order from the Sticker Mule shop and you'll get a prompt reminder that we believe in what we do. And we trust you'll agree with us that our custom mailers really are as good as we market them.
Shipping with our poly mailers helps you trust us. It helps us innovate. And it drives us to improve our product even further.
Trust, innovation, improvement. This, even more than stickers, is what we're all about.
If you've never bought from Sticker Mule before, why not start now? Come and join our community of happy customers with $10 off your first purchase!