How to design the best custom bike stickers
Geplaatst door Sticker Mule op
Bike stickers, whether for your mountain bike, sports bike, dirt bike, or really any bike, are one of the best ways to customize your bike and make it feel like your own. Used by both teams and individuals, bike name stickers and other custom bike stickers are a unique way to distinguish your bike from others. Plus, they are designed to be durable and weather-proof, so your bike stickers will be able to withstand all kinds of weather and terrain.
If you're not sure how to design your bike sticker or what types of things you should be keeping in mind during the design process, our guide will help you design the best bike sticker ever.
Why have a custom bike sticker?
The first thing to consider in the design process is establishing why you need a custom bike sticker.
It might sound a bit obvious, but having a clear reason for why you need it informs the design process and makes expectations clear from the start. For example, if you're designing a sports bike sticker for your team, you will need to consider how many people there are, whether any extras are required and whether you want just your logo, names, or a combo.
If it's just for you, you'll want to consider what you would like to express with your bike sticker design. Is it just a matter of identification, or is it a representation of a hobby, interest, or thought? For example, some people like to get mountain bike stickers of their country's flag or a street bike sticker with a funny sign or slogan.
There are a lot of custom bike sticker designs out there that will be a good fit. But again, knowing what you want and having clear expectations will always be a good thing in this process.
Why? Because this information, in turn, will help in designing the actual bike sticker because you will know exactly what needs to go on it right from the start. Custom bike sticker designs completed by a professional will usually offer free proofs, and you will go back and forth on the design. However, having clearly defined designs will help reduce the number of amends needed.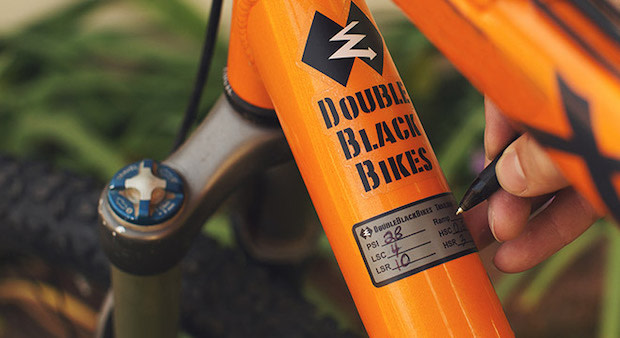 What should my bike sticker design be?
We've touched upon this a little earlier, but it bears some more discussion. If you're thinking about how to make bike stickers and how to design a bike sticker, there is a lot of inspiration out there.
We've compiled some examples of the best bike stickers if you're looking for inspiration, and here is some advice for the design to ensure you get the best look possible:
Do you want it to stick invisibly or have a die-cut shape for your mountain bike sticker or BMX bike sticker?
Do you want a longer text phrase or something short like just your name or your team member's names? And what kind of font would you prefer?
If you're going for a symbol or a logo of some kind, what kind of colors will look best for your custom bike stickers, and do you already have a design file that can be used for proofs?
What is your timeline for the bike stickers? Do you need it before a specific day, and does anyone else need to approve the custom bike stickers? (i.e., other team members for custom mountain bike stickers, etc.)
In terms of how to design your bike stickers, there are a few ways to go about this. You could create your own design on programs such as Illustrator or other free alternatives, browse on the internet for examples, or use your team's colors and logos.
If you're designing just for yourself, you can opt for bold colors to make your bike sticker stand out, or pick unique words and phrases and create a die-cut shape design for a cool look!
Custom bike sticker sizing
It's also necessary to think about quantities and the actual size of the sticker. Size-wise, depending on your bike, dirt bike stickers, street bike stickers, and mountain bike stickers, among others, can start from 2x2 and go up to 5x5, so you can choose a small and subtle design or something larger and more eye-catching depending on your needs.
Bear in mind that pricing for your custom sticker design will depend on the quantity you're ordering, with higher quantities commanding a bit of a discount, which is great for teams. Even if you're ordering individual stickers for yourself for your BMX bike or a dirt bike sticker, you'll be able to find affordable options.
What are the best stickers for my bike?
Once you have a design picked for your bike sticker, what are some of the key things you need to look out for when you're thinking about how to design your bike sticker?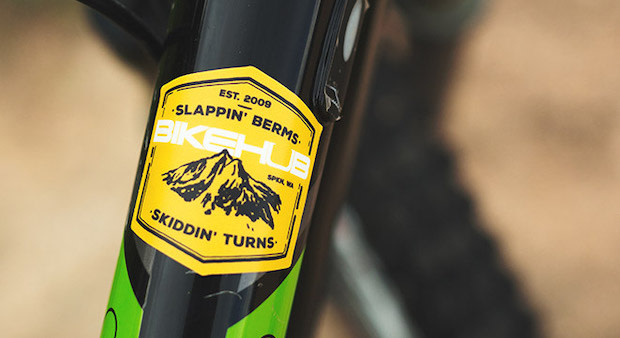 Vinyl material
Generally, for the best results, you should use vinyl for stickers. This is the best material as it is durable and prints colors and designs well.
Weather-proof
Whether it's a mountain bike sticker or a dirt bike sticker, or any kind of bike sticker, it needs to be able to withstand rough terrain and weather without being damaged! You should ideally be looking for vinyl stickers that are UV-resistant at the very least. The best stickers for your bike should also be scratch and rain-resistant.
Durable
How long will your custom bike stickers last? Most bike stickers can last for at least 5-7 years, especially if they are laminated and can resist damage from the elements.
Ultimately, when you're thinking about how to design a bike sticker, your primary focus should be endurance. How long will it last, and how much does the bike sticker design resonate with you? You don't want to pick something you'll get bored of too quickly if it's for your individual needs. If designing for a team, you want to ensure that your bike sticker looks professional and high-quality.
If you're not sure what bike sticker designs are best for your needs, or you just need a bit of guidance on how to design the best bike sticker, get in touch! At Sticker Mule, we're experienced in creating unique bike stickers custom-designed for you, and we're here to make your vision come to life.