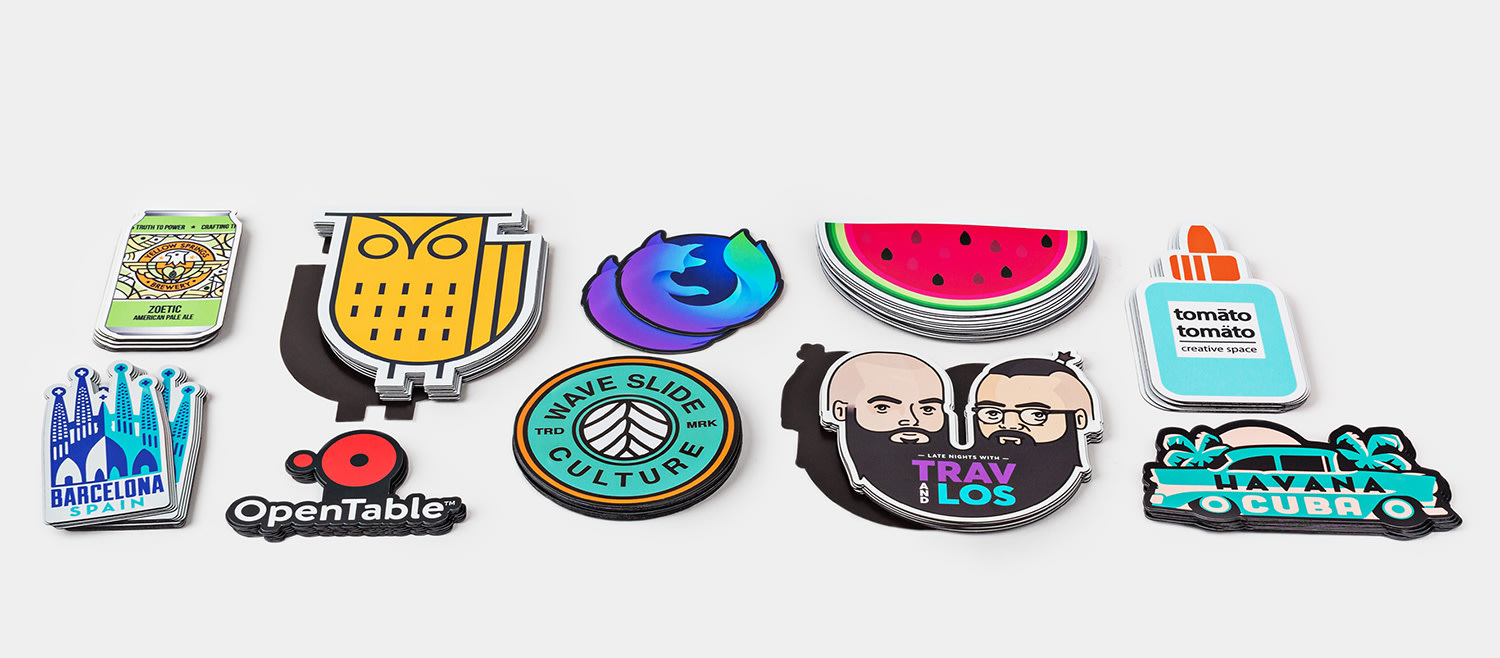 Imanes personalizados
Cree imanes personalizados de cualquier forma para promocionar su empresa, su escuela o evento. Ideales para usar como imanes para automóvil, refrigerador y más.
Envío gratis en 4 días
Obtén tus imanes personalizados rápidamente en 4 días de producción y envío gratis.
Obtén una prueba en línea sin cargo
Revisa tu prueba brevemente después del pago y solicita cambios hasta que estés satisfecho.
Descuentos por múltiples diseños
Pide múltiples artículos para recibir un descuento. Pedidos grandes = descuentos grandes.
Poderosa atracción para tus diseños.
Carga tu logo, ilustración o foto y crearemos un imán personalizado que atraiga miradas. Nuestro exclusivo proceso ofrece la mejor calidad de impresión y precisión de corte para tus imanes personalizados. Además, nuestro proceso de aprobación de pruebas te permite trabajar directamente con nosotros para asegurarte de que los imanes luzcan exactamente como quieres.
Magnetic appeal for your brand
From fridge to car, custom magnets make a lasting impression on anyone who sees them. Use custom magnets as a giveaway at an exhibition, a decoration on your refrigerator, or an advertisement on your car. Whether you use them for promotion or fun, custom magnets from Sticker Mule always turn out exactly the way you design them - and are always delivered with fast, free shipping.
Comentarios sobre imanes personalizados
4.8 / 5

٦٬١٨٣

Total de comentarios

95%

Volvería a hacer un pedido
custom magnets

Tom Flynn

What can I say. The magnets were greatquality and the printing was perfect. Thank you.

Fantastic magnets!

Dana

I have ordered magnets from Sticker Mule many times, they are always fantastic! Nice thickness, beautiful colors, I have several on my fridge! I continue to order from SM because I want the best quality for my products.

Excellent

juan guevara

Love it Like it Precise On time

Service

Teena Marie Packer

The fastest service ever!!!

Custom magnets review

Ian Ramirez

I have never done this before and I must admit that I didn't expect such excellent quality, I will surely order again.

Love Em'

Leo Daignault

I kept making mistakes on my orders, turns out I had signed up on two different emails and was ordering from two different accounts, it got super confusing. I emailed customer service and stickemule was prompt, patient, and very helpful all the way through getting my order right. (Nina) They were even so kind as to give me a big fat $Credit to my account for MY mistake. A class act! and first rate...

PERFECTION

Melissa Hassler

I love these magnets. They were cut perfectly.

Love these magnets!

Dana Johnson

Great quality and got this order to me quickly!!

Very happy with magnets

Michelle Anderson

Purchased the magnets for the first time and was very happy with how they turned out.

Too dark

Nancy Wright

The background is much darker and you can hardly see the text.
Relacionado con imanes personalizados