Introducing multiple design discounts
Dave Traver द्वारा इस को पोस्ट किया गया
In the past year, we've added new products and features to help our customers save time and money. This week we're highlighting our multiple design discount feature for custom made products. Although customers have been saving with this feature for over a year, we've improved it to include our newest products like transfer stickers, circle roll labels, and custom magnets.
Sticker Mule's multiple design discount saves you money when you add different artwork, sizes, and products to your cart at the same time. More individual line items in your cart results in a larger discount. The discount works in addition to our bulk order discounts for each product.
To calculate the discount, we determine the total amount of material and labor required to process the entire batch of designs you want.
The feature is flexible, calculated automatically and can be used to order different quantities of each line item. This allows you to save more by ordering different designs, sizes and products — or all three at once.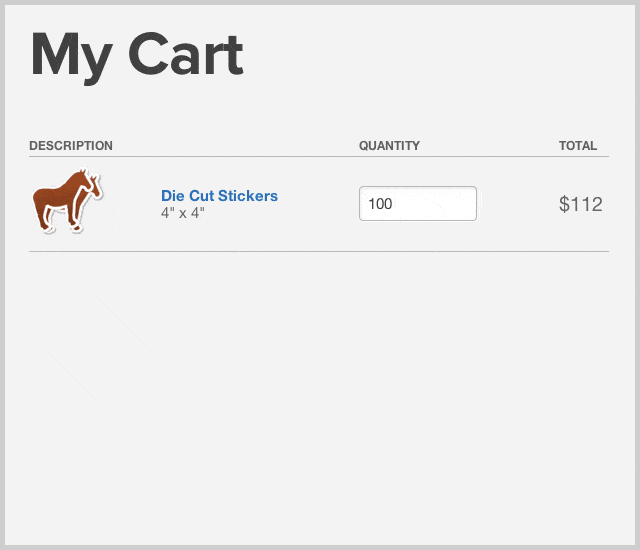 Different designs
If you're rebranding a logo, testing a new product label, or experimenting with a few designs, it's only fair that you can make all of the variations into custom stickers for cheap. Even in small quantities, you'll see your discount add up quickly when you upload your designs.
Different sizes
You can also order different sizes of the same design or of different designs. It's common for small businesses that use Sticker Mule to have one logo or design made into different sizes for different uses. For example, a small business might have one artwork that is made into three different sizes for packaging their products, sealing thank you notes, or giving away to customers.
Different products
Multiple design discounts apply across product lines too. To see the greatest savings, order transfer stickers (custom vinyl decals), custom magnets, wall graphics, die cut stickers, kiss cut stickers (and more) together. You'll still receive a discount if you use the same artwork and size across different products.
Average savings
A typical order with multiple designs receives more than $24 in discounts. Recently, we've seen this number increase as people add transfer stickers and custom magnets to their orders.
So next time you order, try a few extra designs or grab a wall graphic for the office before you checkout.