Naughty or spice? Holiday recipes with a kick!
Sticker Mule द्वारा इस को पोस्ट किया गया
When it comes to holiday recipes, hot sauce might not be the first ingredient that comes to mind. But trust us, a little bit of heat can go a long way in adding depth and flavor to your holiday dishes.
This post will provide you with some delicious recipes that have a bit of a kick to them. From traditional holiday recipes with a twist to hot sauce drink recipes from around the world, there are plenty of ways to add some flavor and a bit of heat to your holiday meals. Here are a few ways to spice up your holidays this year.
Sleighin' Spicy Shrimp Bites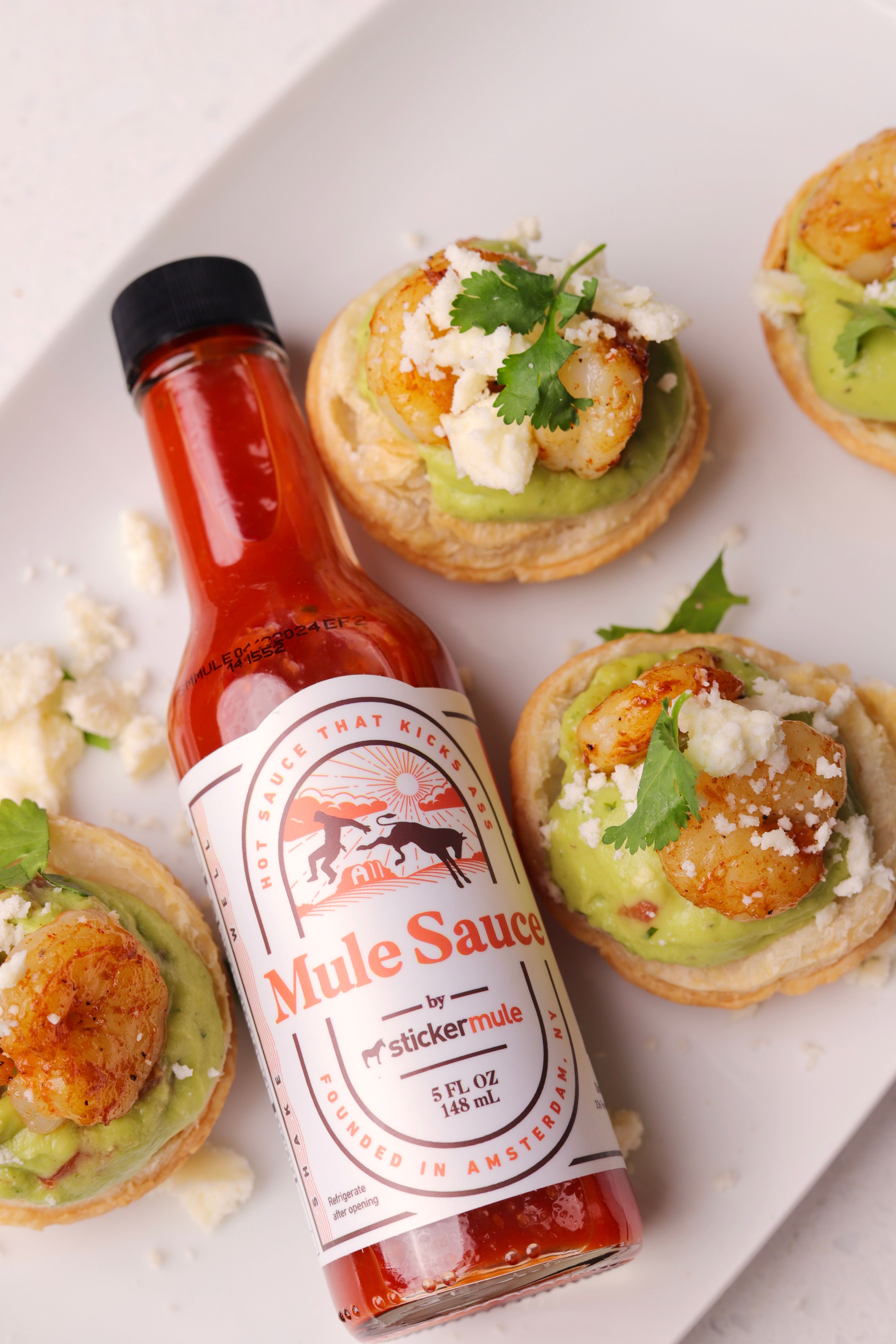 Makes 16 bite sized appetizers
1 1/2 lb raw shrimp, peeled and deveined
1/4 cup olive oil + 1 tbsp for frying pan
2 tbsp honey
2 tbsp Mule Sauce
Zest and juice of one orange
1/2 tsp salt
1/2 tsp pepper
1/4 tsp paprika
16 phyllo shells or mini pie crusts
1 cup guacamole
1/4 cup of crumbled queso fresco or cotija cheese
Chopped cilantro, for garnish
Instructions:
In a large bowl, add shrimp, olive oil, honey, Mule Sauce, orange, salt, pepper, and paprika. Stir to evenly coat shrimp, cover and refrigerate for one hour.
In a large saucepan, add 1 tablespoon of olive oil and cook over medium heat. Once pan is hot, add shrimp, working in 2 batches, careful not to overcrowd the pan.
Cook 2-3 minutes per side, depending on size of shrimp. Remove from heat.
Assembly:
Spoon or pipe 1 tbsp of guacamole into each phyllo cup. Top with shrimp, crumbled cheese and chopped cilantro and serve.
Mule Tide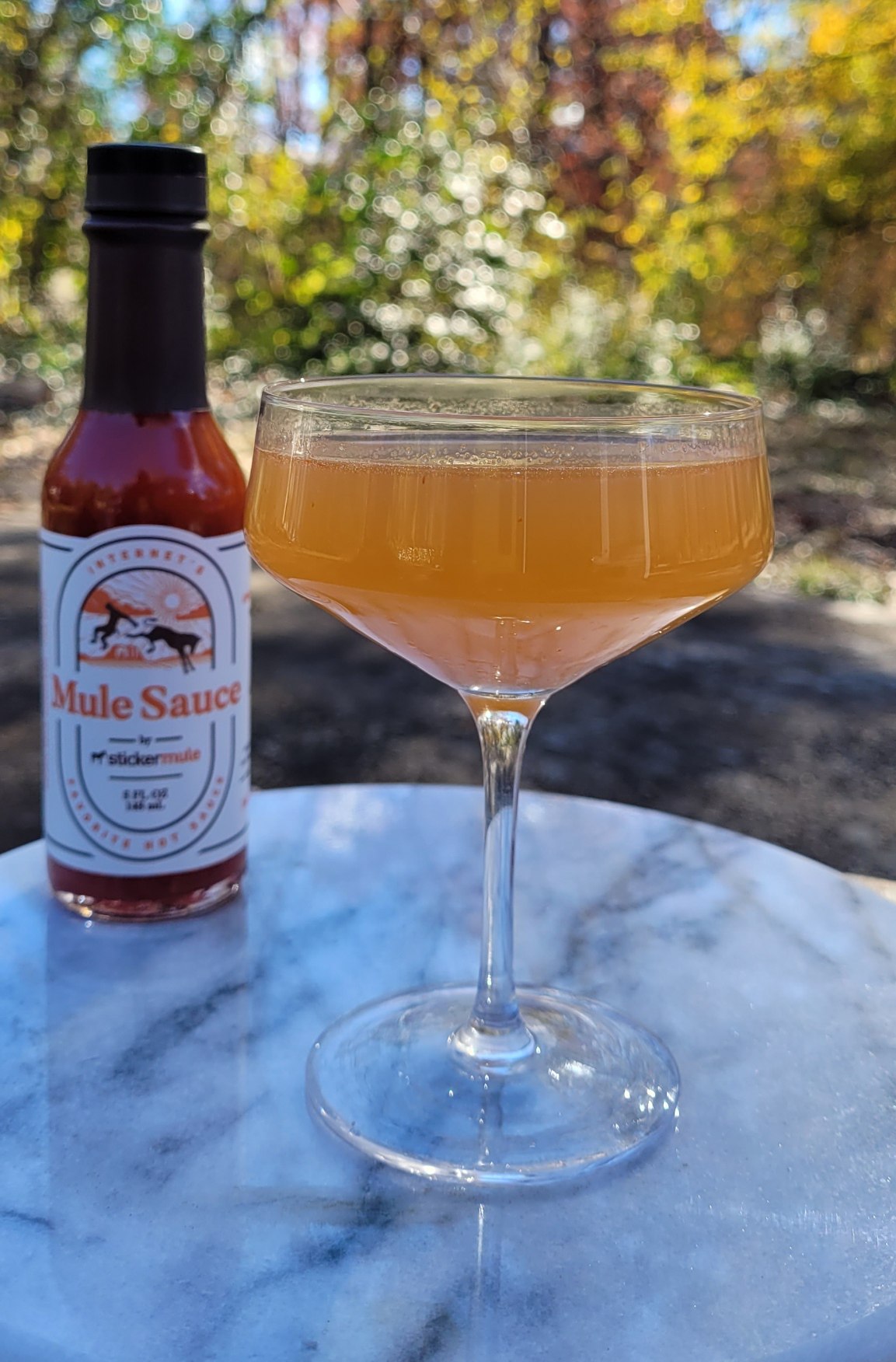 1.5 oz Bourbon
.75 oz Fresh Lime Juice
.75 oz Fresh Pineapple Juice
.50 oz Simple Syrup
.25 oz Mule Sauce (1 packet)
2 dashes of orange bitters
Instructions:
Shake, strain serve in coupe, garnish with dehydrated lime
Prancer's Punch
2 oz Zero proof tequila (Jalisco 55 by Spiritless)
.50 oz Fresh Lime Juice
.25 oz Fresh Lemon Juice
.50 oz Agave Nectar
.25 oz Mule Sauce
5 Rosemary Leaves
Instructions:
Muddle the rosemary to release the oils, combine all the ingredients into a shaker tin with fresh ice, shake hard for 30 seconds, straining into a rocks glass and garnish with a fresh rosemary sprig and favorite edible flower
For 10 guests
20 oz or 2.5 cups Zero proof tequila
5 oz Fresh Lime Juice
2.5 oz Fresh Lemon Juice
5 oz Light Agave Nectar
2.5 oz or ten packets of Mule Sauce
.25 oz by weight or 5 full sprigs of Rosemary
Instructions:
Follow the original instructions, serve in your favorite punch bowl or pitcher
Buffalo Chickmas Dip
8 oz cream cheese, room temperature
1/2 cup shredded cheddar cheese
1/2 cup bleu cheese crumbles
3/4 cup finely shredded cooked chicken breast
1 green onion, sliced (white and pale green part only)
2 tbsp Mule Sauce
1/2 tsp salt
1/2 tsp pepper
1/2 cup nuts (walnuts or brazil nuts)
2 tbsp finely chopped parsley
Carrots and pita chips, for serving
Instructions:
In a large bowl add cream cheese, cheddar and bleu cheese. Using a rubber spatula, fold to combine evenly. Add in chicken, green onion, Mule Sauce, salt and pepper. Continue to fold until all ingredients are incorporated. Turn mixture out onto plastic wrap and wrap completely, forming a ball. Refrigerate for at least one hour.
Meanwhile, chop the nuts finely using a knife or food processor. Combine with parsley on a shallow plate. Roll the cheese ball into the nut mixture, coating all sides.
Place the cheese ball on a platter and arrange with carrots, pita chips or bread.
All I Want For Christmas Is [Tof]u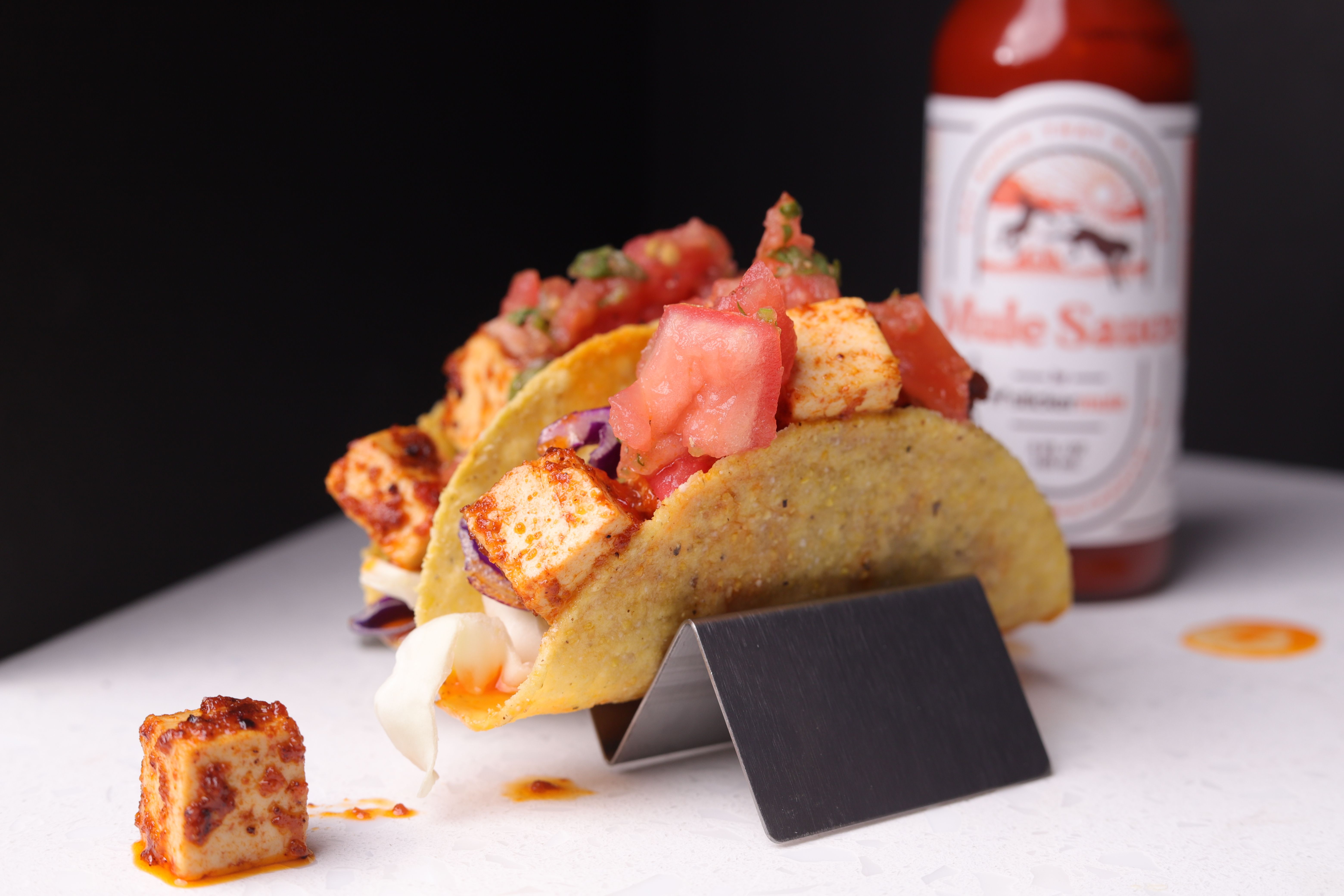 1/4 cup extra-virgin olive oil. plus 2 tablespoons for pan
1 tablespoon tomato paste
1 tablespoon taco seasoning
1 tablespoon Mule Sauce
1/2 tsp salt
1/2 tsp pepper
1 (14-ounce) block extra-firm tofu drained and patted dry
For serving:
Warm corn or flour tortillas.
Sliced avocado, chopped cabbage, salsa, and/or any of your favorite taco fixings
Directions:
In a large bowl, add olive oil, tomato paste, seasonings and Mule Sauce. Whisk to combine. Chop tofu into 1x1 cubes and toss in olive oil mixture to coat. In a large skillet over medium high heat, add 2 tablespoons of olive oil to pan. Add tofu and cook until browned, about 5-6 minutes. Place tofu in prepared taco shells with toppings of choice and enjoy.
With a little bit of creativity and the right hot sauce, you can add flavor and heat to your holiday recipes and impress your guests with some truly unique dishes. So don't be afraid to experiment and see what delicious creations you can come up with using this versatile and flavorful ingredient.
Try Mule Sauce hot sauce today and discover a new level of flavor in your cooking.