How to put a picture on a shirt (3 steps) - Custom printed t shirts
Geplaatst door Sticker Mule op
You don't have to be a graphic designer to put a picture on a shirt. With just a little bit of planning, you can DIY your own custom tee in just a few hours. You don't need to spend money on expensive software either - there are several easy programs you can use right from your browser. Here we have listed two easy ways to make your own tshirt at home or print online.
1) Decide what you want to print
The first step in designing your own t-shirt is deciding what exactly you want to print on it. The possibilities here are endless - you can put a funny saying, your logo or catchphrase, a picture, or anything else you can think of.
Of course, some types of designs are easier to create than others. If you want to put a photo on your t-shirt, you'll need to find an image editor that lets you resize, crop, and edit the image. If you want to put text on your shirt, you'll need an editor that lets you change the font, size, color, and spacing.
Luckily, there are a lot of really great online image editors out there and some of them are even free to use. Let's go over some of these options
2) Design the t-shirt with free online design software
With all of the different t-shirt design software out there, you might be wondering which one is right for you. Fortunately, you can try out several different programs without spending any money. If you want to design your t-shirt online, we recommend trying a free online design tool like Sticker Mule's Studio.
Sticker Mule is one of the most popular print-on-demand services for creating custom t-shirts. They also have a quick and easy online design tool where you can create your own t-shirt designs with just a few clicks.
To get started, head on over to the t-shirt templates section of Studio. You'll see a whole slew of ready to use t-shirt templates. You just need to click on any of the templates and you can edit it to your liking with the easy to use online editing tools available on Studio.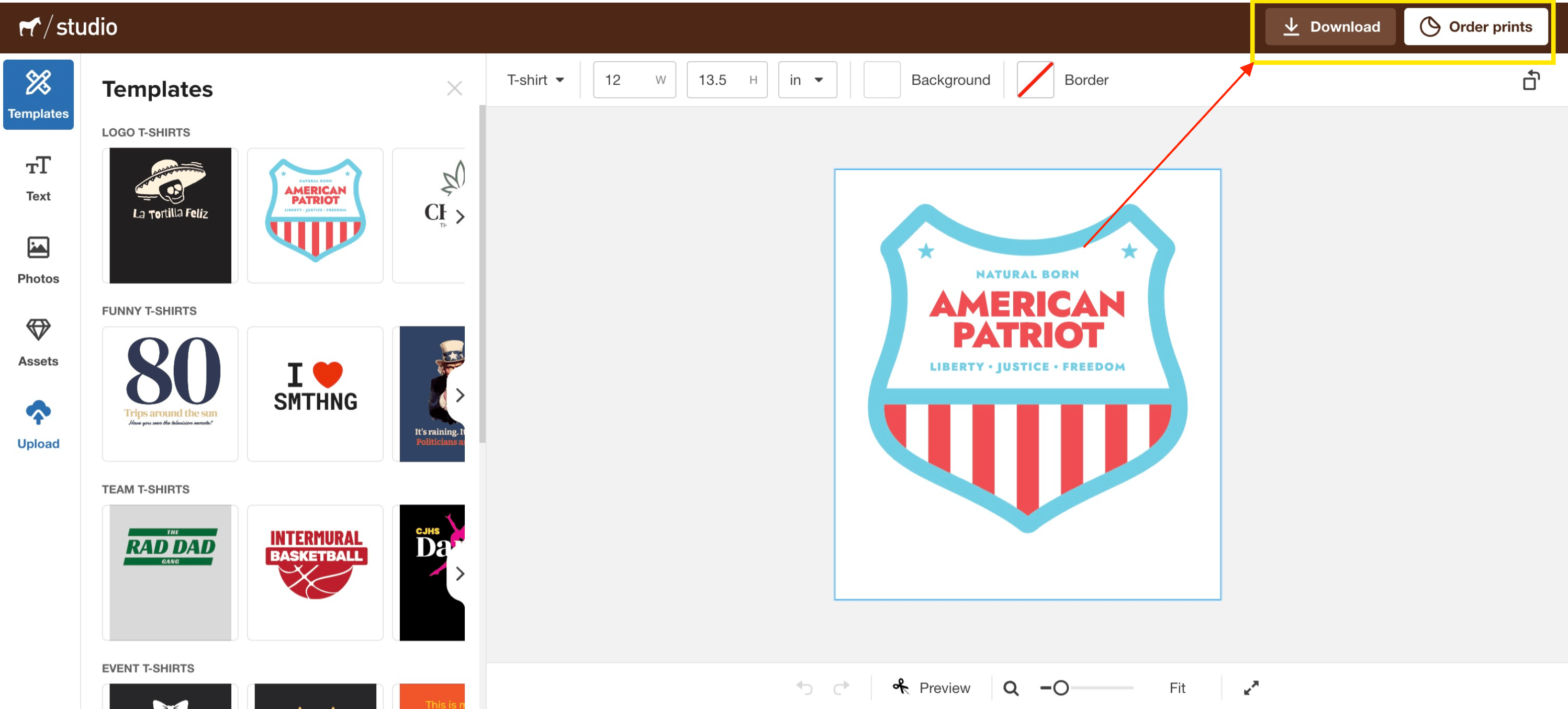 Once you've edited your design you are ready to print it. You can save the design by pressing "download" on the top right corner of the screen and then printing the t-shirt design yourself or you can use Sticker Mule's online printing service directly from Studio by pressing the "order prints" button.
Alternatively, if you don't want to design a t-shirt from scratch you can find a pre-made design on a website like Etsy or Pinterest and then save the design and print it right on your new heat transfer paper.
Either way, there are basically two options available to get your design printed on a shirt. You can either do it yourself with special heat transfer paper where you can print and then iron-on the designs from your home printer or you can print it online using a printing service online.
3a) Print the shirt online at Sticker Mule
We've talked a bit about what to expect when designing your own t-shirt, but we haven't actually gone over the actual printing process yet. Printing your own t-shirt design online is actually a lot easier than you might think. If you use the Studio tool from above, it's as simple as pressing the order button to get a t-shirt printed.
If you already have your design ready, the process is pretty easy as well. Just head on over to Sticker Mule's Custom Shirts page. Here just select the color and size you'd like the design to print on; then, simply upload your design when asked and complete checkout with your order details. You'll have your t-shirt printed and delivered to your door in about a week!
There are many other t-shirt printing services available online, but not many come with the peace of mind of having Sticker Mule's award winning support and proofing teams helping you along the way. But if you are a do-it-yourselfer, there is another option available for you to get your design printed on a custom t-shirt: iron-on heat transfers!
3b) Print the shirt at home with iron on heat transfers
If you're crafty, you can create a custom t-shirt at home using iron on heat transfers. Heat transfers are relatively inexpensive and they're a great way to create a one-of-a-kind design and print it on a t-shirt without much difficulty. To do so, you just need to have a design ready to go and then print the design on special heat transfer paper. This paper is available for cheap online or for a bit more in your local office supply store.
Here is a helpful video from Avery that goes over the whole process in detail - with some tips & tricks to boot.
Once you've printed the design on the heat transfer paper, you can then use an iron to apply the design to a blank t-shirt of your choice. Each paper has different instructions, so make sure to pay attention to the instructions for the heat transfer paper you have.
Wrapping up
Now that you know what to expect when designing your own t-shirt, it might be a good idea to start thinking of some designs that are special to you. The best thing about designing your own t-shirt is that there are really no limits as to what you can create. You can put your favorite quote, your company's catchphrase, your logo, or even a silly joke. Whatever you decide, just make sure you design something you'll love wearing!
When you have a design ready to go, you can either print the design on your home printer on special heat transfer paper or have it printed online at a custom t-shirts printing service like Sticker Mule.