How Wordnik used stickers for Kickstarter rewards
Geplaatst door Tyler Vawser op
About Wordnik: Wordnik is the world's biggest online English dictionary, by number of words.
How they use stickers: As a nonprofit, Wordnik is always looking for innovative ways to drive donations and engagement like their Adopt-a-Word program. Most recently, Wordnik has used stickers in different support levels in their Kickstarter campaign.
Results: Wordnik has seen hundreds of words adopted and they raised over $50,000 in their successful Kickstarter campaign to add a million missing words to the dictionary.
Stickers are a perfect reward for any Kickstarter campaign.
When Erin McKean stepped off of the TED stage in March 2007, she had done the seemingly impossible: make the job of a lexicographer sound actually exciting.
She gave a vision to the English language that goes beyond the confines of paper and online dictionaries. The way paper and digital interact has to be different than how we think of it now.
That was the start of Wordnik, the world's biggest online English dictionary.
As a lexicographer (for those unwilling to look it up, a lexicographer is a person who compiles dictionaries), Erin worked for years on the New Oxford American Dictionary (which is the dictionary used by Mac OS X and Kindle.) Although dictionaries may seem dull and dry, they are living databases that are the output of thousands of individual decisions, including the actual words being used (and allowed), what goes into updating it, and the format it's published in.
Making words more lookupable
The problem? The English language is composed of millions and millions of words (and possible words)! Far too many to fit into a paper dictionary. And further to complicate matters, words are being added and created in English faster than dictionaries can be updated. With a few colleagues, Erin formed Wordnik with the goal of making every word in the English language "lookupable" – including the 52% of unique English words that aren't currently in any dictionary.
The philosophy of Wordnik is simple: people learn words best by example and so any word used in a sentence, even in casual use, gets a page. If a word is looked up that doesn't have any information, not even a sentence, the word still gets a page that is updated as more information becomes available—including the number of times the word has been looked up! "If you're curious about a word, some information is always better than no information," says Erin. This way people can find out information about a word even before a traditional definition has been written.
If you're curious about a word, some information is always better than no information.
One of the hidden gems of Wordnik is its lists feature. It has more than 40,000 lists (see words that make us hungry or crayon colors), some hundreds of words long. And while Wordnik is a brilliant place to inspire a writer, the team had an equally smart idea when they launched a Kickstarter campaign.
Finding one million missing words
Erin and her team started a Kickstarter campaign to achieve their goal of: Finding a million words that haven't been included in major English dictionaries and give them each a home on the Internet.
With a goal of raising $50,000, the Wordnik project set out to create reward levels for an online living dictionar)--something that you can't exactly hold in your hand! Without a physical product, it can be difficult to come up with meaningful rewards for crowdfunding campaigns.
The Wordnik team came up with brilliant rewards that fit perfectly with their target audience, project positioning, and let their backers participate in the creation!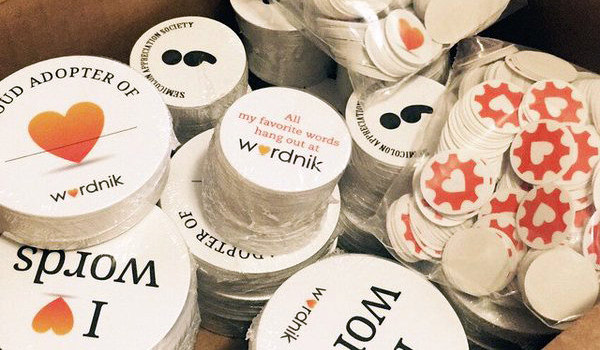 Your reward: an excuse to talk about words
Wordnik found a way to literally put words into their backers' hands using stickers from Sticker Mule. For backers pledging $10 or more, Wordnik offered a complete set of stickers, including a sticker for the Semicolon Appreciation Society (literature lovers unite!).
At the next level, backers pledging $25 or more could "Adopt A Word". These backers got the set of stickers, plus a special word adoption sticker with space to add a word of their choice.
Stickers are a perfect reward for any Kickstarter campaign.
They're a simple, low-cost way to deliver something physical. Stickers can serve as delightful marketing tool that doesn't feel like marketing. Backers can get involved quickly at any level. With the right design, your stickers will be placed on laptops, notebooks, and other spots that are seen every day.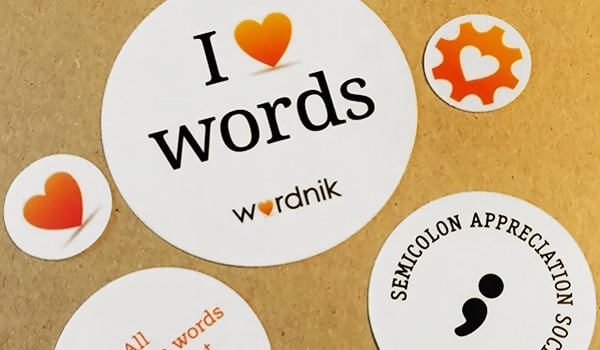 More sticky reward ideas
Every project is different and coming up with ways to use stickers for your own campaign might be tough. Here are a few ideas to inspire your own:
Reward level stickers: Reward your smallest and biggest backers with a sticker that shows your logo and their level of support. It creates a sense of community and encourages larger pledges.
Themed pack of stickers: Get more creative than a logo with a set of designs themed to go along with your product.
People want something they can hold in their hands. Stickers give people an excuse to talk about their love for words and Wordnik.
With the help of 726 backers, Wordnik successfully raised $58,407 (nearly $10,000 more than their goal). The team continues to add thousands of words each day and has made stickers a staple of their promotion strategy to "get the word out".
Stickers are an inexpensive and fun way to make people feel good about what you do. I don't think any of us ever get over our little kid love of stickers.
Today, Wordnik uses five different stickers to promote their efforts, reward backers, and to raise additional donations with the Adopt-A-Word program. Backers and donors proudly display their "I Love Words" stickers at home and on their cars.
For more creative ideas for using custom stickers, buttons, magnets and more, check out our gallery of uses.