Ultimate guide to aesthetic stickers: cute designs, trends, and tips
Geplaatst door Sticker Mule op
Home decor, DIY, crafts. Lately, these three uber-popular topics have converged somewhat over the humble sticker with a new trend: aesthetic stickers.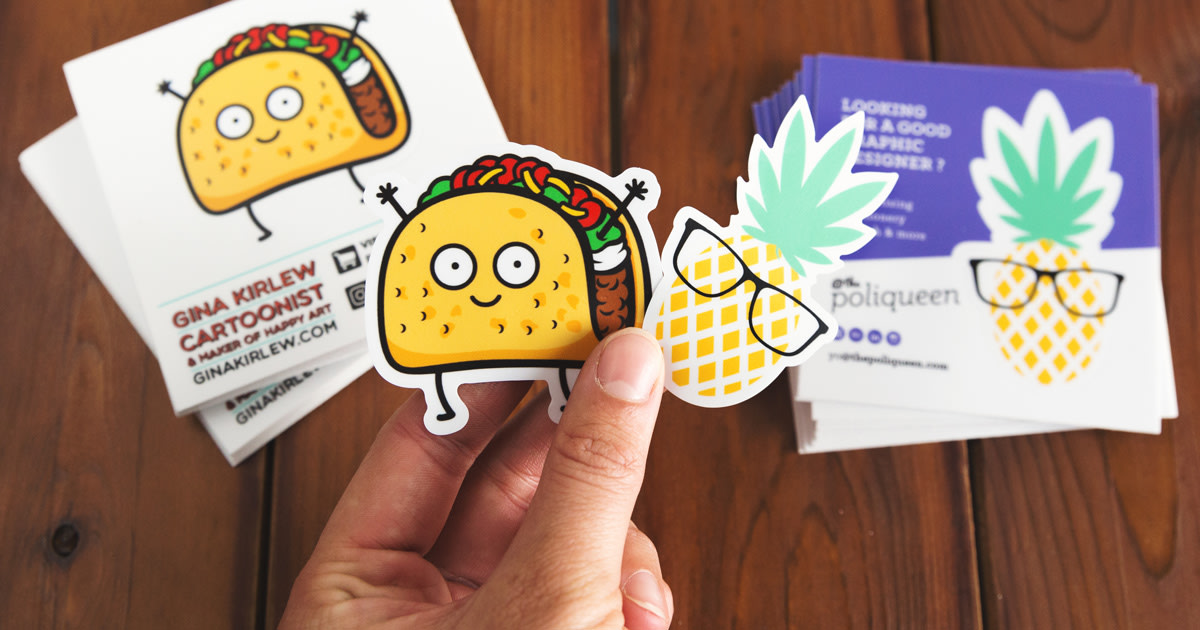 What are aesthetic stickers? In a few words, they're stickers that help shape a certain personal style or vibe. They can be anything to express your current mood or vibe. The use of the word "aesthetic" here puts us right away in the mind of decoration, of shaping a specific ambiance. So that's what people are going for with their aesthetic stickers: imprinting their personality on their surroundings.
Understanding aesthetic stickers
Aesthetic stickers are all about helping shape a certain tone or vibe — or, if you will, a certain aesthetic. Rather than isolated individual stickers, aesthetic stickers usually come in sets and follow a predetermined theme.
You can have a set of fruit or emoji stickers, vacation-themed stickers, or even build a line of stickers for your favorite fandom or TV show. The main point is that the stickers must work between themselves to really create that feeling you're going for, whether it's excitement, tranquility, or fun.
With a kit of aesthetic stickers, you can really transform your belongings (think office or school materials) — or your environment. That's why people love them so much. A few stickers in a bedroom or home office, paired with some minor rearranging (and maybe some tidying up too), and suddenly your place looks refreshingly new.
And that, for a very low effort and little time investment, can be an incredibly satisfying thing.
Different types of aesthetic stickers and the latest trends
If you're making your own custom aesthetic stickers, there really is no end to the possibilities at your disposal. Popular styles, of course, often reflect existing trends in decor and fashion, such as:
Vintage aesthetic stickers: Nothing is better for a vintage feel than a few choice items of daily use — daily use in another century, mind you. Oil lamps, old umbrellas and magnifying glasses, bicycles, old dial phones, top hats… the list goes on.
Minimalistic: Simple fonts, few-line drawings, plenty of white space. These stickers can go a long way toward showing off your minimalist preferences on your laptop or car bumper. Just remember not to overuse them — that goes against the spirit of the whole thing.
Nature aesthetic: Leaves, trees, cacti, rocks, birds… If you're a nature lover and your living room looks like it might soon be taken over by the jungle, try a combination of these and other nature-themed stickers on your belongings to seal the vibe.
Bibliophile aesthetic: Love books? Sure you do. Love flaunting your love for books? We suspect so. So order a selection of custom book- and stationery-themed stickers to liven up your desk, phone, or backpack. Just don't stick them on your books — those are sacred you know.
These are just a few examples. Can you imagine what you could do with your favorite aesthetic?
Examples of cute aesthetic sticker designs
Food, animals, and pets
Icons, logos and messages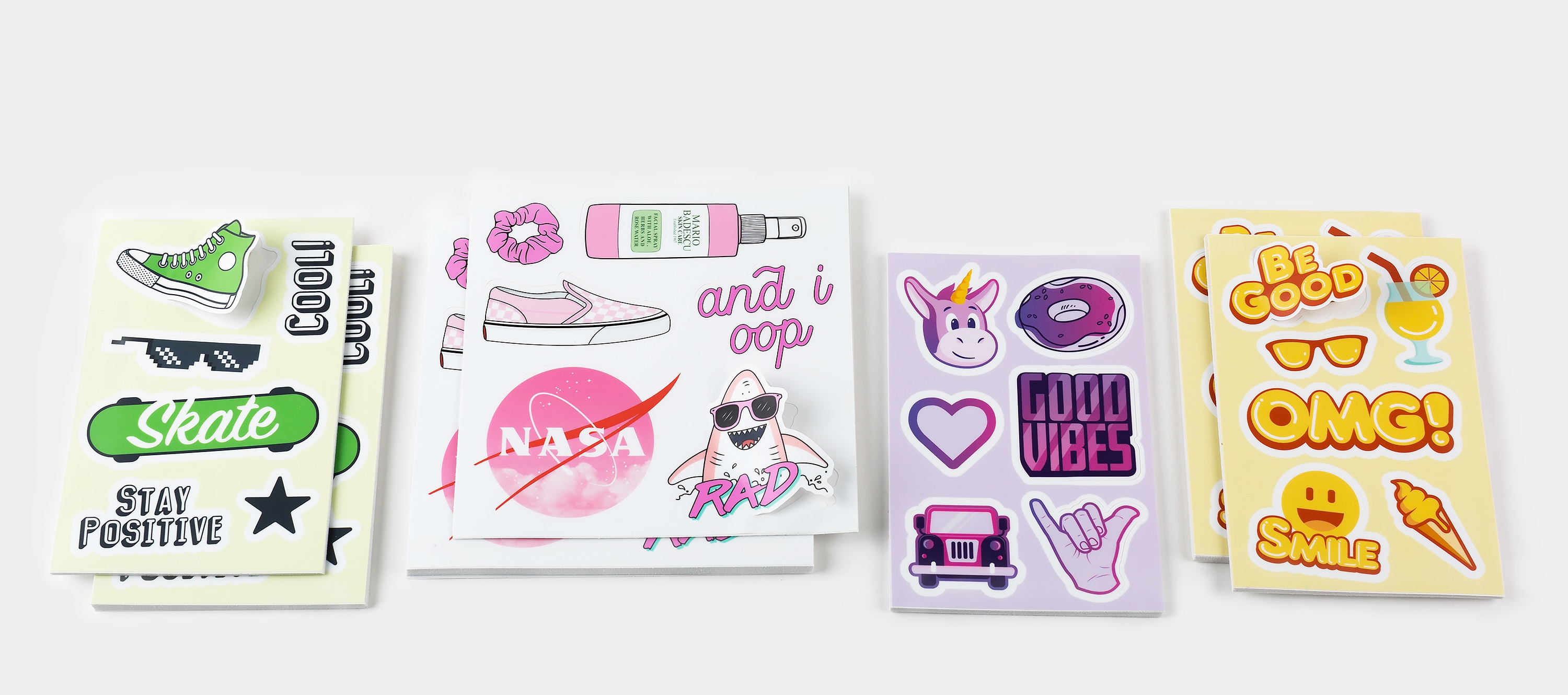 Tips on using aesthetic stickers
Unlike rocket science, sticker science is pretty obvious. There are just a few things you can keep in mind when decorating with aesthetic stickers:
Give some thought to placement. Do you want your stickers to stand out and attract attention or just provide a more subdued background? There's a range of options according to your answer: you can try laptop, phone, or water bottle stickers to simply decorate everyday objects, or larger wall stickers to really capture the eye.
Try a combination of styles. Sometimes mixing individual aesthetic stickers from different styles or sets can work great. Just take your time and lay out a few combinations on your table before you actually stick them in place.
Help your stickers last. Make sure you apply your stickers to a clean surface and smoothen out any imperfections or air bubbles right away. This will help them stick around longer. Give extra some love to static clings, as these are typically less durable than our more common vinyl custom stickers.
Where to buy aesthetic stickers
It's not hard to find pre-made aesthetic sticker packages out there on websites like Amazon, eBay, or Etsy. But if you find it boring to buy combinations that maybe hundreds of others have already on display, there's always the option to print your own stickers.
After all, that's what we're all about here!
At Sticker Mule, you can order your own custom stickers in any shape, size, or style. You can also use our own free tools, like Studio, to design the stickers yourself and order them with a click. Before we print, we always send you a proof showing what your stickers will look like, and you can request changes until you're 100% happy with the result. It's fast and easy.
Conclusion
Not just a nice little trend, aesthetic stickers can be an incredibly fulfilling way to let your personal style come through in your environment. Whether you like modern minimalism or elegant vintage styles, you'll find stickers the perfect medium for your creativity and personality.
Think aesthetic stickers are just the thing for you? Then go over to Studio and start creating your own custom stickers today! Our broad array of design templates are a perfect starting point — and they're waiting just for you 😉