Free online image editor like Photoshop - Studio by Sticker Mule
Posted by Sticker Mule on
As the world becomes increasingly digital, the importance of high-quality images has never been greater. Whether creating graphics for social media, designing a website, or producing marketing materials, you need an image editing tool — something that helps you achieve your vision.
Now, Photoshop is undoubtedly one of the most popular image editors in the world, but not everyone can afford the software or has the technical expertise to use it. And that's where Studio by Sticker Mule comes in.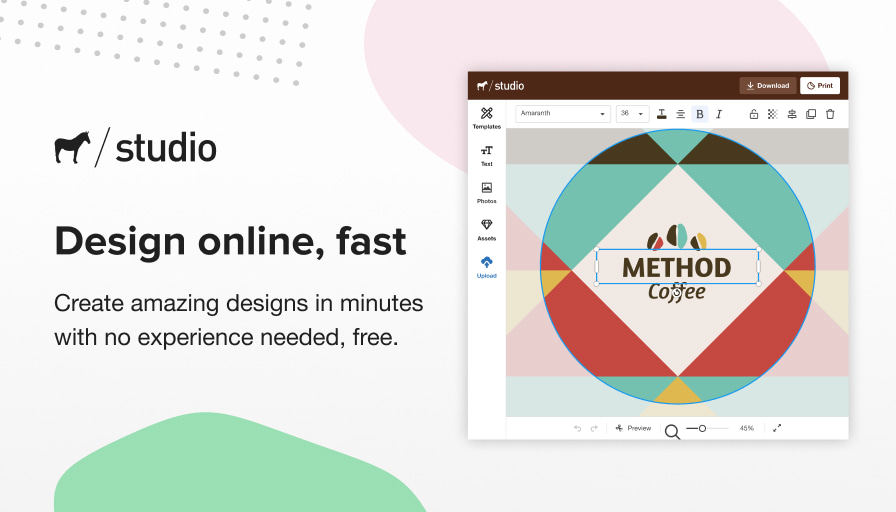 Studio by Sticker Mule is a free online image editor that rivals the power of Photoshop. Let's take a look at why Studio is a fantastic tool for anyone who needs to edit images, whether you're a professional designer or a hobbyist photographer. Discover some of the key features that make Studio so special and find out how you, too, can get started with this powerful tool.
What is Studio by Sticker Mule?
Studio is a free online editor that allows you to crop, resize, and adjust your images at will, as well as add text, objects, and other effects.
Unlike other image editors, Studio is designed to be intuitive and user-friendly — even for people who have no experience with photo editing.
Studio offers many benefits, including:
Processing speed: Studio works incredibly fast, even with large images
Simple design: an uncluttered, easy-to-navigate look ensures you find the tool you're looking for in a moment
Free templates: use templates and pre-made designs as a starting point for your projects
These and other features make it easy to create professional-looking graphics even if you don't have a background in design.
Why use Studio by Sticker Mule?
It's fast, it's free, it's powerful, and it's easy to use. What more could we ask for?
You want to create a new design, say, for a business flyer to hand out at an upcoming event.
You:
Open your browser and instantly access Studio
Choose a flyer template as a starting point (or start from scratch)
Add your own branding and customize font type, color, size, spacing, etc.
Save, then download in your preferred format. You're good to go!
Studio stands out for one excellent reason: In a world of complications, it simplifies your life.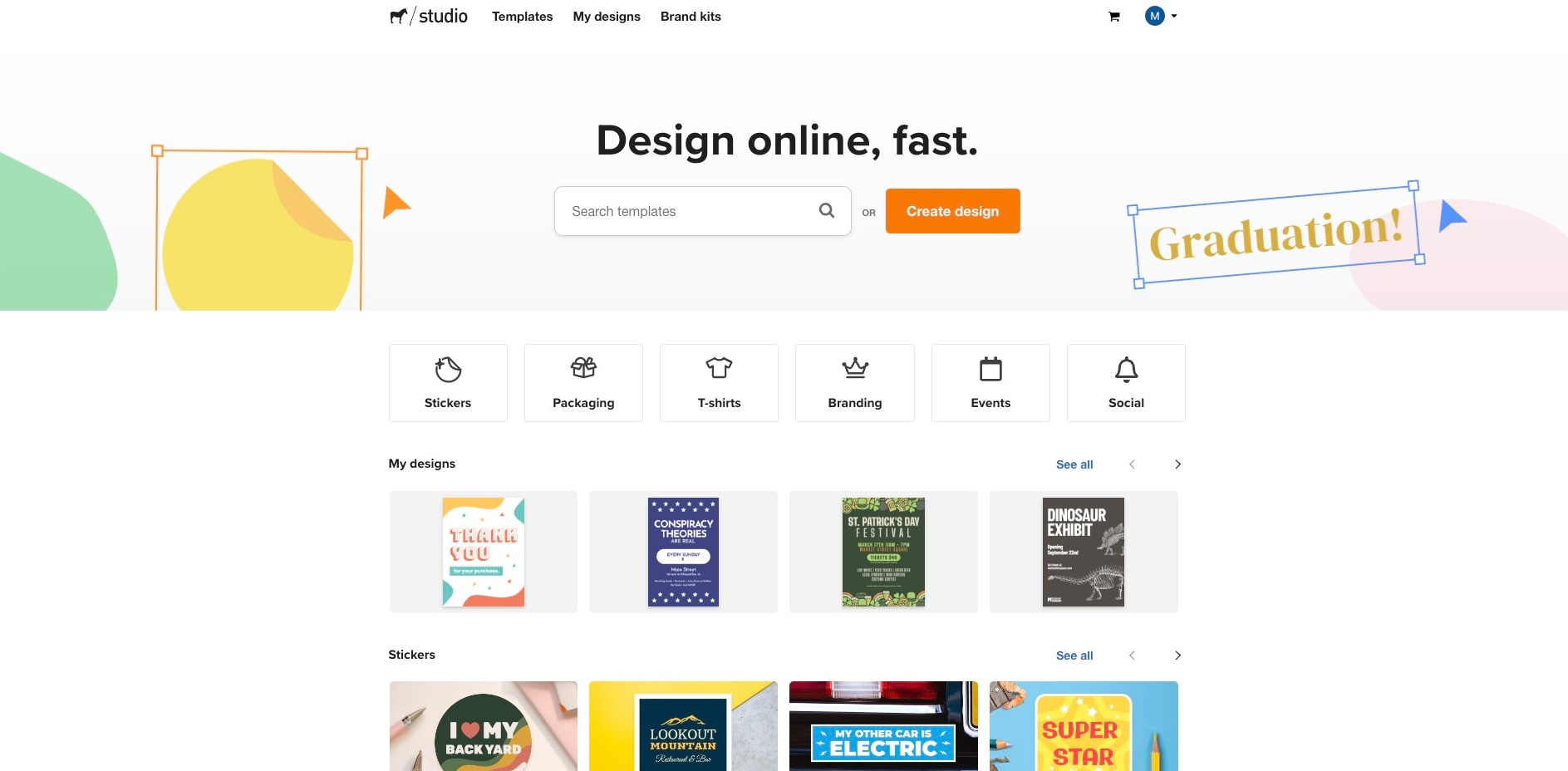 Key features of Studio
Studio is a top-notch image editor in its own right, but it's especially useful as a way to create amazing designs for printable products — anything from stickers to keychains and t-shirts.
Let's take a look at the features included:
Browser access: Edit on the fly, from any device. No downloads or installations needed.
Free storage: Create a free account to keep your designs stored and ready to use at a moment's notice.
Free templates: Draw inspiration from an ample choice of templates for posters, flyers, stickers, t-shirts, and much more.
Graphics library: Effortlessly add graphics and other objects to your designs from Studio's large (and yes, free) objects library.
Multiple file formats: Download your files as PDFs, JPGs, PNGs or SVGs.
Agile drag-n-drop: Bring shapes, lines, graphics, emojis, or text into your work area with Studio's smooth drag-n-drop interface.
Share and collaborate: Share brand designs with team members or work together on the same file to create awesome, teamwork-produced art!
Straight-to-print: Request a custom-made product featuring your newly-created art. All it takes is a couple clicks!
Getting started with Studio by Sticker Mule
It's never been a better moment to join the Studio wagon. And it only takes a moment.
To use Studio, simply head to the Sticker Mule website and click on the "Studio" link in the 'Tools' menu. From there, you'll be able to access the Studio editor and start creating your designs. Creating an account is helpful (as it allows you access to storage and sharing features), but not required.
If you're new to image editing, we recommend starting with one of Studio's pre-made templates. Simply click on the "Templates" tab in the left-hand menu and choose a template that suits your needs. From there, you can customize the template to fit your requirements, adding text, images, and other elements as needed.
If you're more experienced with image editing (more, uhm, Studious?), you may prefer to start from scratch. In this case, simply click on the "Create design" button on the Studio main page and start creating your design from scratch.
One of the great things about Studio is that it's incredibly flexible. Whether you're creating a simple graphic or a complex design, Studio has everything you need to get the job done.
Capping off
Call us biased, but we don't think it's too much to say Studio by Sticker Mule is a truly fantastic free online image editor that rivals the power of Photoshop — and is certainly more accessible to humble mortals, smartphones, and tired laptops. With its intuitive interface, range of templates and graphics, and a vast array of features, Studio is a great choice for creating stunning designs with speed and ease, for professional designers as well as amateur artists.
So why not give Studio a try today? Head to the Sticker Mule website and start creating your designs. With its powerful features and user-friendly interface, we're confident you'll love using Studio as much as we do.