How to design custom t-shirts from scratch
Posted by Sticker Mule on
There are few things as fun as literally wearing your own creation. This is perhaps why custom t-shirts have become so popular over the past few years — they're a way to showcase your creativity, have fun with new designs, and easily dress in a unique way.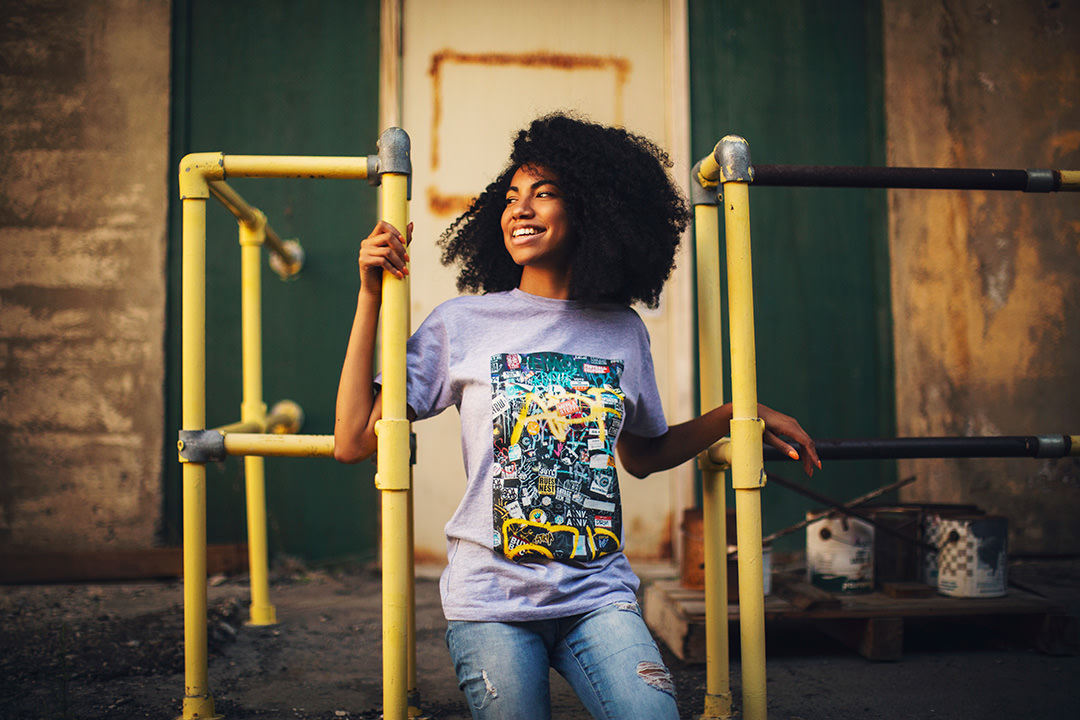 It's perhaps no surprise, in fact, that the global market for custom-made clothes has been on a meteoric rise — worth $51.8 billion in 2021, it's projected to reach no less than $131.6 billion by 2030. It's no secret: people want to dress custom.
Designing your custom t-shirts
There are plenty of ways to design your own t-shirts, but few, if any, are better than Studio.
What is Studio?
Essentially, it's a canvas for your creativity — a browser-based, user-friendly platform for devising your own designs and creating your own custom-made products.
Unlike other, more complicated apps, Studio removes all the hurdles from your creative process, at the same time providing an ample library of templates as a starting point for your creative endeavors.
How to use Studio
To work with Studio, all you need is a browser and an internet connection. In fact, you can even create from your smartphone. Let's take a look at how that process works.
1. Choose a template
Studio comes with a vast library of free t-shirt templates. Whether you are designing a t-shirt for a sports team, for your company, or just for good old fun, you'll likely find a Studio template that's just the right starting point for your needs.
And don't worry about spending time thumbing through templates either; just select the category you have in mind and browse the top templates for that particular subject.
2. Edit your template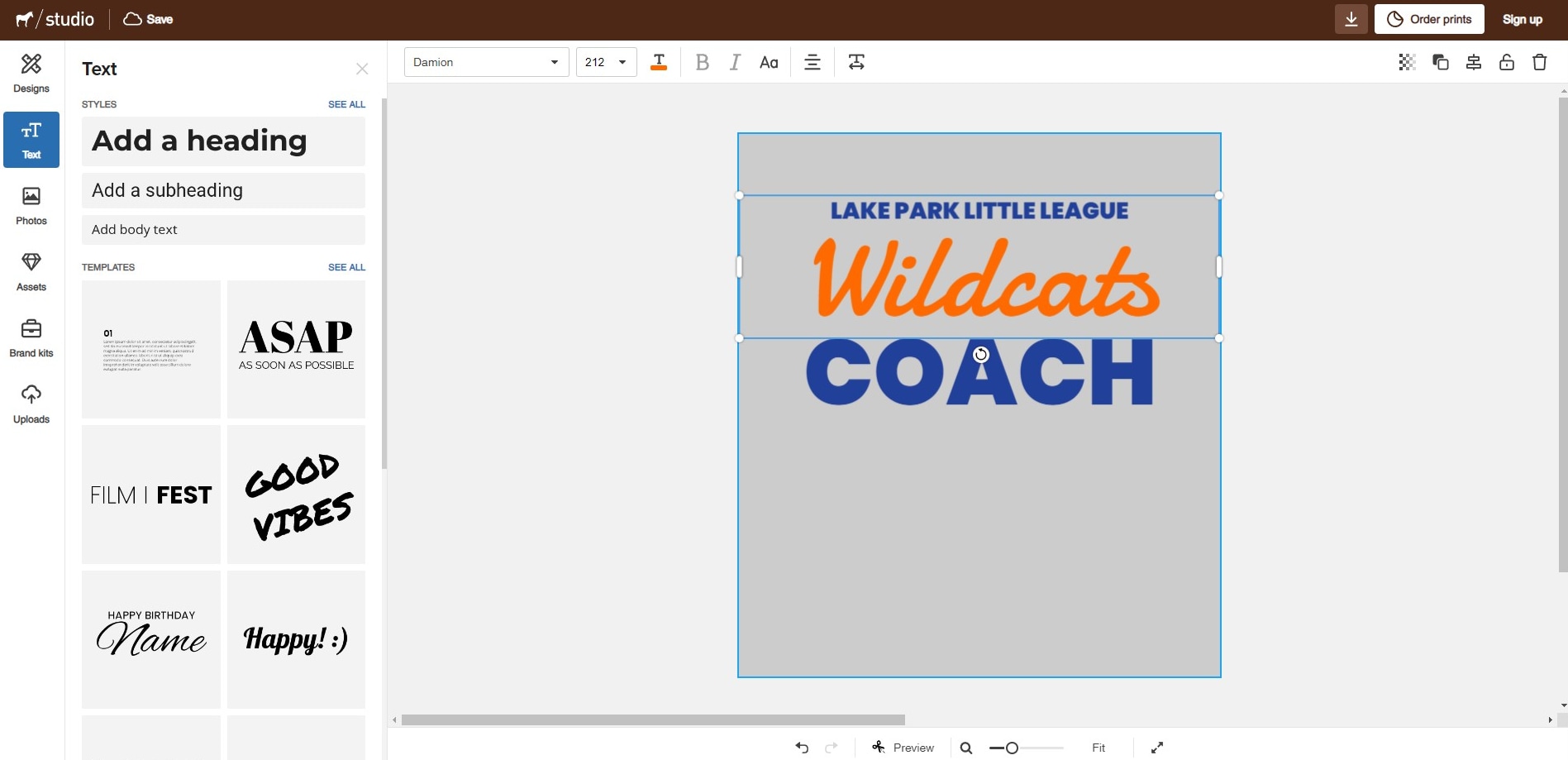 Even if your template is nothing more than a blank canvas, editing is as easy as adding new text or drawing elements, dragging them into place, adding color… it's all done in a few clicks (or taps, if you're on your phone). While you're at it, keep in mind a few key points to ensure your design looks well put together and appealing, including:
The right combination of colors. It's not about how many colors you work into your design, but the extent to which they match. You can do some research on how different colors complement each other, for starters, and play with several combinations as you go.

Text is often the first thing that gets noticed in a design, so use fonts that match the vibe you're going for. We wrote a bit on the subject of fonts before, but it is a topic worth exploring in depth, as it can make or break your visual style.

Placement. How harmonious the different elements in your overall design look — that's also key to your success. You can find out a little more about the rules of design composition and layout here.
3. Print it out
Once you're happy with your design, you can download it or send it straight to print with Sticker Mule. All you have to do is choose your t-shirt size, quantity, and order. Before your t-shirt is produced, you'll get a free sample proof showing you what it'll look like with your design — if need be, you can request further changes before giving the green light for the printing process.
Once you complete your order, your t-shirts will be coming to you in just a few days!
Printing your custom t-shirt
Did you know you can print your own custom t-shirt at home and at little cost to yourself? That's one of the options we'll explore below.
DIY printing
If you're a fan of doing things yourself, why not try DIY t-shirt printing? It's easy, doesn't take long, and yields fairly good results for more casual use cases.
Take a look at this tutorial and you'll see you don't even have to invest in complicated equipment to print your own t-shirts (although you can get professional results if you're willing to fork out around $1300 as an initial investment for a shirt-printing machine!)
To print your own custom design onto a t-shirt at home, all you need are a regular printer, an iron and ironing board, a blank t-shirt, and some transfer paper.
The steps are simple, too:
Print your design onto a sheet of transfer paper
Lay out your t-shirt onto the ironing board and place the transfer area over the area you want your design to be printed on
Carefully iron over the design a few times, making sure you smooth out the whole of the design.
Remove the backing on your transfer paper and glory in your newly-printed t-shirt!
That's the gist of it, anyway.
Going the professional route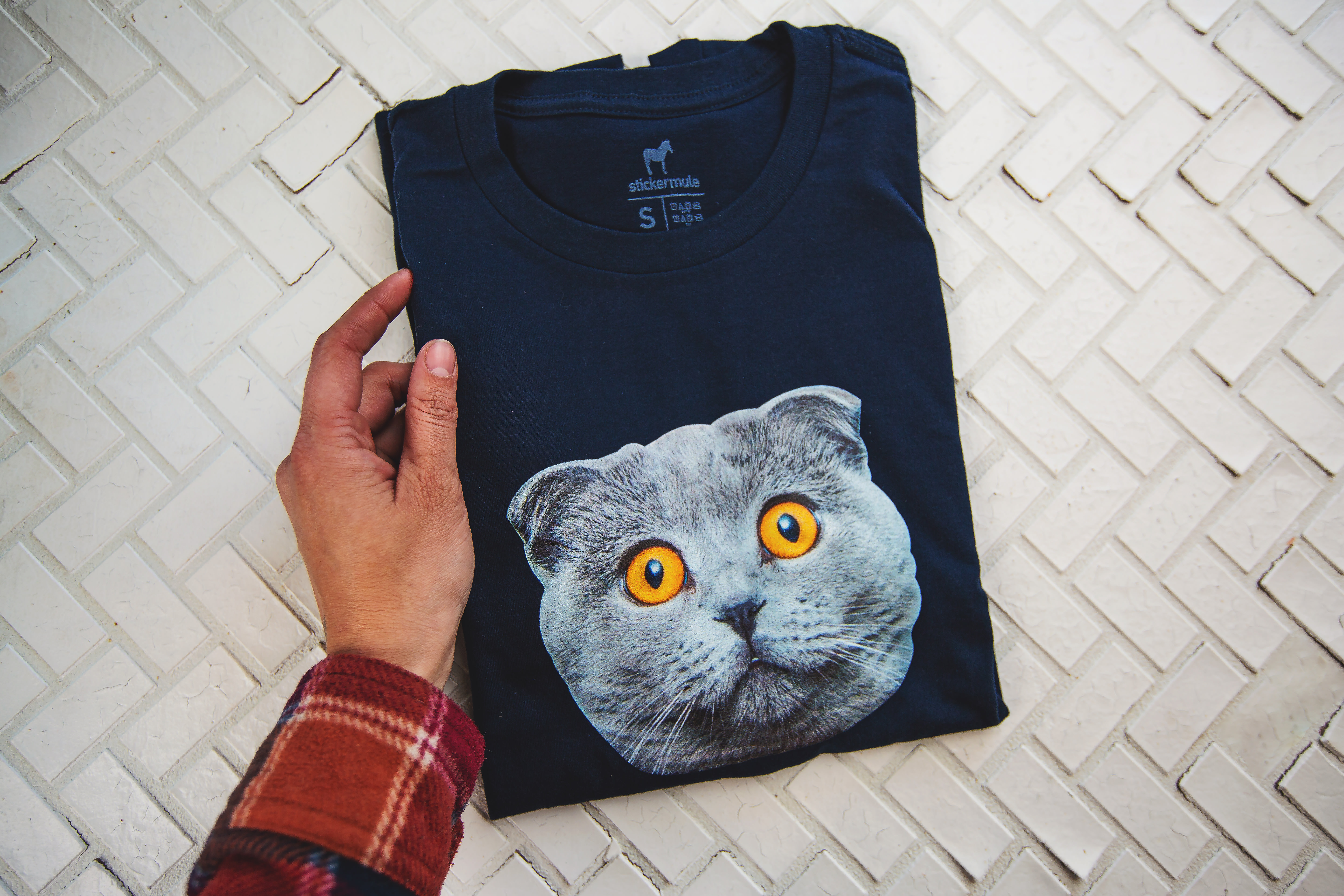 DIY printing is a fun way to personalize your tees at a low cost, but it may not be for everyone. For starters, the quality of the design will inevitably turn out to be inferior to the design on a professionally printed t-shirt — the shapes will be less crisp and nitid, and the design is likely to wear off faster.
On top of that, it's a time-consuming process. If you want your design stamped on a large number of t-shirts, you'll find yourself spending hours ironing stuff back and forth. Maybe not the best investment for your time.
Online printing services
With that in mind, there's a simpler alternative: get your custom t-shirts printed out for you by a professional printing service like yours truly, Sticker Mule.
It'll save you headaches and the potential disappointment of making a mess of your design — and ruining a t-shirt. And that inevitably happens on a long enough timeline of printing your own stuff.
In fact, if you intend to print your design on a large number of t-shirts, you may find ordering your tees from an online service can be a lot more cost-effective. Just check out the mouth-watering bulk discounts we offer on custom t-shirts — order enough and you can find yourself paying less than $10 for professionally printed, high-quality, 100% cotton t-shirts.
Order now and enjoy holding your crisp, nice new tees a few days from now!
Conclusion
As you can see, designing your very own t-shirt with Studio is a no-brainer. All it takes is a browser, an internet connection, and a little bit of inspiration — and remember our 2000+ templates are all there to help you with that! Plus, once you have your design ready, sporting it in quality-printed t-shirts is only a matter of a few clicks and a few days' wait. Your Sticker Mule-made t-shirts will stick around for years.