How to make your own custom QR code sticker for free online
Posted by Sticker Mule on
Whether it's a barcode, matrix code, or QR code, all these visual codes have one thing in common. They are used to encode information and make it easier to access. Quick response (QR) codes are dynamic optical codes that can be read by almost any device. They can be found in almost every industry, including retail and e-commerce, education, logistics and transportation, advertising and marketing, and more. Unfortunately, most businesses don't know how to design a QR code sticker for their marketing strategy or how to use it effectively. If you want to know what a QR code sticker is and how to use it for your business strategy, keep reading!
What is a QR code sticker?
A QR code sticker is an advertising tool that can be printed on paper, a sticker, or a poster, and then placed in a location where customers are likely to see it.
The QR code sticker contains a URL or a phone number and links to the desired destination. To access the information, a user needs to scan the QR code sticker with a QR code scanner. This can be done with a smartphone or a special application designed to read these codes.
QR codes can be used for all types of industries, including retail and e-commerce, education, logistics and transportation, advertising and marketing, and more. They can be applied to anything, such as a poster, a magazine ad, the side of a bus, a billboard, a product, a poster, and more. The only limitation is your imagination!
QR codes have been used for many years and are an effective way to drive traffic to your website, generate sales, and engage customers. Businesses of all sizes can benefit from QR codes by using them to promote special sales, hosting online surveys, linking to an online store, and more.
Why use a QR code sticker?
If you're still not convinced that QR codes are relevant to your business, here are some great reasons to use a QR code sticker.
Better reach. With QR codes, you can reach a larger audience than with just text. This is especially true if you're trying to reach people in different languages. You're also likely to get better engagement rates as people are more likely to scan a QR code than they are to visit sites spelled in text.

More visual. People are visual creatures, and they're much more likely to remember information if they've seen it in a visual format. If you add some design elements to the QR code (like a logo or brand color), you'll make it even more memorable.

Time savings. A QR code is faster to scan than it is to read a text link. This means you're likely to see a higher rate of engagement and sales from using a QR code.
For the longest time, people considered QR codes a fad. But as you can see and tell, QR codes exploded in popularity in 2020 and it's safe to say...QR code stickers are here to stay.
Things to consider when designing a QR code sticker
If you're thinking about using a QR code sticker for your business, keep the following tips in mind to make sure it's effective:
Choose a highly visible location: Where you place your QR code sticker is just as important as what you put on it. If you want people to see and scan your QR code, then it has to be in a highly visible location. Avoid dark corners, dimly lit rooms, or areas that are out of the way.
Choose the right color: Be sure to choose a color that contrasts with the surface that you'll be sticking your QR code on. You don't want to blend in with the wall or blend into the poster behind you. The color of your QR code needs to stand out.
3 recommended tools for creating a QR code sticker
If you're ready to create a QR code sticker for your business, there are a few tools worth checking out. Depending on your budget and time frame, you can choose from various of easy-to-use apps.
1) A website that creates QR codes
There are plenty of websites that allow you to create QR codes. But QR-code-generator.com is the biggest website and it comes featured packed with a whole slew of options. It was recently acquired by Bitly, so you can be very confident that it has a lot of real value. To get started, simply head on over to https://www.qr-code-generator.com/
Once there, you'll see a textbox where you can put anything you want and transform it into a QR code. From URLs, PDFs, and MP3s all the way to Bitcoin wallet addresses, the world of links here is your oyster. If you just want a link to a website, select the URL option at the top and input the URL you want a link to, like below;

Once you do that, you'll see your basic QR code available for download. If that's all you want, just press the green Download button and you'll have your QR code sticker!
However, there are a few other options you can do here to make your QR code stand out a bit more. There are 3 free frames that you can use that surround your QR code with words like "Scan Me" to make sure your users know what to do. There are 6 other premium frames that are available, but they will require a paid plan. There is a 14-day free trial available though, so that is something that might work for you.
But that's how you can create a basic QR code. It's pretty simple, so give it a try today to start creating your new QR marketing tool!
2) A design tool like Studio or Photoshop to edit your QR code
Even though many QR code generators out there have the tools needed to make a nice QR code, oftentimes you'll need to add some additional text or change some details or orientation of the image. In that case, you'll need some kind of image design software. The most popular software for this is Adobe Photoshop, however, it's a bit complex and can be overwhelming for many people. If that's the case, there are also plenty of online design tools available for free on the internet.
One such design tool is Studio from Sticker Mule.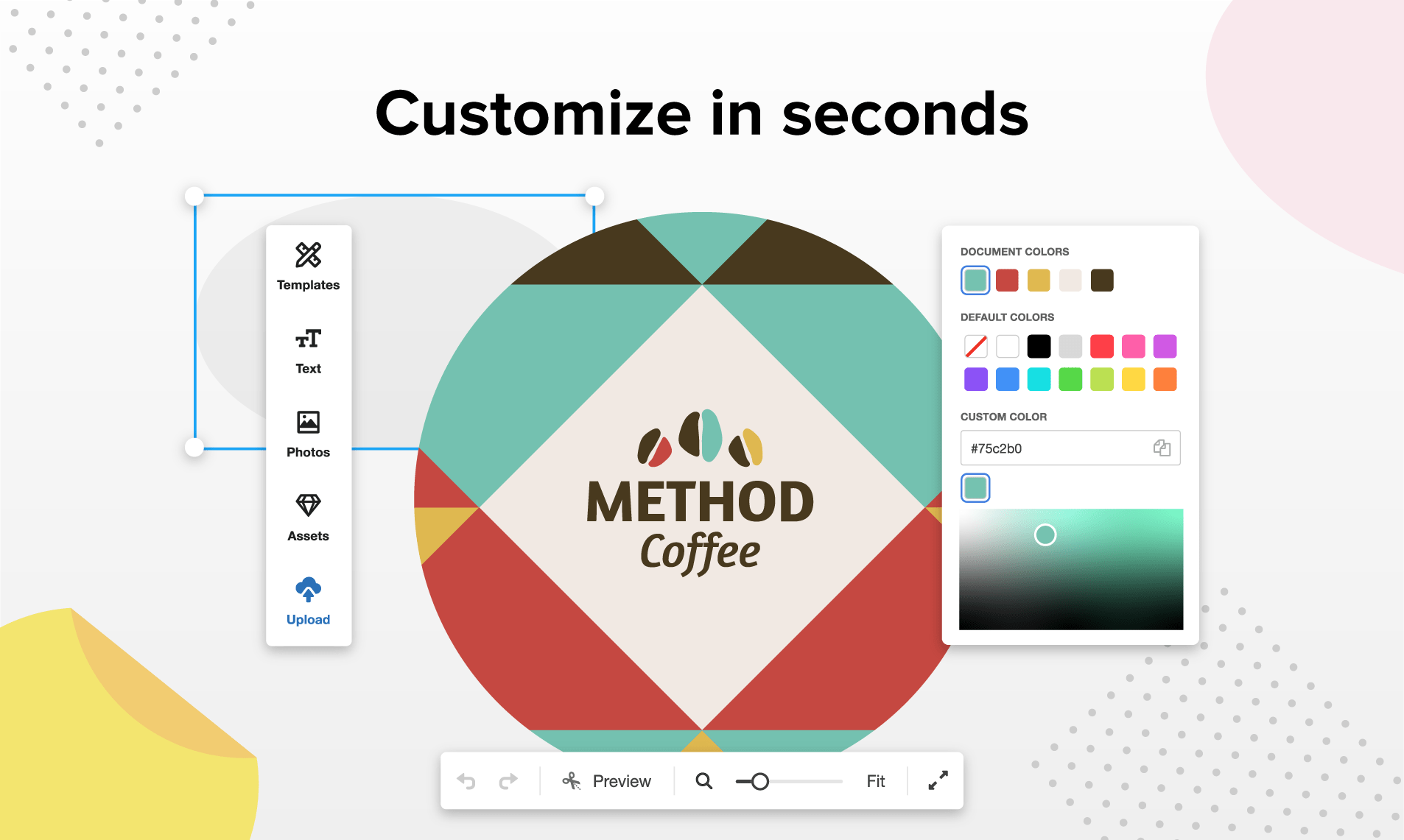 This tool is completely free to use and has the options needed to customize your QR to your exact liking. To get started with Studio, just head on over to stickermule.com/studio and you'll be presented with a bunch of templates that will help you get started. Once you've selected a template, or just start your own design by scratch, you'll have a bunch of features available to you like adding text, adding images and changing the orientation, and adding shapes and colors. This should give you plenty of inspiration and the tools you need to make your QR even more special and stand out even greater.
The really neat thing about Studio is that once you've finished designing your QR code, you just need to press the "order prints" button on the upper right to get your stickers printed! It's super easy so give it a try today.
3) A phone or barcode scanner to test your QR code
The last tool you'll need is either a smartphone/tablet or a barcode scanner with the ability to read QR codes. Luckily, if you don't have a barcode scanner, these days almost every smartphone can read a QR code through the default camera app that is already installed on your smartphone.
So to get started, just open up the camera app on your phone and point it at your new QR code. If you see a popup that wants to redirect you to your website, then your QR code works! However, you may want to click through just to make sure the exact website you want is where your QR code takes you. So once you've clicked through, and you've confirmed that the website is the one you want, you've finished setting up your QR code and you're ready to start printing!
How to print your newly designed QR stickers
So you have a snazzy new QR code that makes it easier for your users to find more information about your organization or business, now what? Well, now you just have to print them and start sticking them around!
The cheapest way to do this is by yourself with blank QR code labels from Avery and using the included template. You'll have to open that in Microsoft Word or some other text editor and then drag and drop the QR code into each label spot. Once you've done that, you are ready to print them on your printer. Just insert the label sheet into your printer paper stack and press print!
Printing the stickers yourself may be cheap, but there can be quite a few issues that can happen from doing it yourself. From non-centered QR codes to uneven printing that may make your QR stickers unreadable, there always seems to be something that goes wrong when doing it yourself. So you'll need to be comfortable with problem-solving tech and proofing issues yourself if you want to go this route.
If you aren't comfortable playing around until it is perfect then custom online printing might be the best option for you. Most online printing services have free proofing processes so they'll make sure the stickers look and print right, you just have to give the approval.
For example, at Sticker Mule, you'll just need to upload the image of the QR code when purchasing the custom square stickers and the proofing team will have a design ready for you to approve in an hour or so. You can work with them on fine-tuning the sticker design or just send it off for printing. The only thing you need to do then is wait for the stickers to arrive by mail in about a week!
Conclusion
QR codes are an excellent way to bring more traffic to your website, generate sales, and engage with customers. A QR code sticker is an easy and effective way to display this code. If you want to start using QR codes in your business, the first step is to design a QR code sticker. To do this, choose a highly visible location for your code and select the right color. Then, select a tool to create your code and customize it with your URL and branding.