Branded packing tape vs. regular packing tape
Posted by Jeremy Wick on
Custom packing tape is the best kept secret of the Internet's smartest retailers. It gets your brand exposure while your shipments are in transit, improves deliverability by making your packages more noticeable when delivered and reinforces your brand so customers are more likely to reorder. This is why retailers that switch to using custom tape rarely change back.
Yet many businesses are still relying on clear unbranded tape. Before we convince you to start using them, let's take a closer look at custom shipping tapes.
What is a custom packing tape?
Packing or mailing tape is an essential part of your product packaging. Custom printed packing tapes are also called logo tapes (because you can print your logo on the tape for branding purposes), personalized mailing tapes, and custom package tapes.
You may think that customers just rip them out but your printed packing tape serves more than one purpose. Visually, the difference between a box using branded packing tape and and a box using unbranded tape is obvious. And you might expect to pay a hefty premium for switching to custom tape. But the cost difference is less than you'd expect.
Why you should use custom packaging tape?
Aside from the reasons mentioned above, we have prepared more reasons to convince you to use custom printed tapes.
Cost per roll of packing tape is not that expensive
You can get a 300 foot roll of custom packing tape from Sticker Mule for $29.
While a roll of standard clear packing tape only costs around $2.25.
That's a big difference. However, at 300 feet, a roll of Sticker Mule custom packing tape is 4.5 times longer than a standard 800 inch roll of clear packing tape.
That puts the price per foot at:
Custom packing tape = $0.10
Standard packing tape = $0.03
Custom tapes save you from a lot of trouble when packing
When using custom packing tape from Sticker Mule, 1 pass of tape is all you need to securely seal your box. Our tape is water-activated which allows it to quickly create a strong bond to your package once applied.
When using standard clear packing tape, 2 or 3 passes are usually necessary to seal your box. And even with multiple strips of standard packing tape, boxes are still more susceptible to theft.
For a box that is 12 inches long, you'd want to include an extra 3 inches on each side for both the top and bottom with each strip of tape. That puts the length of tape needed for a 12-inch box at roughly:
Custom packing tape - 36 inches
Standard packing tape - 108 inches
If we take our cost per foot numbers from above, we can calculate the cost of tape per package at:
Custom packing tape = $0.30
Standard packing tape = $0.27
This means it only costs $0.03 extra per box to create branded packaging.
But there is still one more important factor to consider…
Branded packing tapes cut down your packing time
Since Sticker Mule's custom packaging tape is water activated, we include a sponge with every order. If you're only shipping a few boxes at a time, there won't be a noticeable difference in the time it takes to seal a box with either type of packaging tape.
But if you're shipping larger quantities, a water activated tape dispenser can cut the time it takes to seal your boxes in half. This does require an upfront investment of around $400 - $1,300, but it quickly pays for itself the more you ship.
And when you are shipping larger quantities, you can order custom packaging tape from Sticker Mule for as little as $19.50 per roll when buying in bulk.
In fact, most companies shipping 100 or more packages per day could actually save money by using Sticker Mule's custom packaging tape, compared to clear packing tape.
Where to get branded packing tape?
Are you ready to grow your business with custom printed tapes? If you want to improve your brand exposure and your package deliverability, while saving time and money, try custom packing tape for your packaging.
Upload any image and we'll format it for you, or easily design your own tape.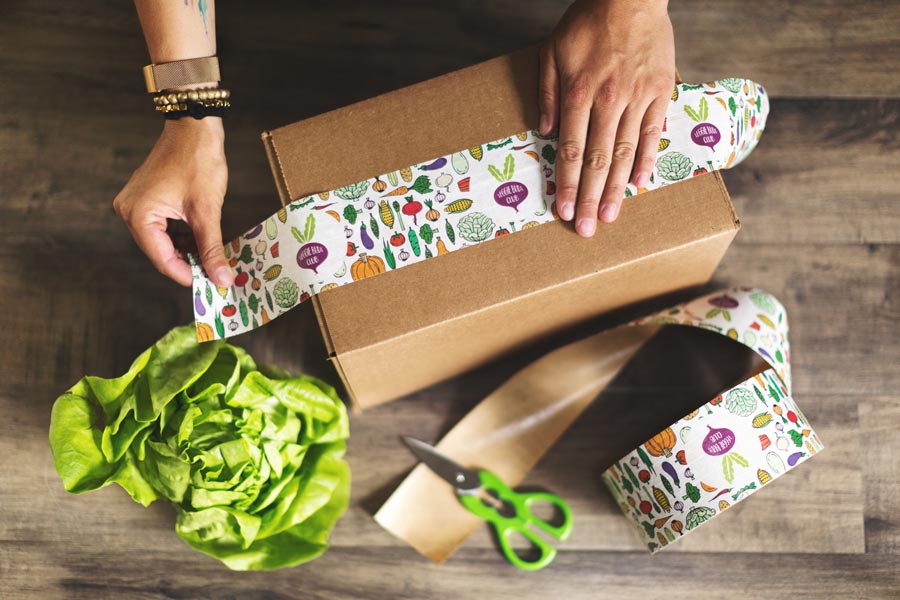 See for yourself the difference custom packing tape can make for your business.